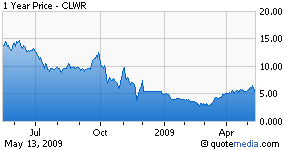 Clearwire (CLWR) Wednesday afternoon posted Q1 revenue of $62.1 million, just shy of the consensus forecast of $62.6 million. The company posted a loss for the quarter of $71.1 million, or 38 cents a share on a fully diluted basis. Clearwire added 25,000 net new subscribers in the quarter, boosting the total to 500,000. Churn increased to 2.6%, from 2.2% in the year ago quarter.
Clearwire said it is not changing its outlook for 2009 or 2010. It still sees 2009 net cash spend of $1.5 billion to $1.9 billion, and expects to cover as many as 120 million people by the end of 2010. Clearwire said, however, that "the ultimate scope and timing of Clearwire's network build-out will largely be driven by the company's market success and the availability of additional capital." The company finished the quarter with $2.8 billion in cash, equivalents and short-term debt.
CLWR, which tumbled 60 cents, or 10.5%, to $5.09 in the regular session, has rebounded 16 cents, or 3.1%, to $5.25 in late trading.