After last week's brutal and historical sell-off in gold (NYSEARCA:GLD), the price has snapped back very strongly - with more strength than I was expecting - and regained the $1450 level by the Thursday open on the COMEX. While I am fundamentally still very bullish on gold and silver (NYSEARCA:SLV), I was willing to admit that a tremendous amount of damage was done to the market with the two-day sell-off that took the price of gold down to $1320 per ounce.
We even saw a re-test of that bottom which took the price back to $1336 after an initial dead cat bounce on April 17th. Since the low on April 15th, we have not seen gold make a lower low. Thursday's action which broke through the $1420 to $1435 range which has dominated for four days turns the 200 week moving average ($1430) from resistance to support. While I'm not a huge fan of 200 period MAs as signals, many traders and technicians look at them for guidance or confirmation of a bullish or bearish trend. Breaking through $1455 brings those people back into gold to help keep the shorts on the run.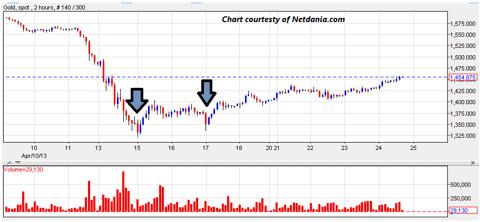 Many of the gold commentators have mentioned the amount of buying occurring in the physical markets. In my last article, I reprinted charts of the drains from vaults of both JPMorgan's (NYSE:JPM) and the CME Group (NASDAQ:CME). This is what I believe precipitated the most to crash the price of both gold and silver. And given the enormous Open Interest on the COMEX as of Tuesday night for the deliverable May contract in silver, the hit may actually have been more orchestrated to stamp out the fire brewing in silver in the immediate term.
Gold prices have recovered nicely as we can see in the chart above, but silver has lagged behind only rallying on Thursday after expiration of the May futures contract. As of the close on Tuesday, April 23rd, there were more than 35,000 contracts open in May for silver. That equates to more than 175 million ounces. The registered stock at the COMEX is just 167 million ounces and of that only 39 million are eligible for delivery.
Folks, even if 80% of those contracts are rolled forward in the next few days, there is still a very high probability of a failure to deliver in silver given those numbers. Is it any wonder that the day after futures expiration the price of silver rose more than $1 during COMEX trading back over $24 per ounce?
In my last article, I went over some of the stories about large investors not being able to get their physical gold from the bullion banks. After following this market for as long as I have, I am frankly jaded by stories of demand. But I've now seen enough in the past week to sweep all of those past misgivings aside.
Moreover, the drain from the various gold investment vehicles seems to be accelerating. This article by Tekoa de Silver details the $7.8 billion in gold that was removed from various depositories on April 23rd. This is gold removed in a single day. 6.3% of the world's available gold stocks for purchase moved into the hands of physical owners and out of the exchanges.
When I couple the price action in gold with the rapidity with which the U.S. Dollar is being substituted out of international trade, I become more fundamentally bullish on gold. This is confirmed by the latest print from the TIC report. While the monthly report showed a net increase in February, a small one however, the April 15th release had long-term U.S. Net Long-Term transactions falling by $17.8 billion versus expectations of rising $25.7 billion. Moreover, U.S. foreign buying dropped slightly by $0.12 billion versus expectations of $32.3 billion worth of buying. These are enormous misses that when coupled by the announcement that Australia will diversify 5% of its foreign reserve holdings into Chinese Yuan (NYSEARCA:CYB) after signing an historic agreement to trade directly in their currencies spells more incremental loss of demand for the Dollar, in this case just shy of $2 billion.
That doesn't sound like a lot, but since Australia only holds $25.7 billion in U.S. treasuries, that is a significant step for them. Moreover, it looks like China's buying of U.S. Treasuries is over with this latest report as well. The latest report - including revisions to previous month's data - has China's reserves now stable since December between $1.214 and $1.222 trillion.
Gold will benefit more from the repudiation of the dollar as a settlement currency for international trade than it will from expansion of the Fed's balance sheet. At this point the situation still looks relatively calm on the surface but that can change in a heartbeat. China is moving quickly to improve yuan liquidity around Southeast Asia and has pretty much shut the Japanese out of their economy. Debasing the yen (NYSEARCA:FXY) will not bring the sales back for Toyota (NYSE:TM) or Honda (NYSE:HMC). And, at this point it is the dislocation caused by the yen debasement by the BoJ that has created the illusion of U.S. Dollar stability.
I expect gold to run from this area back to first $1500 and then $1528 (the 144 week EMA) and bottom of the previous heavy support level. I initially had hopes this week of besting $1435, Monday's high and the 200 week MA, but now that it has fallen, last week's high of $1494 is the initial bullish upside target in conjunction with the round-number effect of $1500.
The ease with which gold is rising should unnerve people as much as the sudden drop did 10 days ago. If the flight to physical continues as the price continues to rise, then that signals the stability of the financial system is at risk and the ultimate flight to quality is underway. Trust has been lost in those that manage it and the latest show of power to move markets has failed to regain that trust.
Disclosure: I have no positions in any stocks mentioned, and no plans to initiate any positions within the next 72 hours. I wrote this article myself, and it expresses my own opinions. I am not receiving compensation for it (other than from Seeking Alpha). I have no business relationship with any company whose stock is mentioned in this article.
Additional disclosure: I own physical gold, silver, a few goats and what's left of my sanity... just for times like this.