Asian markets are lower with Japan reporting some economic numbers which came in below expectations, but all-in-all still positive in our eyes. 'Progress is progress' and 'growth is growth', two economic ideas which play off of our 'up is up' mantra for the stock market.
The trend in the market is obviously to seek big names which offer yield and this is leading to the smart money having to move to the margins in order to maintain their desired rates of return. It is benefiting our portfolio and is creating a 'trickle down effect' within the stock market which has the potential to last for a few years so long as we have steady growth and improvement here in the US and worldwide.
Chart of the Day:
It is funny how things change. What used to be negatively correlated is now positively correlated and a weaker Japanese Yen in US Dollar terms means a stronger Nikkei. The question now is, has the market gotten ahead of itself with the weakness in the Yen being far outpaced by the equities market, especially when compared to historical moves? Without economic growth ticking up strongly in the next 12-18 months, we might see the Yen continue to weak but a breakdown in the linkage (with stocks falling should sentiment become less bullish, of course).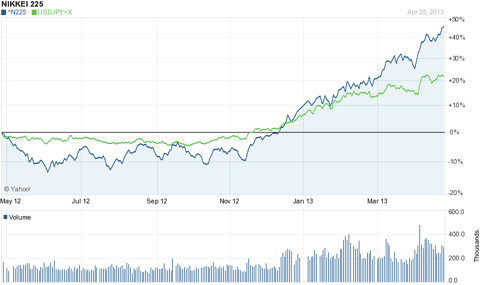 Chart courtesy of Yahoo Finance.
We have economic news due out today, and it is as follows:
GDP - Adv. (8:30 a.m. ET): 2.8%
Chain Deflator - Adv. (8:30 a.m. ET): 1.6%
Michigan Sentiment - Final (9:55 a.m. ET): 72.4
Asian markets finished lower today:
All Ordinaries -- down 0.03%
Shanghai Composite -- down 0.97%
Nikkei 225 -- down 0.30%
NZSE 50 -- up 0.21%
Seoul Composite -- down 0.36%
In Europe, markets are trading lower this morning:
CAC 40 -- down 0.75%
DAX -- down 0.37%
FTSE 100 -- down 0.54%
OSE -- down 0.09%
Entertainment
Las Vegas Sands (NYSE:LVS) shares continue to perform strongly and during yesterday's session came up short by the slightest of margins on a new 52-week high. The shares finished at $57.10/share after rising $2.28 (4.16%) on volume of 8.7 million shares, rewarding those who have stuck with the name. The company plans to release their earnings for the January-March 2013 quarter on May 1st, after the market close. With the numbers we have seen out of China and the US economy improving coupled with the company's growth initiatives, we think that the year should be another good one for shareholders. We like buying on dips here and although we like the story, we would recommend against chasing.
Is the fourth time the charm just as last time? If so we may be setting up for a move higher to test the highs set around $60/share. The recent data indicates one should be bullish and optimistic, but the company relies heavily on China so any abrupt slowdown there could have big consequences for the shares.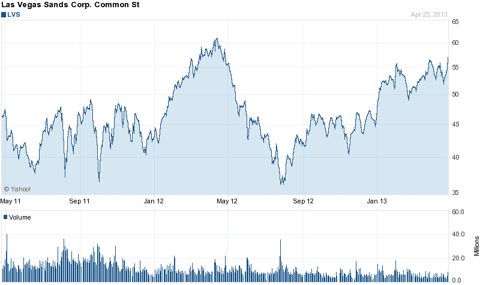 Chart courtesy of Yahoo Finance.
Technology
Whereas we like the story surrounding Las Vegas Sands in the gaming industry, the same cannot be said for Zynga (NASDAQ:ZNGA), which readers should be well aware of by now. If one wants to play the bullish trend in gaming, then one needs to stick with the legitimate gaming companies and not focus instead upon those "cow pasture and blue sky projects" as they say in the commodity space. An important lesson we have learned over the years in investing in these super bull micro-cap trends is that one can hit a grand slam every now and then with the 'hope and dream' investment story, but hitting the doubles, triples and occasional home run by playing the established or soon-to-be established players with infrastructure already in place leads to the best gains, especially when the market turns. The UK venture is nice, but will probably turn out to be only a fraction of what many expect and hardly the infrastructure to take on the big boys. We remain skeptical and steadfast in our belief that this is not to be bought and if owned it should be sold into the rallies.
Financials
We are seeing the effect that dividends have on stocks in this market as many of the utilities are at all-time highs and their yields in some cases are about as low as we can ever remember them being. It is a funny thing, valuation that is, when new long-term investors move in and seek safety and income which forces the regular market participants to seek the higher returns elsewhere, which we believe is happening right now. So when talk of a dividend increase of any significance is brought up, we are hardly surprised by the bullishness and positive stock price movements which follow, which has been the case at American International Group (NYSE:AIG) over the past few months. The chatter has picked back up and we would expect further comments from the CEO regarding the company's plans to return cash to shareholders. Dividends will really excite shareholders, but as it pertains to financial companies in general, we think that share buybacks at these levels would be justified based on valuation and the thinking that the stocks are going higher. It will be interesting to see how names like AIG decide how to divvy up the returning of capital between share buybacks and dividends and this could have a big impact on how the stock market actually performs over the next 12-24 months.
REITs
We are not one to discuss real estate investment trusts too often, however we have been watching American Tower (NYSE:AMT) and Crown Castle International (NYSE:CCI) which have both been on a tear and hitting all-time highs on what seems to be a daily basis. As mentioned earlier, investors are clamoring for yield and as they do they are creating some impressive capital gains for those who beat them to the party due to a higher risk tolerance. Yesterday's move can be attributed to Crown Castle's earnings, a transcript of the conference call is located here, which pushed shares up $4.46 (6.04%) to close at $78.36/share on volume of 5.1 million shares. American Tower also rose strongly, with shares up $2.84 (3.51%) closing at $83.84/share and trading just over 3 million shares itself. Readers can look forward to American Tower's earnings on Wednesday May 1st.
Strong performers over the past two years, and a good portion of the gains are not displayed in the stock price as they are derived from the dividends.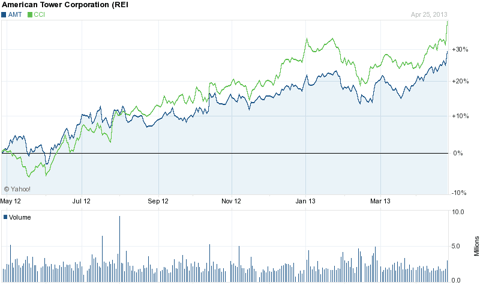 Chart courtesy of Yahoo Finance.
Disclosure: I have no positions in any stocks mentioned, and no plans to initiate any positions within the next 72 hours. I wrote this article myself, and it expresses my own opinions. I am not receiving compensation for it (other than from Seeking Alpha). I have no business relationship with any company whose stock is mentioned in this article.