Arlington Asset Investment Corp. (NYSE:AI) is an investment company that acquires and holds mortgage-related and other assets. These include both agency and non-agency RMBS. AI is taxed as a C corporation, so its dividends are regular dividends (you do not need to file a Form K-1). This is great for investors who want to own AI in a vehicle that is not tax sheltered, although owning AI in a tax sheltered account is a good idea too. AI is internally managed, and the managers seem to be doing a great job in recent years.
AI selects its agency assets for as complete prepayment protection as possible. Sixty percent of AI's agency RMBS are HARP loans. Others are high LTV (loan to value) -- you won't refinance if you will have trouble getting a loan. Some are low loan balance RMBS -- you won't be likely to refinance if you owe very little on your loan. Naturally these RMBS are expensive with an average cost of 107.2 and a recent fair market value of 109.8. AI expects a CPR (constant prepayment rate) of approximately 6%. This will allow AI to glean a 2.95% to 3.05% yield. By comparison the FN 4.0% universe has a three-month CPR of 29.9% with a 107.19 market price. AI hedges against increasing interest rates to insure the book value of these assets. The hedges extend out five years. This can occasionally lead to skewed GAAP results for a single quarter as GAAP requires accounting of non-realized derivatives gains and losses. This is why AI (and many other companies in its business) use a core earnings metric.
In its private-label (non-agency) MBA portfolio, AI does not mind if there are prepayments. In fact it profits from these. It focuses on re-REMIC mezzanine securities (re-securitizations of real estate mortgage investment conduits), which it buys at deep discounts. It tries to select securities with improving credit performance, attractive yields, and positive technicals. The table below shows AI's private label portfolio statistics as of Dec. 31, 2012.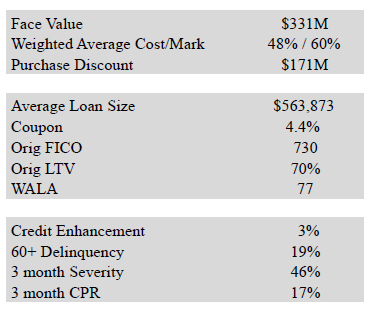 In this case, AI has a three-month CPR of 17%. This is actually good. If these loans are prepaid, AI will profit as the full face value amount is prepaid. Since it bought them at a huge discount to face value, AI rakes in huge profits when this happens. For FY 2012, the non-agency portfolio generated an 11.5% yield and it positioned AI to realize substantial appreciation from the housing recovery. Over the last three years the non-agency portfolio has earned approximately 16% average annual cash yield, and it has appreciated approximately 22% (from a cost basis of 49.5% to a current market price of 60.2% as of Dec. 31, 2012). More than 95% of AI's non-agency portfolio is allocated to re-REMIC mezzanine securities.
Within two years AI expects this portfolio to be approximately two-thirds variable rate in nature. This should insulate it from future increases in interest rates. It is reassuring to know that AI has considered what may happen after 2015. It is reassuring that AI is positioning itself accordingly. Due to the great fundamentals in this area, AI increased its non-agency portfolio to $220 million in market value, reflecting $183 million in investable capital. AI also decreased it commitment to lower coupon agency securities as these will likely suffer book value losses as interest rates rise. AI's overall agency MBS portfolio is now approximately $1.2 billion in market value vs. a previous $1.5 billion.
The Fed's support of the U.S. real estate market is essential to the good performance of the non-agency portfolio. The Fed's QE programs (buying about $75 billion per month in RMBS and buying long-term U.S. treasuries) are keeping loan rates down; and they are helping the U.S. residential real estate markets to recover. The Movoto Blog reported April 4, 2013, that the list price per square foot in the areas it covers has risen by 11.5% in the last year. Inventory across the 38 major cities Movoto covers declined. This is helping home prices move upward. In other words, even for a troubled loan, the home may bring in a price more than covering the discounted prices AI bought its loans for. Plus, anyone in trouble is likely to be more able to sell their home, if their loan is or becomes troubled.
If the rebound in the U.S. residential housing market continues, AI may make huge profits on its non-agency RMBS as they appreciate in value. AI has increased its safety margin by buying RMBS from quickly improving areas. It top areas are as follows: 16.4% from Los Angeles/Long Beach/Santa Ana, Calif.; 10.1% from San Francisco/Oakland/Fremont, Calif.; 8.0% from NYC/northern New Jersey/Long Island, N.Y./N.J./Penn.; 7.0% from Washington/Arlington/Alexandria, D.C./Va./M.D./W. Va.; and 5.5% from San Diego/Carlsbad/San Marcos, Calif. That is 47% in some of the hottest residential real estate markets in the country.
AI's management team has also been consistent. As other real estate investment companies have faltered in the last year, AI has turned in consistently great core earnings and dividends (see chart below).
Click to enlarge images.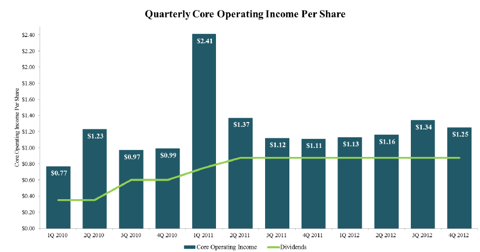 Investors will have a hard time finding another company that has done this well. AI is currently paying a 13.3% dividend. In fact, it has been paying the same $0.875 quarterly dividend since Q2 2011. During this time many mortgage REITs have cut their dividends. Furthermore, AI's dividend is a regular dividend, so it is actually a higher return on a non-tax sheltered basis than an investor would get from mortgage REIT distribution.
Additionally, AI has possible huge non-agency RMBS appreciation and it is risk aware. It has a leverage target of 7.5x for its agency portfolio and a target leverage of 0.25x for its non-agency portfolio. The allocations for those portfolios as of Dec. 31, 2012, are described in the table below.

This looks about as equal a distribution as you could get in terms of allocated capital.
AI used $57 million in tax benefits during the year, and it has many more of these to use in the future. Specifically it has $230 million of net operating loss carry-forwards. These are applicable toward any form of taxable income with no annual limitation, and they expire in 2027-28. AI (for now) pays a 2% alternative minimum cash tax rate. AI has $285 million of capital loss carry-forwards. These expire in 2013-14. They are applicable toward realized gains. AI has $162 million of deferred tax assets as of Dec. 31, 2012. This reflects $12.30 per share in book value.
What this all means is that the current investor gets to profit from the problems of the past. The Great Recession was a once in a lifetime event. Many people and mangers were surprised by the severity of it. AI's management team has that experience behind it. It has learned, and is doing a great job now -- it is not likely to be surprised again. Why not profit from other people's losses? AI is a buy.
The two-year chart of AI provides some technical direction for this trade.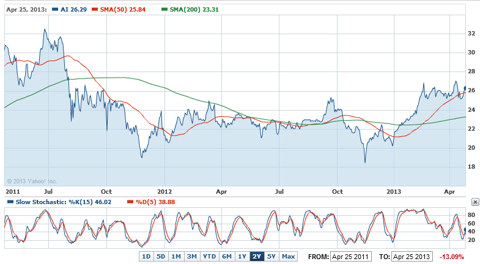 The slow stochastic sub chart shows that AI is near oversold levels. The main chart shows that AI is in an uptrend. However, AI has been consolidating for the last two to three months. It may be ready to move higher on a good earnings report. It seems likely to turn in good to great results. Therefore, it may break higher before that.
AI is small with a market cap of only $344.79 million, but its results have been some of the most stable in the industry. It has a FPE of 6.71 -- great. It has an analysts' average recommendation of 1.5 (a strongish buy). With the Fed backing the housing market, savvy investors will have to strongly consider buying AI. It is hard to beat the regular dividend yield of 13.3%, and AI does have a beta of 0.72. Its short interest is only 2.20% of the float, which is low for a leveraged micro-cap stock. If no one thinks there is anything wrong with it, why not buy this high yielder?
Note: Some of the fundamental financial data is from Yahoo Finance.

Disclosure: I have no positions in any stocks mentioned, but may initiate a long position in AI over the next 72 hours. I wrote this article myself, and it expresses my own opinions. I am not receiving compensation for it (other than from Seeking Alpha). I have no business relationship with any company whose stock is mentioned in this article.