Yesterday was an interesting day for our stocks as well as those on our watch lists. Whereas we liked what we saw in the first half of the day, we disliked the moves which took place during the second half. Some names simply dropped off of a cliff, which is never a good sign as it indicates someone exiting in a rush or buyers losing interest. When that happens on no news we take notice, so today we are watching closely the indicators and trying to get to the bottom of this. The bright spot is that the names which have outperformed continued to do so yesterday and although they gave up much of their gains, they still had gains to report. We will take victories where we can get them.
Commodity prices this morning are as follows:
Gold: $1463.40/ounce, up by $1.40/ounce
Silver: $23.90/ounce, down by $0.24/ounce
Oil: $92.89/barrel, down by $0.75/barrel
RBOB Gas: $2.79/gallon, down by $0.0218/gallon
Natural Gas: $4.149/MMbtu, up by $0.018/MMbtu
Chart of the Day:
We had a sharp drop, but this nice and steady rise from the lows continues, as goes gold so too shall follow the gold miners.

Chart courtesy of 24hgold.com
Trusts
The Whiting Trust I USA (NYSE:WHX) continues to get beat up falling another $2.20 (22.99%) to close at $7.37/share during yesterday's session with volume surging to 3.6 million shares. We cannot stress enough that we would prefer investors steer clear of these names for the time being and instead focus on the MLPs which provide solid yields as well but rely on mature assets with proven production curves and depletion rates and production mix already understood. Although there was no news to cause the drop, something happened and something very significant. It was a sell on the rumor kind of day here. Yield seeking investors are getting crushed here, and that is unfortunate because it gives the entire industry a black eye.
This is one of the uglier charts one will see for a security that is supposed to have less risk than a regular stock and "predictable" cash flows.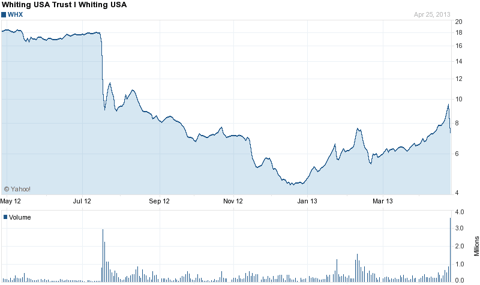 Chart courtesy of Yahoo Finance.
Cliff Watching
Yesterday morning we discussed the fact that Cliffs Natural Resources (NYSE:CLF) had surprised on the bottom line and readers should watch the $20/share level to see if the stock could break above that level which has served as a bit of resistance and support recently. Well it powered through it early in the morning and the shares rose as high as $22/share during the session, which admittedly blew us away. The general market sell-off dampened the mood however and shares finished the day at $20.95/share having gained $2.73 (14.98%) with volume just above 33 million. It was an impressive move to say the least, but we still will leave this trade to those better able to stomach the volatility.
Molybdenum/Gold/Copper
Little Thompson Creek Metals (TC) caught a bid yesterday with shares rising $0.32 (12.60%) to close at $2.86/share and volume rising to 3.4 million shares. There was no company specific news driving the shares higher, but the move is obviously due to the rise in gold and other metals in the past few sessions after the sharp sell-off which caused panic for many gold bugs and forced many to not only exit positions in the physical gold market but also the gold equities. This is not our favorite way to play the rise of gold, but a decent one. With the issues facing the company we would rather be putting capital to work elsewhere, in names not facing the same headwinds as Thompson Creek, such as Yamana Gold (NYSE:AUY) which we think has been unfairly hit. Remember, the pendulum swings both ways and although irrational exuberance is a common talking point these days, irrational pessimism exists too and that is what we think has hit the gold sector as a whole. Expect a recovery to continue in the physical gold market as well as the delayed rally in the gold equities names, with names like Yamana the safe bets.
Oilfield Service Providers
CARBO Ceramics (NYSE:CRR) had an awful day yesterday as the provider of materials used in fracking saw shares fall $15.04 (17.37%) to close at $71.55/share after disappointing investors with their earnings. Some misses you can justify and others can simply be written off as timing, especially if a company has a slight miss on revenues but meets or beats on their EPS figures. Unfortunately for CARBO shareholders the company missed on both the top line and the bottom, reporting an EPS figure which was $0.14/share below expectations. Yes pricing has gotten more competitive as everyone in the oilfield services industry dealt with falling natural gas rig counts and were forced to put their idled equipment and expertise to work at cheaper price points, but from what we are seeing and hearing from those we talk to this might be a one off event with the potential for pricing power to return as new shales are drilled and natural gas rig counts rise again.
Volatility is nothing new for shareholders, but a recent new high and then a subsequent fall to 6 month lows? That might keep one up at night.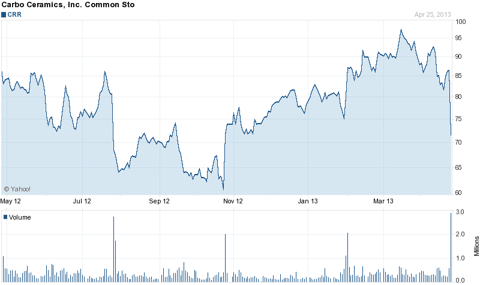 Chart courtesy of Yahoo Finance.
Disclosure: I have no positions in any stocks mentioned, and no plans to initiate any positions within the next 72 hours. I wrote this article myself, and it expresses my own opinions. I am not receiving compensation for it (other than from Seeking Alpha). I have no business relationship with any company whose stock is mentioned in this article.