Since the tone of the market has been a lot better this past month, I thought I'd return to the idea of picking a couple of old-fashioned growth stocks. Actually, two newfangled growth stocks might be closer to the truth.
You can't play defense forever, although the past year has certainly felt like forever. However, it does appear as though we may have made a bottom this time, so let's consider some opportunities to start rebuilding the wealth you've lost over these past several months. I don't mean to suggest that there aren't going to be lots more ups and downs before we can be certain a new bull market has begun, but at least we can start uncurling from the fetal position we've all been in since last July.
The first company I suggest you look at is in the data storage business. This doesn't sound particularly sexy, and it isn't, but as we create more cyber data we've got to have places to store it. With more of our important documents and precious memories existing only in electronic form, we need secure ways to safeguard that information.
This means that digital storage is going to be increasingly important going forward. There are lots of players in this field and in some respects it has become a commodity business, which has seen its margins squeezed. However, every so often a new technology emerges that, for a time anyway, gives its purveyors a market advantage that can be very profitable and game-changing, at least in the mid-term.
Increasingly, camcorders, MP3 players, and now computers are being offered with what is called flash memory that is handled by solid-state drives. All the new iPods are flash memory devices and I just bought a new camcorder with a flash memory component. The big deal with flash memory chips is that they are faster than the traditional spinning hard disk drives that we been used to, they use much less power, they are stable since there are no moving parts, and they tend to generate less heat. The problem with flash drives up until now is that they have a relatively small capacity. That's fine for a music player but not great for home computers or enterprise storage companies like EMC that handle storage for major corporations and government. But you can imagine that these large companies would love to find a way to reduce their costs and power consumption with these new types of drives.
The company that is leading the way in this field is called STEC Inc. (NASDAQ:STEC). It was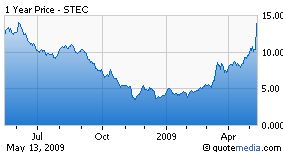 founded in 1990 and is located in Santa Ana, California not far from my home in Laguna Beach. The company has been a leader in developing large capacity solid-state drives, flash memory solutions, and DRAM modules, which are high-capacity random access memory technologies. STEC is in the very high end of the storage market and it is selling to the makers of storage equipment for large corporations. Its drives cost thousands of dollars and the margins are much better since its technology is unique and itcs ompetitors are few. The company supplies nearly all the top makers of storage equipment including EMC, Sun Microsystems (JAVA), and Hitachi (HIT) data systems and it should be announcing deals with IBM and Hewlett-Packard (NYSE:HPQ) soon.
Analysts think that the STEC has an 18-month lead on its competitors. The company currently holds 30 flash memory drive patents and has 53 patents pending. This should provide some protection against the inevitable competition that will follow a good idea. Until the competition catches up, however, I think there's an opportunity to make some money in the stock.
STEC trades at 1.7 times this year's projected sales, 17.4 times 2009 earnings estimates, and 11.5 times 2010 forecasts. The profits are as expected to increase by 51.6% this year to 47c a share. Currently, the stock is down more than 40% from its 52-week high of $14.25 (it closed on Friday at $8.22). With shipments of flash drives similar to the ones that STEC sells expected to rise over 200% over the next couple of years, this company should be uniquely positioned to benefit and the stock could double over the next 12 months.
Action now: Buy, with a price target of $18.