Lot78, Inc. (OTCPK:LOTE) has recently skyrocketed from $0.80 to a high of $4.21. This move appears to be solely due to artificial buying caused by a stock promotion. First, let's take a look how Lot78 Inc was set up from the start.
History
Lot78, Inc. went public as Club Inc. Thomas E Puzzo was the attorney that helped take the shell public via S-1. Thomas E. Puzzo has a history of taking public companies set up to enrich insiders. Previously he took public such notable pump and dump companies as $RAYS, $NSRS, $STNT, and most recently $AGIN, all of which were set up from the start to enrich insiders.
Forward Split/ Reverse Split/ Issuance of New Shares
On March 2, 2010 CEO Eden Clark initiated a 150:1 forward split.

On March 21, 2010 the shell changed its name to Bold Energy Inc and initiated a 1:25 reverse split.

Share Count at this Point:
Eden Clark - 906,000
Seed Shareholders - 900,000
Eden Clark issued herself 15,048,388 new shares. She then owned 15,954,388 shares. Various unknown insiders were issued 25,000,000 free trading shares. In April 2012 Patrick DeBlois, the company's secretary, was issued 15,000,000 shares.
Lot78 Acquisition
Patrick DeBlois resigned, but did not give up his shares. Bold announced the acquisition of Lot78 Inc. in this PRE 14A filing .
30,954,388 shares were distributed as seen below.
(Click to enlarge)

Luke Zouvas acted as the attorney for Bold's side in the exchange. Luke Zouvas has been associated with many pump and dumps and he was a long-time associate at Carrillo Huettal LLP (which was recently sued by the SEC along with name partners Luis Carillo and Wade Huettel). Luke Zouvas was recently subpoenaed to testify in court about a client's involvement in some spam promotion insider enrichment schemes. See here.
Let's take a look at the final share count of Lot78:
Final Share Count
Eden Clark - 15,954,388 shares
Patrick DeBlois - 15,000,000 shares
Ollie Amhurst - 18,018,482 shares
David Hardcastle - 9,964,032
Emma Davis - 1,473,762
Iceberg Invesment Management Group Limited - 1,436,112
Unknown insiders - 25,000,000 free trading shares
Seed Shareholders - 900,000
Unknown investor - 198,750 free trading shares
The 25,000,000 free trading shares in unknown insiders hands is what stands out to me. It is almost certainly these shareholders who have paid for the stock promotion.
Purpose of Stock Promotion
Whenever there is a stock promotion, you have to ask yourself the question why? The answer is simple: someone owns a bunch of cheap shares (often obtained for far less than a penny per share). These shares are worthless unless there is someone to sell them too. By paying for a stock promotion the insiders can convince people to buy the shares they are selling and thus reap massive profits. In LOT78 Inc's case, the unknown insiders own 25,000,000 free trading shares.
(Click to enlarge)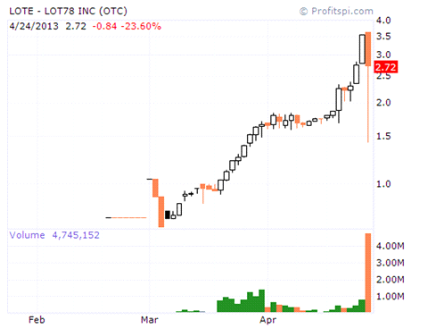 You can see before March there was absolute 0 interest in Lot78 Inc. What a coincidence this started to trade when the stock promotion started. Michael Goode summarizes the stock promotion details of Lot78 Inc. well here.
(Click to enlarge)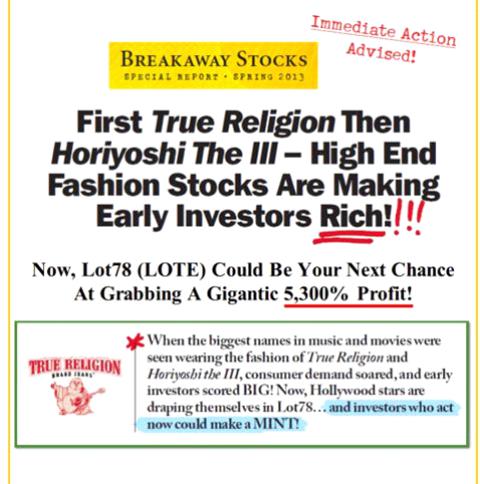 Above is a picture of the front of the hard mailer being sent to people's homes. This is claiming that Lot78 Inc can bring you a ridiculous 5,300% return. It is very irresponsible to make claims like that. However, Smallcap Fortunes / Capital Financial Media (promoters behind LOTE's stock promotion) don't really care because that's what they get paid to do.
Disclaimer
The most important part of any stock promotion piece is it's disclaimer. Below is the disclaimer:
(Click to enlarge)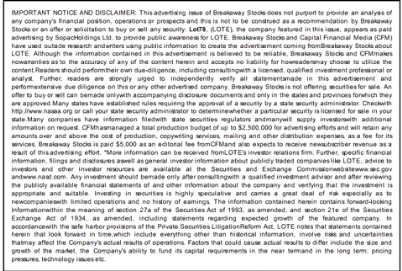 "CFM has managed a total production budget of up to $2,500,000 for advertising efforts and will retain any amounts over and above the cost of production, copywriting services, mailing and other distribution expenses, as a fee for its services."
They are handling a budget of up to $2,500,000 which means that the actual budget could be anything less than that. Just like any other pump and dump scheme, Lot78 Inc. stock will collapse once the promotion winds down.
Promoter History
The promoter behind Lot78 Inc is Smallcap Fortunes / Capital Financial Media.
How will the LOTE story play out? It will act like the rest of their promotions. People who buy LOTE will lose and the insiders will laugh all the way to the bank. Interested in some of their past promotions? Below are some of their promotions, starting with the more recent ones. You can tell when the promotion starts by seeing when the stocks start trading large volume.
$NECA $2,100,000 budget see here. Promotion started in November.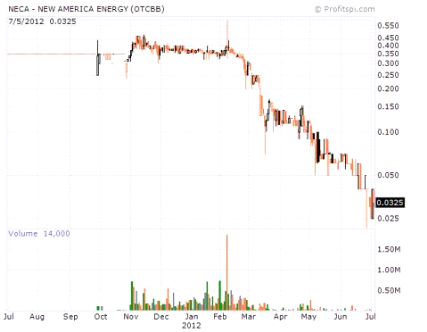 $AEDC $1,700,000 budget see here. Started in April.
(Click to enlarge)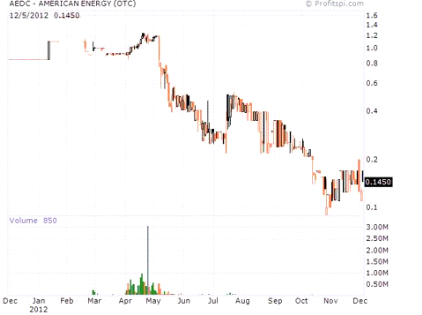 STNT $1,275,000 budget see here. Started at the end of May.
(Click to enlarge)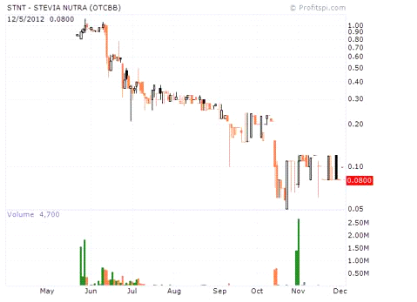 LTCH $600,000 budget see here. Started at the end of November.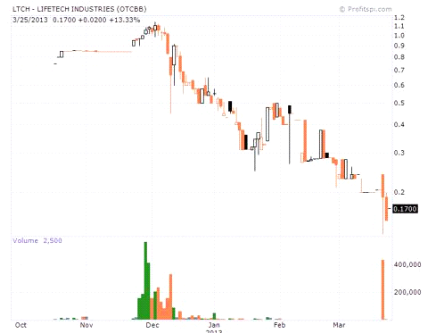 Now LOTE budget up to 2,500,000. See here.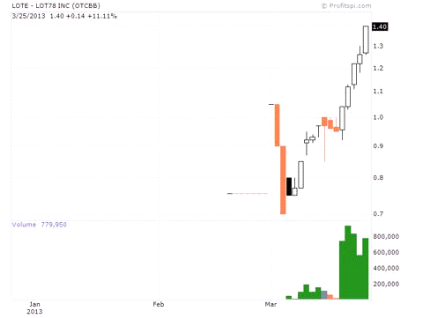 Final Note
The drop two days ago was just the start. I believe that Lot78 Inc will be trading below a dollar in one to two weeks. Their free trading shares are worth about $105,000,000 at current levels. My advice to all would be to take advantage of the current stock promotion to sell your shares because when the promotion is over (seems to be ending very soon) there will be very few buyers sell your shares to. However, there will be a lot of sellers and this drive the price down, causing LOTE's chart to resemble the charts of the past promotions shown above. You have been warned.
Disclosure: I have no positions in any stocks mentioned, but may initiate a short position in OTCPK:LOTE over the next 72 hours. I wrote this article myself, and it expresses my own opinions. I am not receiving compensation for it (other than from Seeking Alpha). I have no business relationship with any company whose stock is mentioned in this article.