Since peaking at the beginning of 2013 at a share price above $4.50, Nokia (NYSE:NOK) shares declined systematically. Investors drove shares down to around $3.00 when the company reported first-quarter results. For 2013, Nokia shares are down 16.46%, compared with BlackBerry (NASDAQ:BBRY), whose shares are up 24.68%: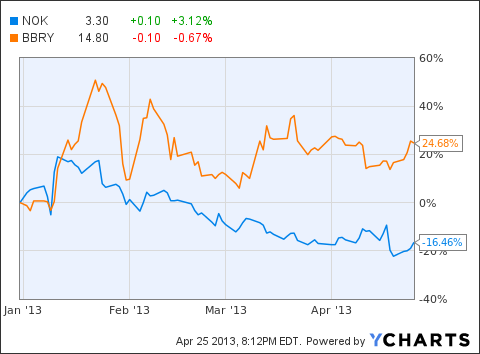 NOK data by YCharts
The purpose of this analysis is to analyze quarterly results from Nokia, and to determine if the decline in Nokia shares is over.
Positives
1) Lumia Sales
Lumia volumes were 5.6 million units, up 27% from the previous (Q1) quarter, with nearly two-thirds running Windows Phone 8. Nokia forecasts the strong positive momentum to continue in the current (Q2) quarter. Anticipation for strong demand and a lack of supply constraints will drive the sales increase. Gross margins from the devices and services group were 25.1%.
2) Budget Lumia 520
To build its market share in cost-conscious regions, Lumia began shipping the Lumia 520 in the emerging markets. This includes China, Indonesia, Mexico, and India.
3) Nokia Siemens Network ("NSN") Profitable
For the fourth quarter in a row, NSN was profitable. The company improved its liquidity by issuing a EUR800 million [U.S.$1,040.9] bond. Gross margin declined 200 basis points to 34%. The unit is on track to being self-funding operationally, though for 2013, the unit will be cash-flow negative by EUR1.4 billion due to restructuring.
4) Balance Sheet
Nokia ended the quarter with EUR4.5 billion, an increase of EUR200 million. When restructuring costs and other non-cash items are included, cash flow was a positive EUR80 million.
5) Focus on Advertising
Operating expenditures declined 19% from the previous quarter. The decline was also helped by lower expenditures for marketing. Though marketing costs were temporarily raised from launch campaigns, Nokia and Microsoft (NASDAQ:MSFT) plan to place a priority on advertising for both the Lumia and the mobile phone unit.
Raising awareness for Lumia is of primary importance for Nokia. Its competitor, BlackBerry, launched the BlackBerry 10 earlier this year. BlackBerry is planning to increase its marketing budget by 50% to raise awareness of its refreshed smartphone.
Negatives
6) Lower Mobile Phone Volumes
Nokia faced stiffer competition for its mobile phones that includes its Asha line. Volumes declined to 55.8 million units, down 30% from the previous quarter. Investors and Nokia alike were surprised with the weakness. Nokia acknowledged in its conference call that the mobile phone channel inventory was too high, going into the quarter. The volume decline hurt net sales. Compared with last year, sales were down 32% to EUR2.9 billion.
The gross margin for mobile phones was 22.9%.
7) Lumia Sales Declined in North America
Nokia managed to increase shipments for Lumia in all regions except for North America.
8) Negative Cash Flow for Devices and Services Unit Disturbingly High
On the conference call, an Analyst at Credit Suisse asked Nokia why cash burn was high:
You are still not making significant returns in mobile devices. Your OpEx run rate actually surprisingly quicker to me expected. So you have to deal with the deep restructuring to make a way for these investments going forward or are you going to count on a major sales ramp for the organization quite soon to get us some positive profitability in cash flow?
Nokia said cash flow fluctuates dramatically. Cash flow declined by 25% between Q4/2011 and Q1/2012. It targets the operating expenditure run rate to be EUR3 billion this year. Strategically, Nokia will focus on growing its market share and its top line, with gross margins a secondary focus. This means that investors should expect OpEx to remain elevated as Lumia sales are supported.
Conclusion
The recent sell-off in Nokia shares following its quarterly results provided investors an opportunity to accumulate shares in the company. The company continues to be in transition, and is carefully taking the right steps in reversing its misfortunes. Nokia maintained its presence in the budget market with its Lumia 520 and 720. Next month, the company is scheduling an event in London, which will demonstrate its ongoing commitment to innovate its premium Lumia 920 line-up. If a PureView camera is included to the Lumia successor, it may give users considering phones like the Android-based HTC One or Samsung S4 a reason to choose a Nokia Lumia phone instead.
Disclosure: I have no positions in any stocks mentioned, but may initiate a long position in NOK over the next 72 hours. I wrote this article myself, and it expresses my own opinions. I am not receiving compensation for it (other than from Seeking Alpha). I have no business relationship with any company whose stock is mentioned in this article.