Akamai Technologies, Inc. (NASDAQ:AKAM) provides content delivery and cloud infrastructure services for the delivery of content and applications over the Internet. Many companies spend money on web acceleration and content delivery technologies, such as the services provided by market leader Akamai, to avoid lost sales and customers due to slow web pages. Despite the controversial guidance earlier from the management, Akamai delivers with solid numbers.
Surprising Home Run
Akamai reported Q1 revenue of $368M, 15% increase from the year-earlier quarter, beating analysts' estimate of $357.7M. The management forecasts revenue of $368M to $378M in Q2 compared with a $363M analyst estimate. Q1 profit, including an 8-cent tax benefit, rose to 51 cents a share from 36 cents a year earlier, topping the average estimate of 46 cents, according to data compiled by Bloomberg. AKAM also forecasts Q2 profit excluding some items of 44 cents to 46 cents, compared with a 44 cents estimate.
New Solution Categories Breakdown
Media delivery revenue was $181M for Q1, up 17% over Q1, 2012 and 4% sequentially. Medial delivery is the main driver for Q1's revenue beat. Performance and security solutions generated revenue of $157M, up 17% over Q1, 2012 but declined 4% sequentially due to normal holiday seasonality. For service and support, the revenue was $27M, up 35% over Q1, 2012 and up 3% sequentially, due to strong traction in service attachment rates to core media, performance and security offerings.
Expanding Margins
Margins had expanded consecutively for 4 quarters due to continued execution on managing cost of goods sold. Cash gross margin was 76%, up 1 point from the prior quarter and up 3 points from the same period last year. On the other hand, GAAP gross margin, which includes both depreciation and stock-based compensation, was 67% for Q1, up 4 points sequentially and up 6 points from Q1, 2012.
Strong Cash Position and Buyback
Cash from operations for Q1 was $103M. AKAM had over $1B in cash, cash equivalents and marketable securities at the end of Q1. CapEx was in line with the management's guidance range. $40M was spent on share repurchase to buy back 1.1M shares at an average price of just under $37 for Q1.
Analysts' Calls and Estimates
On April 25, 2013, Canaccord Genuity raised estimates and its price target on buy-rated AKAM to $46 (from $45), following strong Q1 and outlook. Canaccord Genuity analyst Greg Miller said,
Following a few volatile months, Akamai reported very solid Q1/13 results that exceeded all expectations due in large part to a broad-based acceleration in traffic growth late in the quarter. Accordingly, just as had happened early last year, we now believe that controversial guidance issued earlier this year that had been hotly debated is now a distant memory. Once again, Akamai has proven that as a leading innovator, it is capable of consistently and capital efficiently replacing legacy sources of revenues with new lines of business with large strategic customers. We now expect the year to resemble that of 2012 where investors started the year fearful only to witness accelerating growth throughout the year.
On the same day, FBR Capital reiterated the market perform rating for AKAM and increased its target price to $40 (from $36). J.P. Morgan also upgraded AKAM to overweight from neutral.
Analysts, on average, are estimating an EPS of $1.89 with revenue of $1.51B for 2013, which is 9.90% higher than 2012. For 2014, analyst are projecting an EPS of $2.16 with revenue of $1.71B, which is 13.50% higher than 2013.
Fundamentally, AKAM has higher operating margins and net margins compared with the industry average (industry of software application). AKAM also has a higher venue growth (3-year average) of 16.9 comparing to the average of 6.4. AKAM has a very healthy balance sheet with solid cash position and zero total debt. From the valuation perspective, AKAM remains undervalued with P/E of 37.88 as compared with the industry average of 49.50.
Technically, the MACD (12, 26, 9) indicator is showing a bullish trend. The momentum indicator, RSI (14), is picking up and indicating a strong buying momentum at 78.32, where above 70 is considered as overbought. With 17.71% gain in the last trading day, AKAM is now trading above its 50-day MA of $5.80 and 200-day MA of $7.02, as seen from the chart below.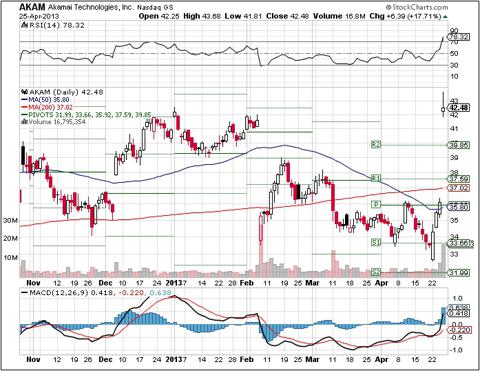 Source: StockCharts.com
How to Invest
By expanding into cloud infrastructure, AKAM is targeting higher margins. The outlook for AKAM remains bright as it continues to execute and innovate, serving large clients, such as AT&T (NYSE:T) for its AURA network solutions, as well as Apple (NASDAQ:AAPL) and News Corp (NASDAQ:NWS) for its content delivery platform. AKAM continues to be a solid investment target with its in-demand products/services, high margins, and solid balance sheet.
Note: Investors and traders are recommended to do their own due diligence and research before making any trading/investing decisions.
Disclosure: I have no positions in any stocks mentioned, but may initiate a long position in AKAM over the next 72 hours. I wrote this article myself, and it expresses my own opinions. I am not receiving compensation for it (other than from Seeking Alpha). I have no business relationship with any company whose stock is mentioned in this article.