One thing that I've learned, and luckily not learned the hard way is that short sellers need to be paid attention to.
If a stock has a huge short interest I'm apt to avoid it.
The reason is that I think more often than not, these short sellers are the "smartest money". They have to be, because they have a lot more to lose.
If I make a terrible investment and a stock I own goes to zero I lose 100% of what I've invested. If a short seller makes a terrible investment decision the stock he or she has shorted can go up five or ten times and the short seller has a loss of 500% to 1000% of the initial amount involved.
You would think that Apple (OTC:APPL) is one company that a short seller would love.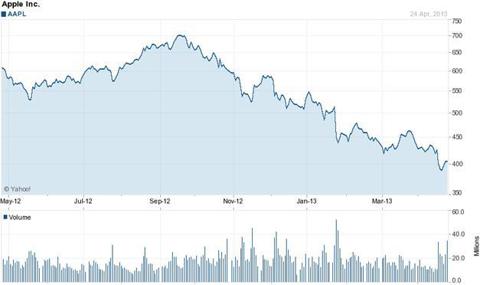 Anyone short the company has made a lot of money over the past six months.
And this week I found one short seller who does love the company. That short seller is Jim Chanos, one of Wall Street's most well known short sellers.
Except Chanos isn't short Apple, he is LONG Apple (NASDAQ:AAPL).
I'd say it is quite a vote of confidence when a man who makes his living being pessimistic about companies chooses to go long your company instead. What makes it even more interesting for potential Apple investors is that Chanos went long Apple at prices much higher than where the stock sits today.
In the interview with CNBC linked above Chanos said that in his opinion he doesn't think the Apple business has deteriorated much since the stock price was $700. That means that the valuation has only gotten better given the recent share price drop.
What Chanos actually recommends is an investment strategy is more interesting than simply going long Apple. Chanos has put together a trade that includes being long Apple and short Dell (NASDAQ:DELL).
He seems to have a particular strategy of going "long" mobile devices and tablets and "short" the PC and hardware area.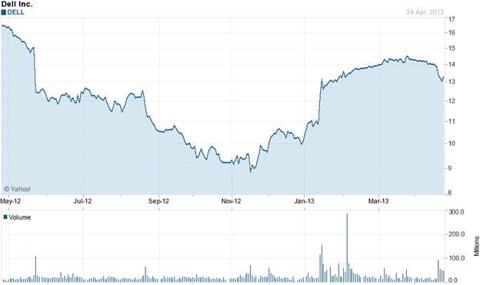 I think going short Dell right now makes a lot of sense right now even with the potential for a transaction that takes the company private.
If the deal goes through the price isn't going to be much higher than where the stock currently trades (trades near the expected deal price), so there is little risk to shorting today. In this case the loss on a short trade is capped by any deal price which is not likely to be much above the current stock price.
If the deal doesn't go through the stock is going to crash as all the arbitrageurs betting on a takeover are going to flee the stock as are many shareholders who will not want to be left owning shares in a company facing what appears to be a market in terminal decline.
The potential loss from being short Dell isn't large if the deal goes through while the potential gain could be significant if the deal doesn't get done as the stock will surely plummet.
Blackstone Group (NYSE:BX) was initially interested in perhaps being involved in a Dell buyout. They had a pretty quick change of heart when they had a closer look. The letter Blackstone sent to the Dell Board of Directors with this message why they had decided to not pursue a Dell takeover was particularly telling:
Dear Alex,

I want to thank you, the Special Committee, and its advisors for inviting us into the process and for granting us due diligence access to Dell Inc. I also want to express our gratitude to Michael Dell and the management team for spending time with us and providing us with information and data relating to the business plan and financial forecasts of Dell.

You have asked for an update of our views after the intensive due diligence that we just completed. While we still believe that Dell is a leading global company with strong market positions, a number of significant adverse issues have surfaced since we submitted our letter proposal to you on March 22nd, including: (1) an unprecedented 14 percent market decline in PC volume in the first quarter of 2013, its steepest drop in history, and inconsistent with Management's projections for modest industry growth; and (2) the rapidly eroding financial profile of Dell. Since our bid submission, we learned that the company revised its operating income projections for the current year to $3.0 billion from $3.7 billion.
Blackstone likely feels likely to have dodged a bullet here. PC volumes are down 14 percent in the first quarter of 2013 and an unpredictable market like that is not one upon which you can build a leveraged buyout where predictable cash flows are a must.
The PC market is one that is in terminal decline: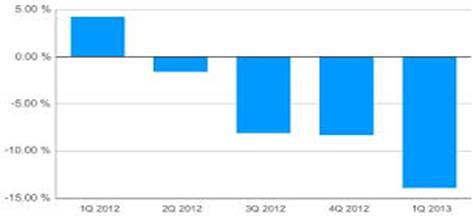 With Apple's (which has a good business) stock beaten down and trading at much better valuations and Dell's (which has a struggling business) priced optimistically for a takeover, the Chanos strategy of long Apple, short Dell might be a timely and successful trade.
Disclosure: I have no positions in any stocks mentioned, and no plans to initiate any positions within the next 72 hours. I wrote this article myself, and it expresses my own opinions. I am not receiving compensation for it (other than from Seeking Alpha). I have no business relationship with any company whose stock is mentioned in this article.