One of the biggest concerns that many investors have about Seadrill (NYSE:SDRL) is the company's substantial amount of debt. This concern is not unwarranted. Seadrill is indeed one of the most highly levered offshore drilling companies, particularly when compared against its similarly sized peers. This leverage adds a certain degree of risk to Seadrill that the other offshore drillers do not have. However, this debt is also the reason why Seadrill has been able to grow as rapidly as it has while still being able to maintain and grow its historically high dividend yield. So, there is clearly a risk/reward tradeoff here that is important to consider.
As of December 31, 2012, Seadrill had a total of $8.695 billion of outstanding long-term debt and an additional $935 million of long-term debt owed to a related party. This gives Seadrill total long-term debt of $9.630 billion. In addition to this, the company had $2.066 billion of long-term debt that matures in 2013 and an additional $131 million of short-term debt that is owed to a related party. Thus, the company has a total debt load of $11.827 billion. This compares to total shareholders' equity of $6.077 billion. This gives Seadrill a total debt-to-equity ratio of 1.946. As I discussed in my previous article which is linked above, this is the highest debt-to-equity ratio of all of the major offshore drillers by a significant margin.
Bank loans make up the majority of Seadrill's debt. As of December 31, Seadrill had a total of $7.144 billion of outstanding bank loans. Seadrill has a total of thirteen credit facilities with various banks through which this money is owed.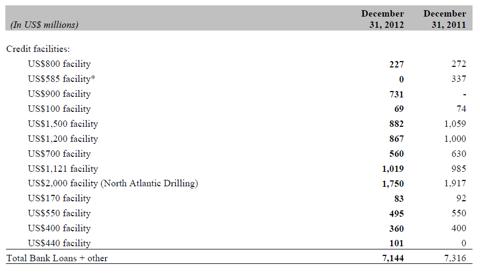 Source: Seadrill
Seadrill actually reduced its bank debt load over the past year, partly through the issuance of new bonds. On February 13, 2012, Seadrill issued NOK 1.25 billion worth of two-year bonds. These bonds carry a floating interest rate of NIBOR + 3.25%. The company also issued $1 billion worth of five-year bonds on September 14, 2012. These bonds carry a fixed interest rate of 5.625% per year. Seadrill thus appears to be betting that interest rates will remain relatively low in the short-term but rise over the medium- to long-term. This seems like a reasonable bet to make.
Seadrill's bank debt only decreased by $172 million year-over-year so clearly the company did not use all of the proceeds from its two bond issues to significantly reduce its bank debt. However, it does appear that some portion of the proceeds from the bond issues was used for this purpose.
Seadrill also has two credit facilities with Ship Finance International (NYSE:SFL), another company that, like Seadrill, has ties to Cypriot shipping magnate John Fredriksen.

Source: Seadrill
As you can see on the chart, Seadrill also reduced its debt owed to Ship Finance over the past year. This was a significantly greater debt reduction than what the company achieved with its bank debt. At the end of 2011, Seadrill owned $1.409 billion to Ship Finance. At the end of 2012, meanwhile, Seadrill owed $1.219 billion to Ship Finance.
The decrease in bank debt and the decrease in debt owed to Ship Finance was not enough to fully offset the company's bond issuance and so, as a result, Seadrill saw an increase in its overall debt load. As previously mentioned, the company has a total debt load of $11.827 billion. This is considerably higher than the $10.447 billion worth of total debt outstanding that the company had at the end of 2011.
This debt exposes Seadrill to a considerable amount of interest rate risk, much moreso than any of its peers. The bank debt in particular exposes the company to this risk as the interest rates on these credit facilities vary with LIBOR and NIBOR rates. Seadrill manages this interest rate risk through the use of interest rate swaps. From the company's most recent financial report:
"The company's exposure to interest rate risk relates mainly to its floating interest rate debt and balances of surplus funds placed with financial institutions. This exposure is managed through the use of interest rate swaps and other derivative arrangements. The company's objective is to obtain the most favorable interest rate borrowings available without increasing its foreign currency exposure. Surplus funds are generally placed in fixed deposits with reputable financial institutions, yielding higher returns than are available on overnight deposits in banks. Such deposits generally have short-term maturities, in order to provide the company with flexibility to meet all requires for working capital and capital investments. The extent to which the company utilizes interest rates swaps and other derivatives to manage its interest rate risk is determined by the net debt exposure and its views on future interest rates."
The company's use of interest rate swaps has led to some volatility in its earnings results over the years, at least where net income is concerned. However, the use of these swaps could prove very important to the company since a sharp increase in interest rates could cause the company's interest expenses to rise enough that it would have difficulty meeting other commitments such as its dividend payments to stockholders.
The reason why Seadrill has taken on all this debt is to finance the build-out of its rig fleet. Seadrill has historically been the most aggressive offshore contractor in this way and the company currently has more rigs under construction than any other contractor. In effect, Seadrill has taken on a lot of debt to in order to build fleet assets that will earn money in the future that the company can use to pay down this debt.
Seadrill stated in a recent presentation that it expects its net debt per ultra-deepwater equivalent unit to go down going forward. More precisely, the company expects to see this ratio continue to increase until the middle of this year, at which time the newbuild rigs will begin coming online and Seadrill will be able to begin reducing this ratio.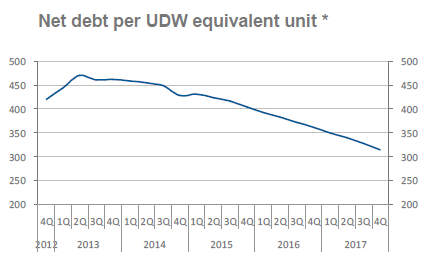 Source: Seadrill
Seadrill will see its debt decrease by approximately $780 million later this year since that corresponds to the portion of the debt that has been accrued by Seadrill's tender rig business. Malaysian oil service provider SapuraKencana has agreed to take on this debt itself as a part of its bid for Seadrill's tender rig division. While this will reduce Seadrill's debt, it will also reduce its short-term cash flow, so it may initially appear to be a wash. Over the longer-term though, this deal will likely be beneficial towards Seadrill and have a beneficial effect on the company's debt position since the newbuild rigs can replace the cash flows from the tender rig division. This transaction should also serve to reduce Seadrill's debt-to-equity ratio.
Seadrill offers perhaps the highest risk of any of the major offshore drilling contractors. However, the company also has the potential for similarly great rewards. Seadrill's leverage may be high but the company has proven itself to be quite adept at managing it. Not only that, Seadrill also has a workable plan for reducing its leverage going forward.
Disclosure: I am long SDRL. I wrote this article myself, and it expresses my own opinions. I am not receiving compensation for it (other than from Seeking Alpha). I have no business relationship with any company whose stock is mentioned in this article.