Qualcomm Inc., (NASDAQ:QCOM) is a leading manufacturer of integrated circuits for mobile phones. It provides chips for many of the world's most popular smartphones and for other devices. Qualcomm shares experienced a pullback after the company reported earnings, however, this appears to be a solid buying opportunity for longer-term investors. Let's take a look at the chart below, along with reasons why this stock looks like a buy now: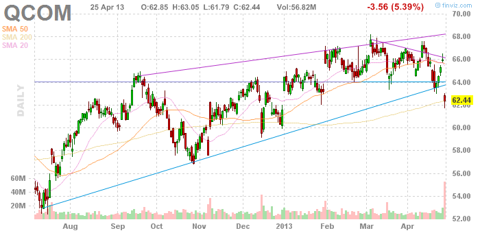 Click to enlarge
As the chart shows, Qualcomm shares were trading around $52 in July of last year and it has been in an uptrend ever since. Investors who have bought this stock on pullbacks during the past several months have been rewarded for doing so, and that trend is likely to continue. Qualcomm shares were trading close to $68 recently, but now trade around $62, which is near the 200-day moving average (a key support level). Because the stock is at the low end of the trading range and near the 200-day moving average, the downside risk might be limited and this is why Qualcomm is at an ideal price level, or what I call the "buy zone."
Qualcomm reported second-quarter revenues of $6.12 billion and earnings of $1.17 per share on an adjusted basis. This compares favorably with revenues of $4.94 billion and earnings of $1.01 per share in the same period last year. The part that some investors did not seem to like was the guidance, which was softer than expected. For the third quarter, Qualcomm expects revenues to come in between $5.8 billion to $6.3 billion and earnings (excluding items) in a range of 97 cents to $1.05 per share. This was below consensus earnings estimates of $1.04 per share, and revenues of $5.88 billion. On the brighter side, the company did raise full-year guidance to come in at a range of $4.40 to $4.55 per share on revenue of $24 billion to $25 billion. This is within consensus earnings estimates of $4.54 a share for the full-year on revenues of $24.12 billion. Based on this, it appears that investors should not be selling the stock over a small guidance reduction for next quarter when the full-year outlook remains strong. This is another reason why this stock could be poised to rebound from the recent pullback.
This company remains well-positioned and it is seeing strong demand for its new Qualcomm Snapdragon 600 and 800 processors. This should continue to drive growth in the coming months. This company also has a very strong balance sheet with about $13.28 billion in cash and just around $31 million in debt. This financial strength, and the history of growth reduces risks for investors. Plus, this stock is trading at a reasonable price-to-earnings ratio of just about 15 times. An added bonus is the dividend, which has a history of rising. For example, in 2010 the quarterly dividend was 17 cents per share and it now pays 35 cents per quarter. That means the dividend has more than doubled in just around three years. With a current dividend yield of 2.4%, investors will be well rewarded while waiting for this stock to rebound.
Here are some key points for QCOM:
Current share price: $62.44
The 52-week range is $53.09 to $68.50
Earnings estimates for 2013: $4.53 per share
Earnings estimates for 2014: $4.91 per share
Annual dividend: $1.40 per share, which yields 2.2%
Data sourced from Yahoo Finance. No guarantees or representations are made.
Disclosure: I have no positions in any stocks mentioned, and no plans to initiate any positions within the next 72 hours. I wrote this article myself, and it expresses my own opinions. I am not receiving compensation for it (other than from Seeking Alpha). I have no business relationship with any company whose stock is mentioned in this article.
Disclaimer: Hawkinvest is not a registered investment advisor and does not provide specific investment advice. The information is for informational purposes only. You should always consult a financial advisor.