I have to add one quick post on the news that FactSet Research Systems (NYSE:FDS) raised its dividend from 18 cents to 20 cents a share. It's not a gigantic increase—last year FDS raised the dividend by 50% and the year before, the company doubled it—but it's very nice to see.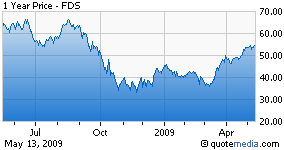 The dividend increase is 11% and FactSet is probably on its way toward growing its earnings by 15% this year. That's very good considering the rotten environment. You really don't buy FactSet for the dividend yield (currently 1.5%), but it's a nice reminder from the company that they're continuing to prosper.
Disclosure: Author holds a position in FDS.