Over the past three months, as shown by the chart below, shares of Verizon Communications Inc (NYSE:VZ) and Vodafone Group PLC (NASDAQ:VOD) have both moved sharply higher on news of a proposed $100 billion deal for Verizon Wireless. However, there are three reasons why VOD is a better buy than VZ.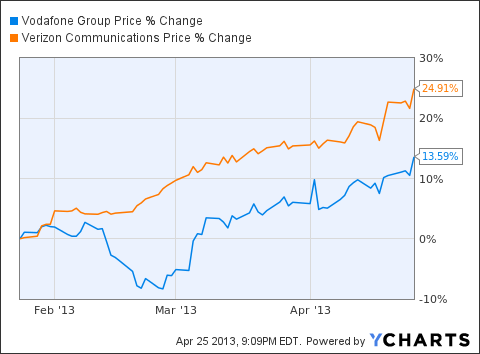 VOD data by YCharts
Dividend
Based on current prices, VZ yields just 3.87% where as VOD yields 5%. While it may not seem like much, the difference in yield is significant given the low interest rate environment. The differential in yield between VOD and VZ is just slightly less than the differential between 30-year U.S. Treasury bonds and 10-year Treasury note. (1.2%) To gain the extra 1.2% in yield, Treasury investors are forced to take an additional 20 years of credit risk. Investors can gain the same amount of additional yield by opting for VOD instead of VZ. Given the fact that investors in both VZ and VOD are yield oriented, it is likely that investors will move out of the lower-yielding VZ and into the higher-yielding VOD.
Valuation
As shown by the chart below, VOD is trading at a significantly lower valuation than VZ. Of course, in the past VZ has traded at a premium to VZ. However, the current gap in valuation is historically high. Simply put, VZ is priced for perfection and VOD is not. Going forward, valuation investors are likely to move out of the higher-priced VZ and into more reasonably valued VOD.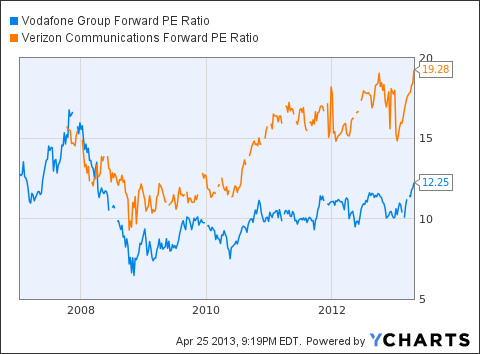 VOD Forward PE Ratio data by YCharts
Vodafone Is Selling, Verizon Is Buying
It is important to remember that VOD is selling and VZ is buying. Deals like this tend to be good for the sellers and bad for the buyers over the short term. This happens because the buyer is often forced to pay a premium to the current value of the asset in order to force a sale. So far, VOD has said that $100 billion is not enough for a deal. VZ will be likely be issuing stock and raising debt to finance the deal. This is a negative for VZ stock, at least over the short term as the supply of stock will increase. The company that will walk away with the cash here if a deal is struck is VOD. This should lead to a short-term surge in the stock.
Conclusion
Due to its superior dividend yield, cheaper valuation, and position as asset seller VOD is a better buy than VZ.
Disclosure: I have no positions in any stocks mentioned, and no plans to initiate any positions within the next 72 hours. I wrote this article myself, and it expresses my own opinions. I am not receiving compensation for it (other than from Seeking Alpha). I have no business relationship with any company whose stock is mentioned in this article.