As preparation for my review of first quarter 2009 results of Blue Nile, Inc. (NASDAQ:NILE), you might wish to read Blue Nile First Quarter 2009 Financial Results, my synopsis of the Blue Nile's fourth quarter 2008 results, and Eric Savitz's article at Seeking Alpha.
Prior to the release of the fourth quarter results, analysts had the following expectations:
Blue Nile: Revenue and Earnings Estimates
Financial Metric
Current Qtr
Mar-09
Next Qtr
Jun-09
Current Year
Dec-09
Next Year
Dec-10
Data Sources
Yahoo Finance 5 May 2009
Revenue Estimates
58.28M
62.26M
266.23M
294.11M
Earnings Estimates
0.10
0.15
0.65
0.83
The company's results were ahead of expectations with revenue at $62.4 million and earnings of $0.13 per diluted share. According to Yahoo Finance, analysts have revised their estimates as follows:
Blue Nile: Revenue and Earnings Estimates
Financial Metric
Current Qtr
Jun-09
Next Qtr
Sep-09
Current Year
Dec-09
Next Year
Dec-10
Data Sources
Yahoo Finance 13 May 2009
Revenue Estimates
67.29M
62.21M
283.76M
315.83M
Earnings Estimates
0.18
0.14
0.76
0.93
I listened to Blue Nile's conference and thought it was positive. Using Seeking Alpha's transcript, I will highlight key items in point form.
Sales declined 11.4% for Q1, which is better than earlier indications mentioned in the last conference call of about 15%.
Bridal jewelry category, which includes diamond engagement rings and wedding bands, performed better than average overall sales and made up a larger proportion of the overall sales than it did last year.
High cost jewelry exceeding $25,000 was most affected by the downturn.
Diane Irvine, President and CEO, indicated that the company performed well: "Our ability to achieve EBITDA growth from a year ago despite a decline in sales is significant and it was driven by our focus on profitability, specifically the expansion in gross margins and a laser focus on costs."
Company expects to have strong positive full year cash flow exceeding $11.8 million, which is the trailing 12 month cash flow.
Inventory was down 17% year on year.
Company has no debt.
Company is seeing signs of improvement in customer sentiment and overall retail sales, though the company remains cautious in its near term outlook. However, the company has a much stronger positive outlook for the longer term.
Jewelry industry remains in chaos and this is presenting both challenges and opportunities. The challenges stem from other jewelers exiting the business and dumping their inventory onto the marketplace. The opportunity, of course, is that Blue Nile is strong financially and should capture more market share by providing its customers with better value and better customer service.
Diamond prices have declined 20% from market highs and are 5% to 10% below prices one year ago.

Unlike the brick and mortar jewelers that carry about one year's worth of inventory, Blue Nile is a just-in-time retail operation. Thus, it is able to pass along the majority costs savings of decreased diamond prices to customers. This action helps to increase market share and provide a slight boost to gross margins. Recall that Blue Nile was able to offer customers better value because of its lower cost structure. Reduced diamond prices further enhances its competitive position.

The website will undergo a major revision later this year.
Although international sales are small today, international growth continues to look exciting with expansion beyond Canada, the UK, and Ireland. Blue Nile now offers shipping to over 40 markets worldwide.

Customers can purchase goods from Blue Nile using their own local currency, which will help provide comfort and security.

Orders were down 13% from a year ago; however, average order value was up 1.5% to $1662. As mentioned, bridal jewelry composed a larger proportion of the overall mix.
Gross profit was $13.2 million and gross margin rose from 19.8% in Q1 2008 to 21.2% in Q1 2009. The increase in gross margin is attributable to three factors: increased margin because of lower diamond prices, lower metal prices, and improved sourcing of products.
EBITDA increased from $5.2 to $5.3 million year on year.
Net income was $1.9 and earnings per diluted share were $0.13 versus $0.16 a year ago.
Company ended the quarter with a cash balance of $32.3 million. Because of the holiday purchase cycle, the significant payables were reduced. This results in a negative cash flow from operations during the first quarter. As stated, the company expects to exceed $11.8 million in non-GAAP free cash flow for the full year.
No explicit guidance for the remaining quarters; however, the company expects improving sales trends with Q2 and Q3 below last year's levels. Q4, which was adversely affected last year, should have positive growth this year. EBITDA for 2009 should exceed 2008 EBITDA level.
Notable Question and Answer Comments:

The second half of the quarter was stronger than the first half.
Because of the company's strong position, it is gaining more influence within the industry and other vendors are seeking to work with the company.
Diane Irvine commented: "With respect to the websites, specifically I think you'll see a very significant change in our new website that we'll launch later this year before the beginning of Q4 and it will really be the most significant change we've done to the website from a branding standpoint. So, I think elevating the level of specialty of our brand and the beauty of the product that we are selling, but it's really designed to showcase the premier aspect of our brand."
Diamond mines reduced output in reaction to reduced consumer demand and jewelry bankruptcies with their inventory dumped on the marketplace. As excess diamonds are in the process of being sold, diamond mines are beginning to increase production again.
Despite new entrants into the online jewelry space, Blue Diamond believes that it continues to enhance its competitive position each quarter.
Diane Irvine mentioned that although bridal jewelry has a high price point and therefore a lower gross margin, Blue Nile had a larger proportion of bridal jewelry sales and increased gross margins. The increased gross margins are the results of lower diamond prices, lower metal prices, and better sourcing of products.
Marc Stolzman indicated that the vast majority of the reduced costs in diamonds and metals are passed along to the customer. This helps Blue Nile gain market share against its brick and mortar competitors who have a year's worth of inventory to work through.
Internet shopping bots don't do well in comparison shopping for diamond rings because diamond rings are specialized and differentiated products and not UPC coded. Thus, it is difficult to use a mechanical means for comparison. Customers are, however, sensitive to promotional activity and price points. Blue Nile is using that knowledge as part of its marketing plan.
Brick and mortar jewelry retailers remain in a very difficult environment. Bankruptcies are announced frequently. Liquidation is a headwind but the opportunity is less competition in the future. Also, the liquidation tends to be in the non-bridal jewelry.
On Monday, 11 May 2009, Diane Irvine appeared on CNBC's Fast Money show. Please view CNBC's video below (for those viewing by email or by RSS, you might have to visit this website to view the video):
Key themes from the CNBC segment:
Irvine: Captured many of the points previously discussed and mentioned that the company still has plenty of runway ahead of it:

The company presently has about 4.5 percent of the engagement ring market and it believes that 15 percent is reasonable target value.

Jeff Macke: Just watch the cash flows. As long as strong cash flows remain, stock price doesn't matter much.
Guy Adami: Price to book is over 30 times and there is a huge short interest.
Tim Seymour: Echoes Guy's huge short interest concern.
Pete Najarian: Recent trajectory has been too strong—wait for a pullback.
Let's examine their comments. But before doing so, I will provide some additional data and graphs.
| Financial Metric | NILE |
| --- | --- |
| Data Source | Yahoo Finance, 13 May 2009 |
| Market Cap. | $608.987M |
| Enterprise Value | $617.24 |
| Forward P/E (fye 04-Jan-11) | 45.17 |
| PEG Ratio (5 yr expected) | 3.34 |
| Enterprise Value/EBITDA (ttm) | 35.291 |
| Qtrly Revenue Growth (yoy) | -11.40; |
Please note that you can click through the next two graphs to see full sized versions.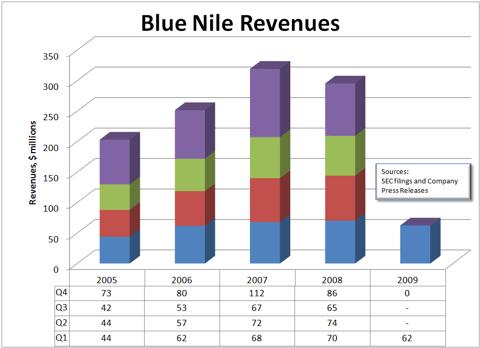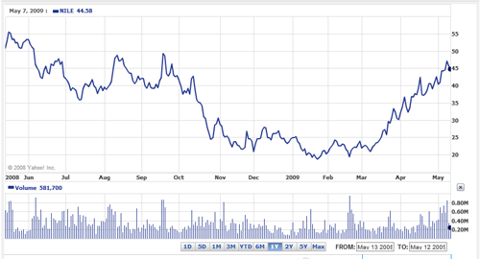 I agree with Jeff Macke. As long as the company remains focused on its business and its cash flows remain strong, share price isn't that important. Given the overall uncertainty in the economy, it's hard to provide a definitive price target. Looking at the Revenue chart above, we see the importance of the fourth quarter.
Furthermore, if you look at some of the prominent analysts, one maintains his call for $18 per share from earlier this year. Good luck with that price forecast. Another analyst had a $30 price target earlier this year and is now at $50 per share. That's an amazing change in a short period. And, just to show you how smart I am, I was forecasting a share price of $20 – $25 per share so long as the S&P remained between 800 – 900. I was too bearish. However, to my credit, I knew the share price was difficult to determine and believed that Blue Nile would go higher as the economy improved. I was and remain long Blue Nile shares.
Guy Adami raises an interesting point with price to book value, though it is somewhat misleading. Blue Nile uses its surplus cash to repurchase shares, thereby reducing book value. Think of the situation this way: Blue Nile could have let its cash pile up on its balance sheet. Then, it would have a substantial book value, but more shares outstanding and a lesser cash flow and earnings per share metrics. As an investor, would you prefer a) high price to book value, capital returned to shareholders through repurchases, with fewer number of shares outstanding, and comparatively high cash flow to shares; or b) lower price to book value, cash sitting inefficiently on its balance sheet, with greater number of shares outstanding, and comparatively low cash flow to shares? The reality is, Blue Nile is not a capital or infrastructure intensive business. And that's what makes it successful against its brick and mortar competitors. So don't get led astray by looking at book values. As long as the company continues to return cash to shareholders, the book value will be low and the price to book value will be high.
Guy Adami and Tim Seymour commented on the huge short interest. There's always been a huge short interest. According to Yahoo, there is a 42.2% short interest against the available float. Five days ago, Twitter user jkutti2000 commented that she or he was unable to locate stock for a short. But I must warn you, shorting Blue Nile is challenging at best. Just look at the folks who were short three months ago. Again, the short interest was extremely high. Professional short seller Doug Kass, general partner of Seabreeze Partners Management, Inc. and commentator for The Edge Column on RealMoney Silver (subscription required—part of TheStreet.com family), has written rules that he uses. Of his written rules, at least two are appropriate here: "3) Create a diversified short book. No individual equity position should exceed 2% of your portfolio's assets" and "8). Avoid illiquid and heavily shorted stocks. If you don't, eventually a short squeeze will be the outcome, and with it will be heavy losses." So for those shorting, I urge caution.
Given that I am long, do the shorts bother me? No, not at all. In fact, they are the best poison pill against a take-over by a larger and likely slower growing company. While a onetime share price pop is always appreciated, I'd prefer to enjoy several years of strong growth and strong share price appreciation. If a take-over were announced, shorts would have trouble locating shares and the share price would jump up substantially.
Pete Najarian mentioned that he was concerned that Blue Nile has moved too far too fast. The stock has pulled back, more than the market during the past few days. Last Friday, the stock spiked to over $51 per share and closed Wednesday (13 May 2009) $42.02. Will the stock pull back much further? I don't believe so. But if the general market enters a severe correction again, Blue Nile stock will not be immune.
Overall, I am impressed with Blue Nile. While their competitors are fretting about how to pay the bills and, unfortunately, closing stores and layoff staff, Blue Nile remains focused on running the business better. The company's survival is not in question, unlike much of its competition's, and the company is taking market share. It is expanding internationally with a smart strategy of allowing foreign customers to use their local currency for purchases. Blue Nile continues to benefit from its just-in-time retail model, unlike its competition that is stuck with expensive year-old merchandise.
In terms of a share price target, that is extremely difficult, if not impossible. There are smart people who believe that we have not seen the worst in the economy. If the economy were to tank, Blue Nile would not escape. Conversely, others believe that the worst is behind us. Using that scenario, I believe Blue Nile will only get better and stronger with a higher share price. Earlier this year, I thought my prior forecast of $20 – $25 per share under an S&P of 800 – 900 was reasonable. I had several commenters on Seeking Alpha thinking that I was much too bullish. Reality is, in hindsight, I was much too bearish. If I had to guess now, I would say that Citigroup's Mark Mahaney's forecast of $50 per share seems reasonable. In summary, if the economy strengthens over the summer and into the fall, $50 will be too low. The converse is also true.
Disclosure: I am long Blue Nile stock.