China Medicine Corporation (OTCPK:CHME) said Q1 revenues rose 43% to $10.1 million while net income rose a more modest 11% to $1.3 million (non-GAAP) or 9 cents per share, fully diluted. A charge related to the fair value of warrants took GAAP earnings down to $.55 million, an eps of 4 cents.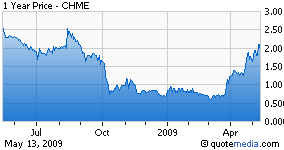 Investors were not impressed. They gave the company's stock a 17% haircut following the earnings announcement. Shares of China Medicine slipped 35 cents lower to $1.75 in mid-session. At this price, the company has a market capitalization of just $27 million.

In its release, China Medicine said it was pleased with its revenue growth, especially since the early China New Year holiday pushed pre-holiday buying forward into Q4 of 2008, making comparisons difficult. China Medicine attributed its growth to an increase in pharmaceutical sales from the Guangdong Sunshine Medicine Public Internet Bidding System.

Western prescription products and over-the-counter products constituted 56% of revenues while TCM prescription and OTC products accounted for almost all of the remainder. Only 1% of revenues derived from sales of dietary supplements, and medical equipment.

China Medicine said government health reform has had a negative effect on its margins. As China's central government restructures the rural health system, it has lowered prices on generic drugs. The company said it will realign its portfolio, emphasizing drugs on which it has exclusive rights and also stressing self-branded products, both of which have higher margins. In 2009's Q1, gross margin was 27.5% against 32.7% in the year-ago quarter.

On March 31, 2009, China Medicine had just $1.8 million in cash, but it announced $34.4 million in working capital. Accounts receivable declined to $14.9 million from $19.2 million three months earlier. Despite the positive collection numbers, it used $1.4 million in cash, primarily to purchase inventory and make advances to suppliers.

Future Plans

Two new products figure largely in China Medicine's optimistic outlook: Nianlianping, a product used to prevent surgical adhesions, for which China Medicine recently gained distribution rights in Guangdong province, and Aflatoxin Detoxifizyme (rADTZ), an animal feed additive that has the potential to detoxify aflatoxin, a cancer causing agent in food and feed.

During Q1, China Medicine secured a manufacturing license for feed additives, and it has begun trial production of rADTZ. The company estimates the potential market for rADTZ at $4 billion, though following launch of the product in Q2, it expects rADTZ to generate $2.3 million in revenue during 2009.

China Medicine also plans to introduce a new self-branded pharmaceutical herbal tea and "BeThin," a weight loss product.

Top selling drugs for China Medicine:

• Iopamidol by injection – 17% of revenues –helps diagnose heart, brain, blood and nervous system disorders in X-rays or CT scans;
• Hongjin Xiaojie capsules -- 15% of revenues – treats pain and for blood circulation; and
• Xiasang Ju granules – 15% of revenues – treats coughs, headaches and dizziness.

Disclosure: none.