In a registration filed with the SEC today, Trovagene (NASDAQ:TROV) has entered into a research and development collaboration with the healthcare giant PerkinElmer Health Sciences (NYSE:PKI). Outlined in the 8-K, is the agreement for PerkinElmer to design an assay to detect the presence of hepatocelluar carcinoma (HCC), harnessing Trovagene's urine-based TrNA patented technology. Together, they will jointly validate the assay and evaluate the potential of combining the TrNA Technology with PerkinElmer's technology for the automation of nucleic acid isolation.
Trovagene develops TrNA tests that are based upon a proprietary method of nucleic acid isolation, followed by detection of specific genetic markers. These proven and well-established detection methods are used to detect nucleic acids in blood, stool and other specimen types. Using enhancements of these techniques, TrNA markers can be isolated from easily obtained urine specimens. Cell-free nucleic acids have been found in a variety of human bodily fluids with the nucleic acids isolated from urine having been extensively characterized. Transrenal nucleic acids (TrNAs) have been proven to contain mutated DNA and other markers of disease, including microRNA (miRNA). In contrast to other bodily fluids (i.e. plasma) urine allows for truly non-invasive collection of the sample, provides a larger sample size, and allows for frequent collection. These factors, combined with recently commercialized technologies to digitally count and track nucleic acids, make the development of these truly non-invasive diagnostics practical and scalable.
Through the collaboration, potential is broadened for the practical and scalable production of these technologies as Trovagene , the development-stage molecular diagnostics company, enters in to the partnership to develop its first assay with PerkinElmer. Skeptical investors once questioning the ability of Trovagene to mass-manufacture and produce these technologies may be silenced as the company now has the potential to get exposure to the market and diagnostic outlets backed PerkinElmer. PerkinElmer is a well-established, diverse, diagnostics and biotechnology firm with a market cap just under $4 billion. Through its medical laboratories and research team, the company develops diagnostics, tools and applications to help detect disease earlier, as well as accelerate the discovery and development of critical new therapies. Combing its existing technology for the automation of nucleic acid isolation with Trovagene's TrNA urine-based applications, offers a cost-effective alternative to any other screening technique commercially available for the detection of hepatocelluar carcinoma, traditionally screened by ultrasonography (costs ranging from $100-$1000) and CT Scans (costs ranging from $1200-$3200). The implications of urine-based testing removes the need for medical professionals to conduct the tests and provides a unlimited supply of sampling specimen at a fraction of the cost to extract and store.
Market for Hepatocelluar Carcinoma
Each year, close to 700,000 people are newly diagnosed with primary liver cancer, also known as Hepatocellular carcinoma. HCC is the sixth most prevalent cancer and the third most frequent cause of cancer-related death. Patients with cirrhosis are at highest risk of developing this malignant disease, with screening being recommended every 6 months via ultrasound. Surveillance allows diagnosis at early stages when the tumor might be curable by resection, liver transplantation, or ablation, and 5-year survival higher than 50% can be achieved. Primary liver cancers account for less than 1% of all cancers in North America whereas in Africa, Southeast Asia, and China, they may account for up to 50% of cancers. This can be illustrated by the liver cancer incidence and mortality worldwide distribution between men and females: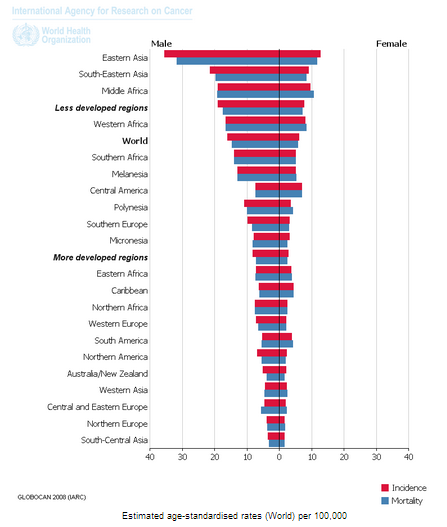 PerkinElmer has one of the biggest footprints in the Asian demographic diagnostics market, deepening its exposure to the growing molecular clinical diagnostics when it acquired Shanghai Sym-Bio LifeSciences Co., a leading Chinese diagnostic company, back in June 2009. If the urine-based assay test for HCC can be successfully developed, access to the newly diagnosed 700,000 patients requiring screening twice a year, will be feasible from the outlets to the Asian markets through PerkinElmers' wholly-owned marketing and sales team.
Terms of the Agreement
PerkinElmer will pay Trovagene milestone payments in addition to granting PerkinElmer an exclusive option (the "HCC Option") to obtain an exclusive royalty-bearing license to use the company's technology within the hepatocellular carcinoma field (the "HCC Field"). Such option is exercisable within 15 days of the end of proof of principle work on the hepatocellular carcinoma assay. In the event PerkinElmer exercises such option, Trovagene and PerkinElmer shall have a 60 day period to negotiate a license agreement.
Trovagene has also granted PerkinElmer an exclusive option to obtain an exclusive royalty-bearing license to use the company's technology in other fields. Trovagene is concurrently developing a pipeline of diagnostics used for the detection and monitoring of several cancers, infectious diseases, and prenatal genetic disorders using the Transrenal urine-sampling technique. In the event that PerkinElmers' sees traction with the HCC assay, doors may open for the company to harness the same technology across multiple segments of diagnostic screening, through Trovagene licensing it out. The commencement of this collaboration is a testimony to the technological capabilities Trovagene possesses, as PerkinElmer applies it to the study and development of the assay combing it with their own technology.
Disclosure: I am long TROV. I wrote this article myself, and it expresses my own opinions. I am not receiving compensation for it (other than from Seeking Alpha). I have no business relationship with any company whose stock is mentioned in this article.