By David Urani
D.R. Horton (NYSE:DHI) stock is green today, like a freshly mowed spring lawn -- can you smell those profits? It posted fiscal Q2 revenues of $1.39 billion, up 49% from last year and above consensus expectations for $1.28 billion. Likewise, the bottom line beat by $0.13. It was a strong result, and in fact a handful of housing companies had already turned in some positive results prior to this, so it's not necessarily a big surprise -- although D.R. Horton in particular is looking great.

It's no secret the housing market has been rebounding big time over the past year and a half, so in a way homebuilders like D.R. Horton have had some big shoes to fill. DHI debunked a couple of worries that I had, including a recent flatlining of housing data and rising costs. With respect to the housing data, one factor that may be holding back sales has been shortages of inventory. Of course, with D.R. Horton being one of the largest national homebuilders, it's in a prime position to remedy that issue. In fact, while many private homebuilders and even smaller public homebuilders have trouble securing the resources to get larger amounts of inventory out into the market, D.R. Horton has a wide inventory of lots and homes available (175,000 lots owned or controlled and 15,800 completed homes) and a sturdy balance sheet a support it. Consequentially, D.R. Horton is feeding a need for more supply while also capitalizing where others can't, which translates into market share gains.
With respect to rising construction costs, that did occur for DHI -- they were up 3.8% per square foot. However, average prices were up 10%, which led to increased gross margin. Homebuilding gross margin was up to 20.4% from 17.6% year over year, and from 18.8% sequentially. The company also saw higher prices resulting from a mix of larger homes.
Going forward, new orders are looking good, up 34% year over year in units and 52% in dollars. Consequentially, the backlog of orders is up 54% in units and 76% in dollars. Regionally, there's strength everywhere, although the Southeast and West in particular stand out.



Given recent readings for home sales, there wasn't much to indicate that the rate of sales picked up significantly through the winter. However, the spring selling season is well under way as non-adjusted new-home sales were up 21% month to month in March, according to the Census Bureau. That's actually a pretty typical gain for March (seasonally adjusted sales were up just 1.5%), but nevertheless DHI management noted that the spring selling season is developing well.
In the meantime, the usual influx of demand for the spring may have a more significant impact on the market this year given that there has already been short supply; we question if homebuilders will be able to keep up. Months' supply of new homes available slid to just 3.8 months, which means that the need for new construction may become even more protracted going forward. Subsequently, it's the big builders like D.R. Horton that are best positioned to churn out supply and reap the benefits.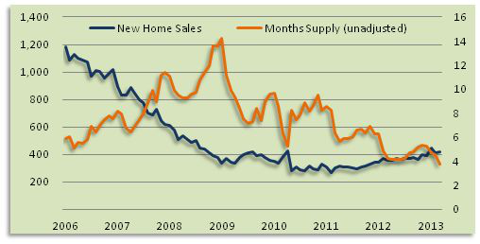 DHI traded up more than 6% immediately following earnings.