By Lara Crigger
Uranium spot prices jumped another $2 Monday to settle at $51/lb (monthly contracts are trading closer to $44/lb). Sure, that's still a long way from their $136/lb peak set back in June 2007. But after a consistent downward slide since then, U3O8 prices seem to have bottomed, emerging from the downward spiral they've been on since last September: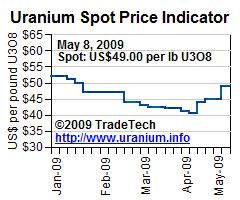 Source: TradeTech
It's just further evidence that nuclear power, once so despised it made the perfect long-running gag on "The Simpsons" is making a bit of a comeback. And why not? On the alt-energy playground, nuclear power is the beefiest kid around: an efficient, well-understood technology that works entirely independent of seasonal weather patterns (hear that, solar and ethanol?). Plus, nuclear reactors don't emit an ounce of greenhouse gases, and in this emissions-obsessed culture, that makes fission a downright rock star.
While Americans might still have some reservations about Blinky the Three-Eyed Fish, the rest of the world has increasingly embraced nuclear power. France, for example, gets more than 87% of its electricity from nuclear, while Belgium and Sweden get 54% and 60%, respectively. And that market share is set to rise: The International Atomic Energy Agency recently projected that in the next 15 years, we'll see 70 new nuclear plants, which would almost double global capacity. As it is, over 40 reactors are currently under construction in 11 countries, including South Korea, Russia, Japan and China.
China, in particular, plans to heavily invest in nuclear power as part of its stimulus plans; already the country is building 11 new reactors, with another 98 proposed or in planning stages. China has also announced its intentions to stockpile uranium to ward off shortages - and as we've seen in base metals lately, when China decides to hoard, prices go skyward.
All this means good things for uranium, since you can't have nuclear power without nuclear fuel.
We've discussed these and other long-term fundamentals for uranium now and again here at HardAssetsInvestor, and even though prices have plummeted since 2007, those driving forces still remain in play. In short: Demand for ready-to-use yellowcake already far outstrips supply - indeed, it has done so every year since 1989 - and the new global push for more reactors is only going to squeeze stockpiles further. Estimates from Ux Consulting place 2009 demand for uranium between 171 million and 184 million pounds, while only 125 million pounds will be produced.
So even though uranium took a playground beating during the recent financial meltdown, in the long term, yellowcake may have nowhere to go but up.
But don't take my word for it. Here's the latest from a new report by RBC Capital Markets: "We believe the uranium market is in the early stages of a bull market rally that could last three or four years."
The Many Ways to Access Uranium
If RBC is correct, investors can get the jump on the impending bull market in a variety of ways, including futures. Although no physical exchange exists yet for uranium, you can still trade monthly yellowcake futures on NYMEX, which uses prices from The Ux Company's Ux U3O8 index.
Or you could invest in a holding company that stockpiles uranium, like Uranium Participation Corp (TSE:U) or Nufcor Uranium Limited (LON:NU). In fact, rumors that these companies had begun purchasing more yellowcake is one of the reasons prices started to rise last month.
But perhaps the most promising way to access uranium right now is to look to the source: producers. Lately, uranium miners haven't been doing half bad, having regained some of the ground they lost in 2007's U3O8 price drop and last year's credit crunch. The same RBC report noted that overall, uranium stocks have rebounded almost 225% from their lows, and that the market could reclaim its previous peaks within the next two years.
This recovery in miners has been driven in part by good discovery news out of Africa. New drilling results from the Rössing South mine in Namibia suggest that the newly discovered source is not only the country's highest-grade uranium deposit, but could be one of the largest in the world. (Extract Resources (TSX: EXT), which owns the mine, and Kalahari Minerals (LSE: KAH.L), which owns a large stake in Extract, have both seen their share prices soar). Meanwhile, in Niger, French nuclear power giant Areva has teamed up with local officials to lay foundations for a new mine in Imouraren, which when completed, will be Africa's largest uranium mine and the second largest in the world.
Uranium Miners: The Cast Of Characters
Many diversified resource companies like Cameco (NYSE: CCJ), BHP Billiton (NYSE: BHP) and Rio Tinto (NYSE: RTP) dig for uranium along with coal, copper and iron ore. In particular, shares of Cameco, the world's largest uranium supplier, have more than doubled in price since last December's lows. While the company's first-quarter profits declined 38%, CEO Jerry Grandey revealed that this was because the company is snatching up uranium at above-production prices in order to resell later. "Down the road, we will realize additional revenue and earnings as we deliver the purchased material to our customers," he said.
Both BHP Billiton and Rio Tinto have announced expanded relationships with China; in particular, BHP is investigating the possibility of expanding its operations at the Olympic Dam mine in Australia (the world's largest known uranium deposit) in order to meet Chinese demand.
Other miners doing particularly well are First Uranium (TSX: FIU) and junior miner Deep Yellow (ASX: DYL), which have both seen strong price increases (174% and 87%, respectively). In fact, First Uranium recently announced it would offer $92 million in new stock, using the proceeds not only to speed up new development, but also to sow the seeds for potential acquisition.
Even beleaguered miner Uranium One (TSE: UUU) is looking a bit chipper: In the first quarter, the company doubled production to 700,900 lbs, with lower-than-expected production costs. Although Uranium One has had its share of troubles - from last year's shutdown of its Dominion Mine in South Africa to crippling shortages of sulphuric acid at its Kazakhstan mine - the company appears to be stabilizing, and revenues nearly doubled over the same quarter last year.
And if you don't want to make the individual calls, there are three solid nuclear-centric ETFs in the marketplace now: the Market Vectors Nuclear Energy ETF (NYSE Arca: NLR), the iShares S&P Global Nuclear Energy Fund (NASDAQ: NUCL) or the PowerShares Global Nuclear Energy ETF (NYSE Arca: PKN). Each takes substantial equity positions in the major minors, along with reactor manufacturers and service companies.
One final footnote for the uranium bulls: Now-defunct investment bank Lehman Brothers is apparently sitting on a 500,000 lb stockpile of yellowcake, large enough to make a nuclear bomb. Should they dump that uranium on the market, it could depress prices, although Chief Executive Brian Marsal has said the firm plans to gradually sell the supply "over the next two years."