I am bullish on Microsoft (NASDAQ:MSFT). In an earlier article I put forward the thesis that the "death of the PC" rhetoric following IDC data that Q1 PC sales had fallen 14% was specious in that the data excluded growth in PC equivalents such as Windows 8 tablets and hybrids. The IDC forecast showed Android and iOS neck and neck with Windows a distant third as the market grew from 191 million units in 2013, to 350 million units in 2017.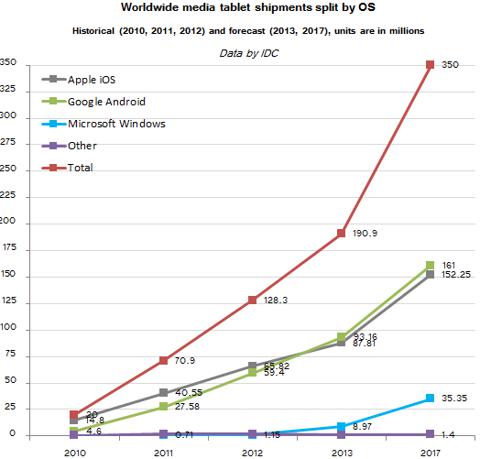 Click to enlarge
The IDC report contained a table, which indicated its view that the Windows share of the 2013 market was likely to be 4.7%, comprising 2.8% Windows and 1.9% Windows RT.
Tablet Operating Systems, Forecast Market Share and CAGR 2012-2017
Tablet OS

2013
Market
Share

2017
Market
Share

2012-2017
CAGR (%)

Android

48.8%

46.0%

14.8%

iOS

46.0%

43.5%

15.0%

Windows

2.8%

7.4%

48.8%

Windows RT

1.9%

2.7%

27.9%

Other

0.6%

0.4%

7.5%

Grand Total

100.0%

100.0%

16.6%
Source: IDC Worldwide Quarterly Tablet Tracker, March 2013
The IDC data understate Windows tablets success.
Recent reports indicate that Windows 8 tablets captured 7.5% of the Tablet market in Q1, far more than the 4.7% IDC forecast for the entire year. With 40.6 million tablets sold in the three months ended March 31, 2013, Windows 8 tablet share amounted to over 3 million tablets. If Windows 8 devices hold that share, they will represent over 14 million units of the forecast 192 million units for the worldwide tablet market. If they continue to expand share and the market grows as fast as IDC expects, 2014 Windows tablet sales could reach 35 million units.
I will go out on a limb and assume Windows 8 tablets and hybrids increase share during the balance of 2013 and thereafter. This is consistent with IDC forecasting growth of Windows tablets at a rate three times that of iOS and Android devices through 2017. The likelihood of share expansion is enhanced by the recent release of Haswell chips by Intel and the prospect of Haswell-powered devices based on Intel's Cape North architecture reaching the market before Christmas. These devices will have long battery lives without sacrifice of power and will be lighter and thinner than any we have seen yet. At the same time, Microsoft will have issued its Windows Blue update to Windows 8, improving the operating system based on feedback from hundreds of thousands of users.
With a 10% share for the year as a whole, Windows 8 tablets will be almost 20 million units. A substantial number of those units will be Microsoft Surface variants and a large proportion will come at the expense if iOS devices. The effect is positive for Microsoft and a headwind for Apple. If half of those tablets are Microsoft Surface tablets at a 30% margin and ASP of $700, tablet sales will add $2 billion to Microsoft operating income this year. If half of those tablets come at the expense of Apple iPads at a 40% margin and ASP of $600, the impact will reduce Apple operating income by $2.4 billion.
This trend is not just a 2013 phenomena. Windows tablets are likely to displace iOS tablets for several years to come, as reflected in the IDC forecasts.
I am long Microsoft and have recently closed a short position in Apple, both through call options. I may add to my Microsoft position and re-establish an Apple short in the near future.
Disclosure: I am long MSFT. I wrote this article myself, and it expresses my own opinions. I am not receiving compensation for it (other than from Seeking Alpha). I have no business relationship with any company whose stock is mentioned in this article.
Additional disclosure: I am long Microsoft calls and may take a short position in Apple calls in the near future.