Corning Incorporated (NYSE:GLW) is a global, technology-based corporation, operating in five segments: Display Technologies, Telecommunications, Environmental Technologies, Specialty Materials and Life Sciences. With better-than-expected earnings and strong buyback, Corning is marching up, lifted by Gorilla Glass.
Bottom Formed
On April 25, 2013, Corning's chairman and CEO Wendell P. Weeks told shareholders in the annual meeting that Corning's performance over past two quarters is a strong indication that the Corning has successfully formed the bottom and is ready to march up. Despite a tough 2012, Corning is ready for growth in 2013. The growth opportunities mainly come from 1) the proliferation of mobile devices, which increases the demand for thin, tough cover glass; 2) increasing demand for bandwidth, creating needs for fiber optic networks; 3) evolution to higher-resolution display devices, requiring more specialty glass to meet rigorous technical requirements; 4) increasing demand for emissions-control products due to tighter environmental regulations; 5) increasing need for more effective drug therapies due to gaining global population. The company is progressing well and is introducing new glass compositions for high-performance displays and launching new products such as ultra-thin Corning Willow Glass.
Better-than-Expected Earnings and Strong Forecast for Gorilla Glass
Corning delivered better-than-expected Q1 results. Despite the weak revenue of $1.81B, lower than the estimate of $1.96B, net income for Q1 rose to $494M (33 cents a share), up from $474M (31 cents) in the year-earlier period. The earnings beat analysts' prediction of 23 cents, according to the number compiled by Bloomberg.
Display, the largest contributor to Corning's revenue, delivered encouraging results. Continued strength is expected for Gorilla Glass for 2013 as Corning is well positioned in the smartphone and mobile segments. Revenue in Corning's specialty materials division will climb 15 percent to 20 percent in Q2 from the previous three-month period on rising demand for Gorilla Glass. In addition, sales of optical fiber and other products for communications networks will climb 20 percent in that span.
Increasing Dividend and Strong Stock Buyback
On April, 24, 2013, the Board of Directors approved an increase for quarterly common stock dividend. The quarter dividend will rise to $0.10 per share of common stock held (up from $0.09 per share). The second-quarter dividend will be payable on June 28, 2013 to holders of record on May 31, 2013. Corning had increased its dividend 3 times in the past 18 months. The board also authorized a share repurchase program to acquire up to $2B of the company`s common stock, expiring on December 31, 2014. This new program is incremental to repurchases totaling $1.5B completed in December 2012.
Analysts' Calls and Estimates
On April 25, 2013, UBS reiterated a buy rating with a target price of $17 (up from $16) for GLW. Barclays also reiterated an equal weight rating with a target price of $15 (up from $12) for GLW. Analysts currently have a mean target price of $14.12 for GLW, which is blow GLW's closing price of $14.23 as of April 25, 2013. Analysts, on average, are estimating an EPS of $1.17 with revenue of $8.36B for 2013, which is 4.40% higher than 2012. For 2014, analysts are projecting an EPS of $1.26 with revenue of $8.73B, which is 4.40% higher than 2012.
Fundamentally, GLW has a higher net margin of 21.6% as compared to the industry average of 11.5%. GLW has a healthy balance sheet with a debt/equity ratio of 0.2 (below the industry average of 0.3). From the valuation perspective, GLW is undervalued with P/E of 12.0 (vs. the industry average of 18.7) and P/B of 0.9 (vs. the average of 1.6). GLW's Forward P/E of 10.0 is also below the S&P 500's average of 14.3.
Technically, GLW is on the long-term uptrend since mid-November, 2012. In the last 2 trading days, GLW had broken through its long-term uptrend resistance, as seen from the chart below.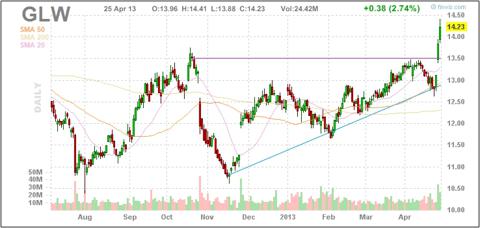 Click to enlarge
Source: Finviz.com
Bottom Line
Corning is well positioned to ride multiple uprising trends, including the increasing demand for smartphones and mobile devices, bandwidth, as well as effective drugs for gaining populations. Corning's further growth is supported with its healthy balance sheet and high margins. Gorilla Glass will remain as the strong growth driver while Willow Glass may soon upraise to become another blockbuster product for Corning. Corning is a solid buy for the long term. Investors can also review the following ETF to gain exposures to GLW:
S&P Equal Weight Technology ETF (NYSEARCA:RYT), 1.49% weighting
Note: Investors and traders are recommended to do their own due diligence and research before making any trading/investing decisions.
Disclosure: I have no positions in any stocks mentioned, but may initiate a long position in GLW over the next 72 hours. I wrote this article myself, and it expresses my own opinions. I am not receiving compensation for it (other than from Seeking Alpha). I have no business relationship with any company whose stock is mentioned in this article.