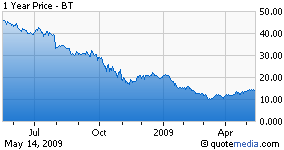 BT Group (NYSE:BT), the Brititsh telecom giant, Thursday morning said it will cut 15,000 jobs and slash its dividend in reponse to disappointing performance by its Global Services unit. The company Thursday morning posted revenue for its fiscal fourth quarter ended March 31 of 5.47 billion pounds, up 1% year over year, but suffered a loss of 977 millioun pounds, compared with a profit of 426 million a year earlier.
BT also cut its year-end dividend to 1.1 pence from 10.4 pence a year ago, bringing the full year dividend to 6.5 pence. Doing a little back-of-the-envelope math, given that each American Depositary Share represents 10 ordinary shares, that means a payout of 65 pence per ADS, which is about 98 cents, and gives the stock a yield of 7%, rather than the previous double-digit yield. The fact that the stock carried a double-digit payout was a clear signal that the Street did not consider the previous dividend rate sustainable.
BT Thursday is down 44 cents, or 3.1%, to $13.63.