We believe increased conviction in earnings growth and quality will lead to expanded P/E multiples for the market, which could deliver total returns for the equity market of +12-13% in the next year. Our components of total return are comprised of +8-9% earnings growth, +2-3% P/E multiple expansion and 2% dividends.
1. Current and Potential Future Valuations
| | | | | | |
| --- | --- | --- | --- | --- | --- |
| | | Forward | Forward | | |
| | | Year | P/E | | |
| | S&P 500 | EPS | Ratio | Dividends | Yield |
| Current Valuation | 1,578 | 111.0 | 14.2 | $ 32.11 | 2.0% |
| 2014 Valuation | 1,752 | 120.0 | 14.6 | $ 34.00 | 1.9% |
| Y/Y % | 11.0% | 8.1% | 2.7% | 5.9% | |
We believe investors will put a 14.6X P/E multiple on 2014 S&P 500 EPS of 120 resulting in a 1,752 S&P 500 valuation, +11.0% from current levels. Tack on a 2.0% yield delivers 12-13% total return. Our positive thesis is supported by recent earnings results from the Q1:13, historical P/E multiples and recent dividend growth rates and historical payout ratios.
Our opinion bodes well for major index ETF valuations, such as Dow Jones Industrial Average ETF (NYSEARCA:DIA), SPDR S&P 500 (NYSEARCA:SPY), Nasdaq ETF (NASDAQ:QQQ), Vanguard S&P 500 (NYSEARCA:VOO), Vanguard Dividend Appreciation (NYSEARCA:VIG) and other similar major market index tracking vehicles.
We believe less upbeat opinions than ours are currently focused on risks of catastrophic financial crisis, punk earnings results or a major negative international event. While we cannot dismiss that these risks are present, we currently believe that they are a very low probability in the next 18 months. Alternatively, there is as good, if not better, chance that investors may begin to factor in a probability of an "historic" move in the market (one well beyond our current estimate that is driven by a "normalized" P/E multiple).
2. EPS Growth of +8-9% Looks Good
At the start of the Q1:13 EPS release, 73% of S&P 500 companies have beaten estimates. In this case, we do not believe that earnings estimates will increase for 2014, but investors will increasingly believe present projections will come true.
World Economy Chugging Along
With nearly all international monetary authorities pursuing stimulative policies, the world's economies are showing results. For 2014-2015, the World Bank projects +3.0-3.5% worldwide economic expansion. Importantly, Europe will turn modestly positive during this time and developing countries will post 5-6% growth.
Table 1: World Bank Forecast of Annual GDP Growth %, by Region
| | | | | | |
| --- | --- | --- | --- | --- | --- |
| Region | 2011 | 2012E | 2013F | 2014F | 2015F |
| World | +2.7% | +2.3% | +2.4% | +3.1% | +3.5% |
| Euro Area | 1.5% | -0.4% | -0.1% | 0.9% | 1.4% |
| United States | 1.8% | 2.2% | 1.9% | 2.8% | 3.0% |
| Japan | -0.7% | 1.9% | 0.8% | 1.2% | 1.5% |
| Non-OECD | 5.0% | 2.9% | 3.5% | 3.8% | 3.8% |
| China | 9.3% | 7.9% | 8.4% | 8.0% | 7.9% |
| Developing | 5.9% | 5.1% | 5.5% | 5.7% | 5.8% |
| | | | | | |
Source: World Bank
Revenue Growth + Low Cost Pressure = High & Stable Margins
Margins are likely to remain at historic highs, due to absence of a major economic crisis, moderate labor and commodity prices.
Figure 1: Corporate Profit Margins and Wage Growth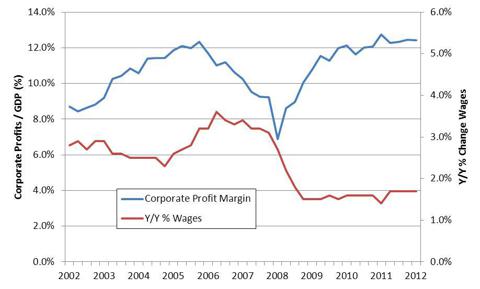 Source: Bureau of Labor Statistics, Federal Reserve
Commodity prices, for industrial commodities and energy, have begun to ebb, or at least will remain flat for the next year.
Figure 2: Y/Y % Change Producer Price Index & Commodities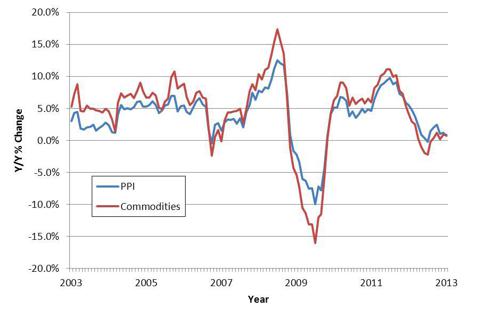 Source: Bureau of Labor Statistics
Cash Redeployment Can Provide Support To EPS Growth
Corporations have nearly 10% of their net worth stashed in cash, an inefficient use of capital. The justification for the overcapitalized position is to be prepared for a major financial crisis. As the economy stabilizes, this primary rationale is likely to fade into the background. Share buyback authorizations are at an all-time high as a % of market capitalization. In some cases, authorizations are as high as 17% of the market capitalization of the company. Public corporations can bolster top-line revenue without share count dilution, effectively converting 0% yielding assets into positive revenue and income streams.
3. P/E Multiples Poised To Increase
Current P/E ratio of 14.3X forward consensus 2013 S&P 500 EPS is approximately a 20% discount to the average forward P/E of 17.9X since 1988. Even if you adjust for the 1999-2001 period of abnormally high valuations, the current forward P/E ratio is still a 14% discount to the adjusted forward average of 16.7X. As fears of financial uncertainty wane, a P/E multiple of 14.6X is quite reasonable, if not very conservative. While we believe some discount off the average of 16.7X is justified, the level will likely be higher at this time next year.
Figure 3: S&P 500 (R) Forward P/E Trading At Low Range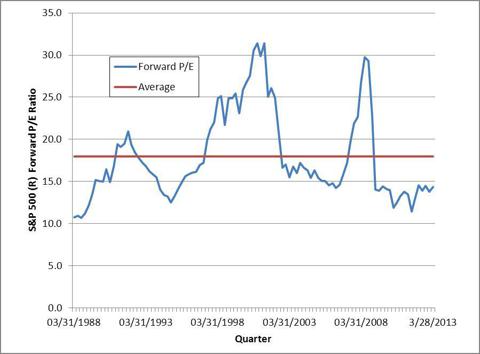 Fiscal & Monetary Policies To Provide Support
The Federal Reserve is unlikely to pull back on its easy-money programs that have been implemented to increase employment and GDP growth. Only if the Consumer Price Index kicks up above +2.5% or unemployment dips below 6.5% would the Federal Reserve would even consider a shift in policy. We do not think this is a significant risk in the next 18-24 months.
Figure 4: Slow Employment Growth Ensures Monetary Ease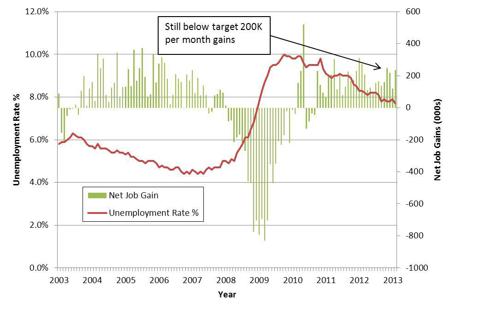 Source: Bureau of Labor Statistics
For the first time in a number of years, progress is being made on the fiscal policy side. After losing the general election in November, we believe that there will be a race to the center for the Republicans before the midterm elections. If this occurs, it enables substantive movement in fiscal policies that take steps to balance the budget through decreased spending, higher taxes, or both. Expectations are so low for budget compromise that it will take only one intelligent piece of public policy legislation to change perceptions that nothing can be done on the Federal level.
4. Dividends Projected To Remain Healthy +6.0%
The Y/Y % quarterly increase in dividends has been over 10% every quarter since the beginning of 2011. We expect this upward trend to continue at a mid-to-high single digit rate. Currently the past four quarters ended 3/28/13 announced $32.11 in dividends, which we believe can comfortably be increased to $34.04 at this time next year, +6.0%.
More Room For Additional Dividend Growth
Recent trends suggest that the dividend increases has low-double digit potential, which would indicate a dividend of $35.96. Placing a 2% yield on this dividend level results in the S&P 500 trading at 1,798. The Federal Reserve statistics that track all corporate dividends (public & private) indicate that the current payout ratio (dividends divided by after tax profits) of 50.5% is well below the 1988-2012 average payout ratio of 60.0%. There is the potential for a re-acceleration in dividend growth without compromising conservative balance sheet cash positions.
Figure 5: Corporate Dividend Policies Have Room To Increase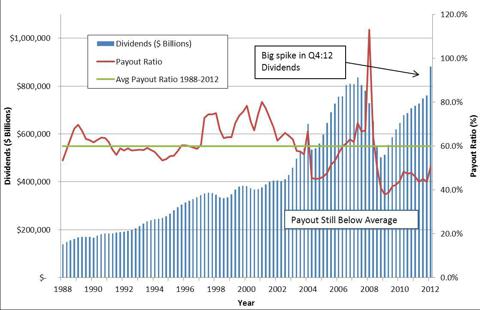 Source: Federal Reserve
Disclosure: I am long QQQ, VIG, VOO. I wrote this article myself, and it expresses my own opinions. I am not receiving compensation for it. I have no business relationship with any company whose stock is mentioned in this article.
Disclaimer: The opinions in this document are for informational and educational purposes only and should not be construed as a recommendation to buy or sell the financial assets mentioned. Past performance of the companies and asset classes discussed may not continue and the companies may not achieve the earnings growth as predicted. The information in this document is believed to be accurate, but under no circumstances should a person act upon the information contained within. We do not recommend that anyone act upon any investment information without first consulting an investment advisor as to the suitability of such investments for his specific situation.