This article focuses on the eight BDCs reporting financial results next week with my latest rankings as well as expected earnings for the quarter ended March 2013.
These are the five general criteria I use to evaluate BDCs:
Profitability (EPS to cover dividends, NAV and EPS growth)

Risk (diversification, portfolio quality, volatility, leverage)

Payout (sustainable, consistent, growing)

Analyst Opinions

Valuation (NAV, P/E, PEG)
Below is an oversimplified table with rankings between 0 and 10 (10 being the best) relative to the 25 BDCs I have reviewed. In reality, I use different weightings for almost 100 data points on each company and my personal rankings (based on my risk/return comfort) are close to these, but far from exact.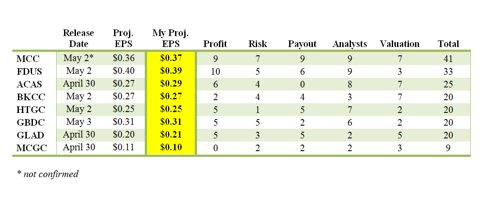 Click to enlarge
For more information about BDCs and how I evaluate them, please see this article.
Disclosure: I have no positions in any stocks mentioned, and no plans to initiate any positions within the next 72 hours. I wrote this article myself, and it expresses my own opinions. I am not receiving compensation for it (other than from Seeking Alpha). I have no business relationship with any company whose stock is mentioned in this article.