There was a time when Nokia (NYSE:NOK) was the largest phone maker, when it had more than 50% of the market share, and before the advent of Apple's (NASDAQ:AAPL) iPhone and Samsung's (OTC:SSNLF) Galaxy devices. It has finally lost market share to such a great extent that its sales in the first quarter of 2013 fell surprisingly and drastically by 25% lower than expectations. Investors were disappointed by a gigantic drop in total sales numbers and the decline of basic phone sales. Despite Nokia's joint venture with Siemens (SI), it has still lost substantial business.
A Bird's-Eye View
Click to enlarge images.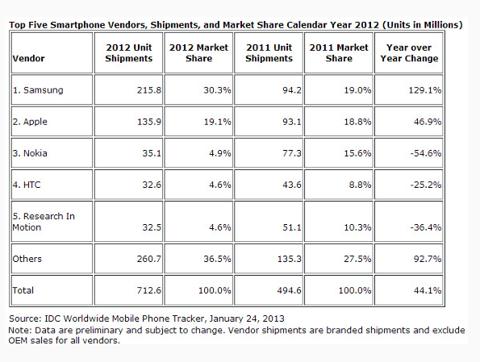 Click to enlarge
Comparable Analysis Over Its Peers on Market-Based Multiple Approaches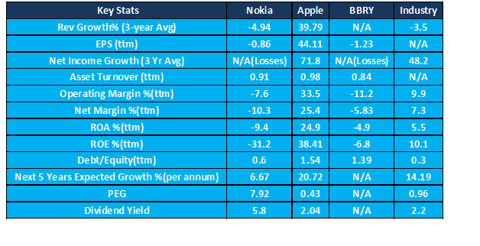 Click to enlarge
Source: Morningstar and Yahoo Finance.
An Overview of the Decline in Sales
Nokia (NOK) has been continuously focusing on basic phones, which make up almost 90% of Nokia's total sales in units. Sales of phones finally dropped to 55.8 million units in its first quarter. I am quite certain that Nokia is unlikely to sustain in the basic phone market in the long run for two reasons. First, China has flooded the market with cheap smartphones that have deteriorated the sales of Nokia. Second, the most crucial point, is that an IDC survey suggests that smartphone sales will overtake basic phone sales by volume, whereas the market share of smartphones will continue to rise in the future.
Revenues for Nokia are likely to decline if Nokia tries to compete in the dwindling basic phone market, as the market for Nokia would almost fade away within a few years. Moreover, it does not make any sense to compete on volume if the phones are sold at $20-$30 each, according to my analysis. It's high time that the company realizes that it must stop fighting on volume.
Comparative Analysis
Nokia has been facing serious problems since the emergence of Apple's iPhone in 2007 and Samsung's Galaxy devices in 2009. Nokia faced tough times in 2012, mainly stemming from a sharp decline in its revenues due to a shift of people from feature phones to smartphones. In addition to this, people have become much more likely to buy basic phones from Chinese manufacturers, which has shattered the revenues of Nokia to a great extent. The main problem lies with the strategy makers' focus on competing on overall volume of revenues that they were generating from the feature phone market.

Click to enlarge
Source: Yahoo Finance and Morningstar.
Nokia is the world's leading mobile phone supplier, but unfortunately its operating margin illustrates that it is in a critical situation at present as compared to the rest of the industry. This is because of a sharp decline in its revenue that has badly affected its operating income. Simultaneously, Nokia could not bear its costs well, along with a decline in revenues, posting negative operating and net margins. Moreover, it was too late that Nokia launched its Lumia 720, N8, Nokia 500, and N9 handsets to boost its sales and offset its losses from the sales of smartphones.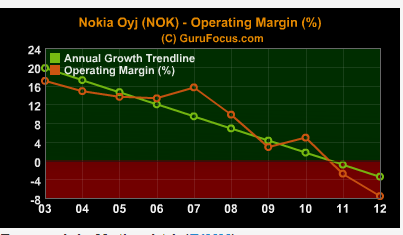 Click to enlarge
A decent operating margin is desirable for every company to be able to pay for its fixed costs, such as interest on debt, which is not the case with Nokia in particular. If Nokia's operating margin continues to fall at the current rate, Nokia will begin losing a lot of money as can be seen from the table below.
Nokia is a giant in the communication network sector, but the primary reason behind the decline is falling sales from the company's smartphone segment. That it failed to shift its paradigm from basic phones to smartphones has badly affected the overall profitability of the company in real terms.

Click to enlarge
Source: Yahoo Finance and Morningstar.
It's nearly fatal for any corporation to witness negative net income, creating big business losses, when the company has huge debt obligations and operating expenses larger than revenue. A negative net income has a large impact on its return on equity, as investors of Nokia are more likely to lose money and interest because the business has no cash left to address its debt and operating expenses, causing a total collapse. This means Nokia will lose almost one-third of its total shareholder equity for the given year. A negative net income can become a reason for pulling out remaining finances from the business by shareholders and investors anticipating losses in the future. This can, in turn, cause Nokia's stock price to fall, which shrinks the total share of the business.
Productivity and, in particular, profitability of Nokia has declined abruptly as ROA is also negative to an excessive level as compared to its peers and industry. The major reason for it is the increased expenses that have deteriorated the profitability of Nokia, as is evidently shown in the income statement. Nokia's interest expense has increased massively in the previous year, due to its leverage ratio being higher than the industry.
Growth Factor

Click to enlarge
Source: Yahoo Finance and Morningstar.
Moreover, Nokia's huge scale provides some benefits and power that its peers don't enjoy. Nokia pays higher dividends compared to its peers, which can be seen in the graph below. The main contributing factor is that Nokia is paying a high yield, its retained earnings have increased to a great extent from which it is paying its shareholders a very good dividend.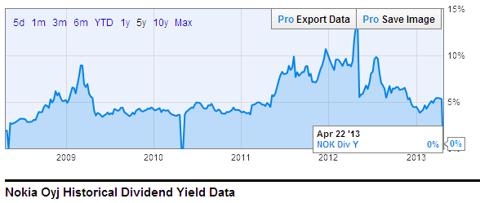 Click to enlarge
Nokia's EPS has also declined, even double than that of its peers, when compared to BlackBerry (NASDAQ:BBRY). Since sales have decreased, operating income and net income have also been affected, which in turn has also affected EPS. Apple's positivity in figures is because of its diversification of business as risk is lessened in such a case.
Valuation Matrix for Nokia

Click to enlarge
Conclusion
The company has had a high dividend yield of 5.8, greater than its peers and competitors, and revenue growth of -4.94%. Long-term debts are also increasing and much needs to be done in terms of making its mark in the market when we talk about its Windows-based operating system. According to my analysis and estimation of the company in detail, it is expected to show negative earnings in the near future as well. Despite its other multiples that are undervalued, I recommend selling the stock.
Disclosure: I have no positions in any stocks mentioned, and no plans to initiate any positions within the next 72 hours. I wrote this article myself, and it expresses my own opinions. I am not receiving compensation for it (other than from Seeking Alpha). I have no business relationship with any company whose stock is mentioned in this article.