With the exception of the 1970s bout with stagnant economic growth coupled with rising inflation, also known as "stagflation," the move by the Federal Reserve from being dovish to hawkish on interest rates usually coincided with a turnaround in economic activity. The prevailing view is that the current Fed is on the verge of raising interest rates and the environment will change in comparative yields for utilities.
Over the past several years, income investors have been chasing yield as long-maturing Treasury yields crumbled. Many investors ended up increasing their allocation to utility stocks as a means to replace income lost in rolling over higher duration and higher yielding bonds purchased eons ago. Prior to the current low yield environment, the "safe" play was buying a 5.0% long Treasury, however, recent income investors have to look elsewhere. Not only has the competitive yield environment favored the utility sector, the historic relative safety of the sector compared to the volatility of the overall markets has attracted new, more conservative bond buyers.
However, the common fear of buying utilities is that once interest rates begin to climb, and longer Treasuries begin again to offer better income opportunities than today, that utility prices will weaken. The quickest means of creating higher competitive utility yields in a rising interest rate environment is through share price deterioration.
In reviewing the initial periods of interest rate environments transitioning from a medium-term dovish stance to a medium-term hawkish stance, dividend stocks and utilities have performed pretty well. Below is a table outlining three periods of initially rising rates: Jan 1994 to Feb 1995; May 1999 to May 2000; and May 2004 to June 2006. The table includes the Fed Fund rates, 10-yr Treasury yields, the total return (capital gains plus dividends) for the Dow Jones US Select Dividend Index (NYSEARCA:DVY), the total returns for the S&P 500 (NYSEARCA:SPY) and the total return for the S&P Utility Index (NYSEARCA:XLU). XLU was not introduced until 1998, and although the DJ Select Dividend Index was not available until 2003, it can be back tested to 1991.
| | | | | | | |
| --- | --- | --- | --- | --- | --- | --- |
| | Start Date | End Date | Start Date | End Date | Start Date | End Date |
| | Jan-94 | Feb-95 | May-99 | May-00 | May-04 | Jun-06 |
| Fed Funds | 3.25% | 6.00% | 4.75% | 6.50% | 1.00% | 5.25% |
| 10-yr Treasury | 5.75% | 7.47% | 5.54% | 6.44% | 4.72% | 5.11% |
| DJ US Select Dividend DVY | | 5.88% | | -10.46% | | 25.32% |
| S&P 500 SPY | | 4.45% | | 10.48% | | 17.75% |
| S&P Uts ETF XLU | | NA | | -1.40% | | 32.36% |
Source: economy.com, Morningstar.com
From a historic viewpoint, in two of three turns in interest rates, large-cap dividend paying stocks have outperformed the overall large-cap market. The utilities sector has a one for two performance history, as the index was not available in 1994 and there is no backdating offered. As of March 2013, utilities were the largest sector and comprised 30% of the DJ US Select Dividend Index. Consumer Goods and Industrial sectors combined comprised an additional 33% of the index weighting.
The timeframe covered in the above table reflects 12 to 24 months between the initial period of rate increase and the end date specified. This could imply that staying the course for utility investors during the initial one to two years after a turn in interest rates may seem prudent.
The top five utility holdings of DVY are:
Entergy (NYSE:ETR) 2.0% of the ETF,
Integrys Energy Group (NYSE:TEG) 1.7%,
DTE Energy (NYSE:DTE) 1.6%,
Nextera Energy (NYSE:NEE) 1.5%
Sempra (NYSE:SRE) 1.5%.
A 5-yr price only chart of each stock compared to XLU is below: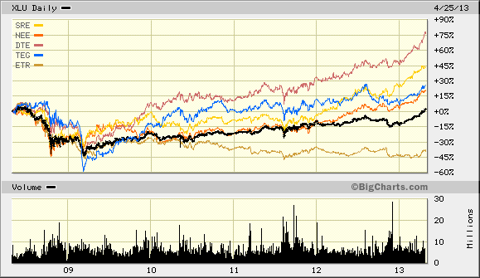 The top five utility holdings of XLU are:
Duke Energy (NYSE:DUK) 9.5% of the ETF,
Southern Company (NYSE:SO) 8.2%,
Dominion Resources (NYSE:D) 6.9%,
Nextera (NEE) 6.7%
Exelon (NYSE:EXC) 6.2%
A 5-yr price only chart of each stock compared to XLU is below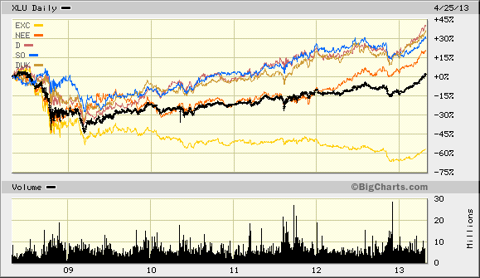 More information on DVY can be found here. More information on XLU can be found here.
The top five selections of XLU have larger capitalizations and may seem a bit more conservative than the top five utility selections of DVY. It is important for investors to appreciate that DVY utilizes a diversified approach, while XLU is sector specific. Individually, with the exception of EXC and ETR, the top five utility positions of each of these two indexes have outperformed the sector ETF.
If interest rates turn higher due to increased economic activity and not as a tool to fight inflation, based on history, utility investors should experience relatively acceptable total returns for at least the first year or two. While conventional wisdom is that, due to competitive rates on bonds, utility stocks will weaken as soon as rates turn higher, it may not be the case. Conservative utility investors should own the top positions of XLU, while more aggressive utility investors should include the top selections from DVY.
Author's Note: Please review important disclaimer in author's profile.
Disclosure: I am long EXC, SO, SRE. I wrote this article myself, and it expresses my own opinions. I am not receiving compensation for it (other than from Seeking Alpha). I have no business relationship with any company whose stock is mentioned in this article.