CME Group Inc. (NASDAQ:CME) added to this year's gains on Wednesday despite a 2.7% decline in the S&P. The strength was largely a reaction to news from the Treasury as Geithner proposed stronger regulation of Over The Counter (OTC) derivative contracts. CME Group and IntercontinentalExchange, Inc. (NYSE:ICE) are the established leaders in clearing OTC contracts and the market pushed both stocks higher due to an expected increase in volume as a result of the proposed regulation.
OTC derivative contracts are essentially agreements that are typically made between large institutional investors and traders. Typically these contracts cover interest rates, foreign exchange (FX) rates, or equity prices. Over 90% of the derivatives markets are controlled by four large banks. These banks are JPMorgan Chase & Co. (NYSE:JPM), Bank of America Corporation (NYSE:BAC), Citigroup Inc. (NYSE:C) and Goldman Sachs Group, Inc. (NYSE:GS).

Derivatives contracts allow institutions to speculate, or hedge their risk to particular markets. An OTC contract could be as simple as "if the Dollar/Yen exchange rate hits X then I will pay you $50 million" but more often are much more complicated with many moving parts. Warren Buffett has called derivatives "financial weapons of mass destruction" because of the way these contracts are usually unregulated, highly complicated, and can have a large effect on underlying markets.
For instance, American International Group, Inc. (NYSE:AIG) has been brought down largely as a function of derivative contracts that went horribly wrong. A large part of this failure was the company's exposure to Lehman Brothers where AIG was counting on Lehman to fulfill the other side of large obligations from these contracts. Unfortunately, when Lehman turned out to be insolvent, AIG was left holding profitable contracts but with no way to collect those profits.
Now the new regulations proposed Wednesday will likely require these contracts to be cleared which essentially means that a third party will vouch for and guarantee payment on these contracts. Clearing firms would essentially be on the hook for losses if a counter party like Lehman defaulted. Because of this liability, the clearing firms would have the ability (and responsibility) to require transparency, margin requirements, and up-front capital to execute these trades. The additional measures will likely constrain the sheer volume of these contract traded, but will also increase the stability of the derivatives markets and the underlying markets which they cover.
Clearing firms like CME and ICE operate very profitable businesses where they are essentially paid to monitor risk management practices. Recently ICE announced that they have begun clearing Credit Derivative Swap (CDS) contracts which has helped grow its revenue base. If the government were to require all OTC contracts to be cleared, it would have a profound effect on both of these companies.
At this point, the regulations are simply proposals from the Treasury. In order to be legally binding, these proposals would need to be taken up by Congress and passed into law. But as Washington is currently in a stage of tightening controls on Wall Street, it is not hard to imagine this type of measure being passed. Once passed, it is unclear exactly who would be in charge of regulating this industry with the Securities and Exchange Commission (SEC) and Commodity Futures Trading Commission (CFTC) as the top contenders to be the regulating body.
Early Thursday morning, JPMorgan Chase & Co. upgraded CME from underweight to neutral. The report cited expected business gains from the new regulation. Regardless of when the new measures are passed into law, CME should see increases in the business as dealers move contracts onto cleared exchanges. But the longer this regulation takes to be passed into law, the better the chances are that other players in the market will develop alternative solutions to compete with ICE and CME.
Currently CME is trading just under $275 per share (as of Wednesday close). When compared to earnings of $13.34 per share expected this year and $15.46 next year the stock looks attractively valued. However, these earnings expectations could prove conservative if traders are forced to clear trillions of dollars of contracts. For what it's worth, the global OTC derivatives market is estimated to be near $450 trillion so the amount of potential business is very exciting.
CME has an excellent track record of risk management and sound business growth. While many in the industry are seeking liability solutions and debt settlement, CME has a sound balance sheet and ample liquidity. Wednesday's breakout on strong volume appears to indicate institutional buying and there is a strong possibility that this stock will run significantly higher. While I don't expect us to see $700 (the high from 2007) this year, I do expect significant gains for investors who are willing to brave some volatility over the coming months.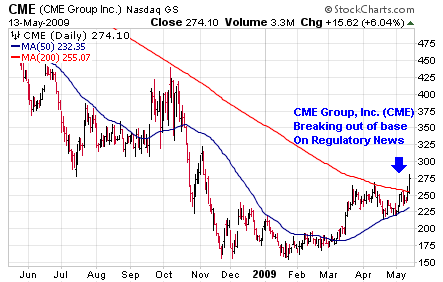 Disclosure: Author does not have a position in CME.