Earlier this week noted short seller Jim Chanos made an interesting statement regarding the Netflix (NASDAQ:NFLX) subscriber base. The content distributor recently reported strong net additions that got the market a flutter with wild fantasies of future subscriber potential.
Chanos though dosed those hopes with the interesting point that 30M subscribers tends to be the maximum case for paid services such as HBO and AOL in the past. Netflix just reported strong additions to streaming memberships pushing the total to over 29.2M or 27.9M paid. Interesting that pushed the company over the totals of HBO or if you only count paid subscribers than HBO still has a slim lead with 28.7M domestic subscribers.
Can Netflix push towards member totals dramatically above the current HBO base? Chanos says not, but infamous CEO Reed Hastings suggests otherwise.
Back To Q1 Earnings
Were the Q1 2013 earnings for Netflix actually that impressive to send the stock soaring to highs only surpassed during a six month period at the start of 2011? The highlights were as follows:
Domestic streaming business achieved over 2M net member additions.
Launched the first Original series of 2013 House of Cards.
Domestic streaming contribution margin increased to 20.6% in Q1.
Total streaming revenue jumped to $781M in Q113 from $550M last year.
Total domestic streaming paid members hit 27.9M; International streaming hit 6.3M paid members.
While the company reported revenue of $1,024M, it only brought $19M to the bottom line. The earnings of $0.31 easily surpassed the $0.19 estimate, but the stock now trades at a substantial premium with it trading at $215 compared to the earnings estimates of $1.37 for the full year.
Lack Of Free Cash Flow
The biggest concerns with going long Netflix remain the non-existent free cash flow. The company has to continuously pay up for content costs and now original programming. Those costs quickly eat up cash with the promise of attracting new members. Though Netflix faces the problems where $7.99 a month might not cover the costs of original content.
The company had negative free cash flow in Q1 to the tune of $42M and a combined $93M over the last two quarters. With operating income as low as 3.1% of revenue, the company has limited room for execution risks. Not to mention, the constant expenses for the content library and payments for original series might limit earnings growth in the short-term.
As a comparable, leading nonfiction media company Discovery Communications (NASDAQ:DISCA) has a similar revenue base of $1.2B in Q4 yet the company managed to generate $304M in free cash flow for the quarter and over $1B for the full year of 2012.
Chanos HBO Theory
If Chanos is accurate on the theory that traffic will peak out at 30M domestic subscribers, than Netflix has a major problem on its hands. The company is spending heavily to develop original programming and line up content, but if it doesn't attract a much larger user base those costs will crush the company.
On one hand, Chanos makes a great point that HBO is a very successful pay service run by Time Warner (NYSE:TWX). If it can't attract a larger user base, than how can Netflix hope to exceed that number? On the other hand, Netflix offers on demand viewing via multiple devices though the consumer is going to be stretched to move from HBO to also include Netflix. As evident by the HBO subscriber base, plenty of consumers don't even see it as a requirement in the first place. Of course, Netflix hopes people abandon the TV for the streaming internet service, but how likely are consumers to leave regular television programming for delayed viewing. The company won't get around this by creating a few original shows.
CEO Reed Hastings addressed this subject on the earnings conference call with the following statement:
Second, in terms of the total available market, we've generally described it as best we can as two to three times that of HBO linear. HBO linear is at about 30 million and our best guess is that market for service like Netflix, because it's less expensive than HBO, it has got more content. It's all on demand. It's personalized. It's on multiple devices. It's somewhere in the two to three times HBO or 60 to 90 million, and we'll really only know that with any confidence when we get there.
The last sentence sums up the major question. The company doesn't appear overly confident in obtaining 60M+ subscribers and the business plan doesn't work very well unless it reaches those levels. The existing margins based on the 30M member base aren't very attractive and competition is heating up in the sector.
It doesn't appear plausible that the company can obtain a member base large enough to be profitable enough to justify the existing market value. Several analysts pressed the company on the $7.99 pricing compared to the $15 for HBO. At some point, the Netflix will have to raise the price in order to handle the costs of all the new shows.
Stock Chart - 3 Years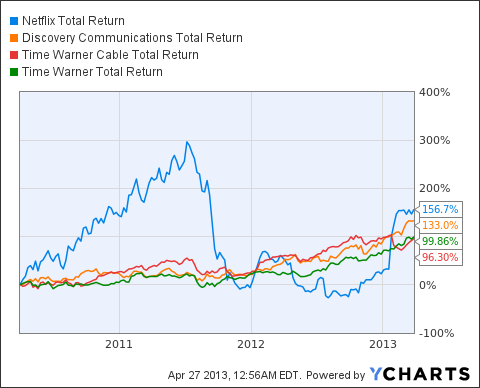 NFLX Total Return Price data by YCharts
Oddly, the 3-year chart provides little differential in the results of those stocks over the time period. Even Time Warner Cable (TWC) had a 96% gain during that period. In fact, Netflix was the worst performer until the huge rebound in 2013.
Conclusion
Chanos is correct to question the ability of Netflix to reach the goal of doubling or tripling the member size of HBO. At half the monthly price, it doesn't appear that Netflix necessarily wins in that scenario. At 60M customers, the company will presumably have a $2B quarterly revenue base, yet it wouldn't be able to match the $1B in free cash flow generated by Discovery Communications last year. Ironically, if investors look at the valuation of that stock, it makes Netflix appear cheap on normal price to sales ratios and even multiples of free cash flow.
Wall Street continues to be enamored with the Netflix concept so investors can't short it at will. It doesn't appear that Chanos is short the stock at this moment, but it is very clear that he thinks the stock will be a great one to short in the future. Netflix has the opportunity to prove him wrong this year, but if it fails to continue the membership growth the stock will be dead money and possibly a short favorite as the year ends.
Disclosure: I have no positions in any stocks mentioned, and no plans to initiate any positions within the next 72 hours. I wrote this article myself, and it expresses my own opinions. I am not receiving compensation for it (other than from Seeking Alpha). I have no business relationship with any company whose stock is mentioned in this article.
Additional disclosure: The information contained herein is for informational purposes only. Nothing in this article should be taken as a solicitation to purchase or sell securities. Before buying or selling any stock you should do your own research and reach your own conclusion or consult a financial advisor. Investing includes risks, including loss of principal.