Actionable Items:
Highest Positive Spread: LMP Real Estate Income Fund (NYSE:RIT)
Focus Stock: ASA Gold & Precious Metals (NYSE:ASA)
Last Week's Focus Stock: MS China "A" Share Fund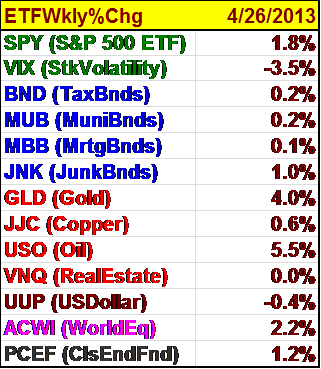 Last Week: Chinese stocks were hot. ETF iShares FTSE China 25 Index fund (NYSEARCA:FXI) was at $36.05, up 3.2% on Friday last week (4/19/13). FXI was 23 million shares in volume along with a 3 months' volume of 17 million shares.
Our Focus Stocks: Our choice was to follow-up with MS China "A" Share Fund (NYSE:CAF). The stock was up +1.0% with a positive NAV of +3.4% and a PrcNAVSprd of -2.4% last week (4/19/13). However, during the week, NAV per share decline was -4.6% for CAF. The top 10 positive positions for PrcNAVSprds was a positive 3.1% for CAF. (A positive spread would make prices go down.)
Pressure on China: The gauge of manufacturing activity showed a slower expansion in factory utilization. China's manufacturing plants are suffering from the prices of copper and cotton. Fibers deliverable in May on the ICE Future U.S. exchange was down 2.0% a pound.
The recent selling left Chinese stocks trading at a discount - down 3.8% year to date. Yet stocks are selling on the Hong Kong's Hang Seng Index at 10.3 times earnings compared to 14.2 for the last 10 years.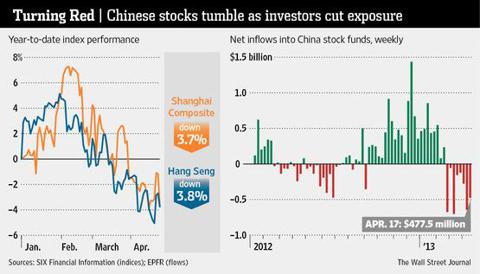 Outflow: Only 13% of investors surveyed this month thought the market was going up; down from 71% in January. Net inflow into China stock funds, weekly, were $478 million, down the week of April 17th (See chart below).
iShares FTSE China 25 Index ETF has an annual dividend that is in the 2.5% range. The underperformance of the Chinese may set it up for long-burning growth in the second half.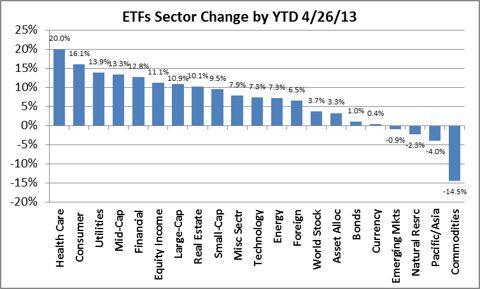 The ETFs: The ETF sectors are arranged year-to-date (YTD) in order as of 4/26/13. Healthcare, Consumer and Utilities were leaders. Natural Resources, Pacific/Asia and Commodities were laggards. But commodities edged up from -16.5% to -14.5% on the general market increase.
Gold (NYSEARCA:GLD), oil (NYSEARCA:USO) and copper (NYSEARCA:JJC) are up this week: 4.0%, 5.5% and 0.6%, respectively.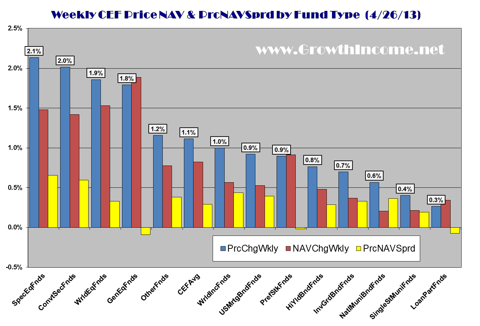 CEF Weekly Fund Type Performance: This week saw price rises for SpecEqFnds (2.1%), ConvtSecFnds (2.0%) and WrldEqFnds (1.9%). The laggards were the NatlMuniBndFnds (0.9%), SingleStMuniFnds (0.4%) and LoanPartFnds (0.3%). There appears to be modest negative for PrcNAVSprds on the page 4.
There were four equity funds that had 7.5% gains: LMP Real Estate Income Fund (9.1%), GAMCO Natural Resources, Gold & Income Trust (NYSE:GNT) (8.8%), and Gabelli Global Utility & Income Trust (NYSEMKT:GLU) (7.5%) - two of them Gabelli.
Highest Spread and Stock for the Week: LMP Real Estate Income Fund was ahead by a price increase of +9.1% and NAV per share was up by +0.6%. The PrcNAVSprd was +8.4%. (A positive number may mean a future decline in share price). The annual monthly distributions per share are 4.6% yield. The net assets are $197 million with 21.0% leverage. The premium is 11.9% which is a 52-week average. The average is 29.3% preferred shares.
Lowest Spread and Focus Stock for the Week: ASA Gold & Precious Metals share price was flat for the week with a positive +4.0% from its NAV per share. Its PrcNAVSprd decline was -4.0%. Gold was up 4.0% for the week. ASA semi-annual distribution was 2.4%. The net asset value was $313.4 million and there were no borrowings. The operating fees was 0.6%, with is 1.5% for other CEFs.
Focus Stock & High Price for Last Week: Last week's "Focus Stock" for the week was Morgan Stanley China "A" Share Fund that dropped -1.2%. The NAV per share dropped -4.6% with a positive gain of +3.4%. (A positive gain is a decline of the stock price.)
Disclosure: I am long ASA, CAF, FXI, GLD. I wrote this article myself, and it expresses my own opinions. I am not receiving compensation for it. I have no business relationship with any company whose stock is mentioned in this article.