There is the beginning of a shift away from treating the symptoms of diseases with synthetic drugs, towards treating the underlying cause of diseases by using one's own natural cells. Cell therapy holds the promise of prolonging and, most importantly, enhancing quality of life. This is the future of medicine and in this article I am going to look at some intriguing investment plays in the stem cell/regenerative medicine sector.
The first stock I want to look at is NeoStem, Inc (NBS). NBS is involved in the manufacture of cell therapy-based treatments. It also provides contract development and manufacturing services to other members of the regenerative medicine field, including adult stem cell collection and storage services. This combination of businesses provides NBS with capabilities for cost effective in-house product development and revenue and cash flow generation. This is a major plus for investors in the stock. Currently, NBS has three distinct divisions: Amorcyte, Athelos, and VSEL Technology. Each program has some potentially exciting projects, but it is the Amorcyte pipeline that I will focus on here as it is the most advanced and has the greatest market potential.
From Amorcyte, there is AMR-001, a bone marrow derived stem cell treatment designed to prevent major adverse cardiac events following acute myocardial infarction (heart attacks). AMR- 001 is NBS's most advanced therapy and it focuses on a huge market, acute myocardial infarction. Approximately 800,000 heart attacks occur in the U.S. each year and, despite all of the advances in medicine and intervention, about 20% or approximately 160,000 patients have a ST-Elevation MI (STEMI) resulting in a reduced Left Ventricular Ejection Fraction (LVEF) of less than 50%. That means that their heart attack was big enough and their heart so damaged that the remaining heart muscle could not compensate for the damaged heart tissues and, over time, the hearts start to fail. These patients are at significant risk of more adverse events, including congestive heart failure, recurrent hear attacks, significant arrhythmia, and premature death or acute coronary syndrome. These are the target population for AMR-001. This population represents an accessible market of over $1.2 billion annually for AMR-001 according to NBS.
In January 2012, Amorcyte commenced patient enrollment for its PreSERVE Phase 2 trial to investigate AMR-001's ability to preserve heart function. The study is currently designed to treat 160 patients.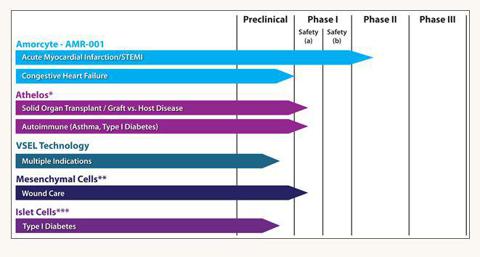 Through its Athelos subsidiary (which is 20% owned by Becton-Dickinson), NBS is developing therapeutic products using a person's immune cells to treat disorders of the immune system. Many immune-mediated diseases are a result of an imbalance in the immune system whereby inflammatory cells go unchecked. Therapy using regulatory T cells (Treg as it is called) is a new technique that looks to restore immune balance in the body by enhancing Treg cell number and function to inhibit pathogenic immune responses. In layman's terms, this new approach seeks to use a person's own immune system to fight off diseases versus using man made drugs.
A look at the most recent earnings report gives us an idea of where NBS stands financially. The company reported revenue of $14.3m in 2012, comprised of revenue from its operating of a contract development and manufacturing organization ("CDMO") providing services to other companies in the regenerative medicine industry. NBS ended the quarter with $13.7m in cash. A look at the cash flow statement shows an average quarterly cash burn of approximately $4.5m giving the company enough cash to fund operations through the end of the year. As I mentioned before, the services NBS provides to other stem cell companies helps with its cash flow.
Next up we have Neuralstem, Inc. (NYSEMKT:CUR), a company focused on the development of treatments for central nervous system diseases based on human neural stem cells. Its stem cell technology enables the isolation and expansion of human neural stem cells from various areas of the developing human brain and spinal cord. Last week the company announced that it has received approval from the Food and Drug Administration (FDA) to commence a Phase 2 trial using NSI-566 spinal cord-derived human neural stem cells in the treatment of amyotrophic lateral sclerosis (ALS or Lou Gehrig's disease). Different regions of the brain and spinal cord house different, specialized cells. CUR's technology enables the isolation and expansion of human neural stem cells from each of these regions of the developing cen­tral nervous system in virtually unlimited numbers from a single donated tissue.
On Wednesday CUR announced news that should bring much more attention to the regenerative medicine sector. The company announced that it is working with the National Football League Alumni Association (NFLAA) to develop a trial for treating NFL alumni members suffering from traumatic brain injuries (TBI), with NSI-189, the lead compound in the company's neurogenic drug platform. NSI-189, currently in a Phase 1b clinical trial to treat major depressive disorder (MDD), appears to work by stimulating neurons in the hippocampus, a region of the brain that atrophies in depression and which could also be implicated in brain injury. With high profile NFL deaths over the last year (Junior Seau), there is a lot of media attention with this affliction.
The company received FDA approval to commence a Phase 1 NSI-566 clinical trial for chronic spinal cord injury in January 2013. The Phase 1 cSCI trial will use the same cells and procedure as its ALS trial. This trial has been the cause for much of the investor interest in the stock over the last few months.
Let us take a look at the CUR financial picture now. As of the March earnings report CUR had $7.4m in cash. After the report CUR announced it had received $8m in debt financing, providing the company with enough funding to last into 2014. The funding was a secured note. To obtain the note CUR also issued Hercules 648,798 warrants to purchase shares common stock at an exercise price of $1.08 per share. This non-dilutive financing is a positive for investors.
The risks in the biotech sector are well known. Only 1-10 drugs ever make it to market, a very high loss rate. It is for this reason I believe investors cannot just focus on one stock to invest in when it comes to this sector. A "basket approach" is the better investment stance to take. The stem cell sector has had its failures over the last year. The big loser recently was Aastrom Biosciences, Inc. (ASTM). In March ASTM shares lost 50% after the company said that it will stop enrollment in and end the Phase 3 Revive clinical trial for patients with critical limb ischemia, or restricted blood supply. Instead they will focus on developing ixmyelocel-T, a patient-specific multicellular therapy expanded from a patient's own bone marrow and delivered directly to damaged tissues. The failure of this late stage trial and the companies decision to stop all works is just another indication of the inherent risks in biotech stocks that investors must be aware of.
These regenerative medicine companies have an extreme amount of potential. Investors have yet to realize the value, but this will change in time as each company moves its pipelines forward. Once discovered, the share price for each of these stocks could easily trade much higher than their current values. Investors should consider that, although very promising, there is very high risk in bios still in early drug discovery. With that risk though, the rewards can be very nice.
Disclosure: I have no positions in any stocks mentioned, and no plans to initiate any positions within the next 72 hours. I wrote this article myself, and it expresses my own opinions. I am not receiving compensation for it (other than from Seeking Alpha). I have no business relationship with any company whose stock is mentioned in this article.