Based only on gut feeling, most of us would expect rather good numbers to show up this week when we drill down into the Bullish Percent Index values for the major indexes and individual sectors. The following two tables will not be a surprise if this is your impression of the trading week just passed. First, the major markets.
Index BPI: All indexes showed a slight uptick in the actual number of companies moving into bullish territory, but only the Dow Jones Industrial Average (DJIA) managed a percentage change sufficient to shift the ball from defense to offense.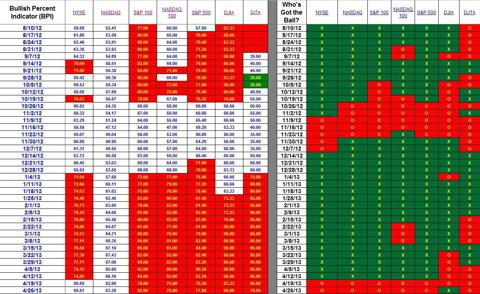 Sector BPI: While all sectors stayed the same or showed a slight uptick, the Industrial and Materials sectors managed a sufficient percentage change to move back on offense. Staples hit the 100% level, something I've never seen since I've been keeping this data. Overall, this past week was a strong one for the U.S. Equities market.