Alcatel-Lucent (ALU), a France-based company with a market cap of $3.13B, is a provider of telecommunications technology and services, which also engages in mobile, fixed, Internet Protocol and optics technologies, applications and services. With disappointing Q1 numbers, it may be still too early to give up ALU.
Disappointing Numbers
For Q1, 2013, ALU reported a net loss from continuing operation of $0.20 per ADS, which is lower than the Zacks Consensus Estimate of -$0.10 per ADS. Sales were nearly flat at $4.21B (€3.23B Euros) with a loss of $461.72M €353M Euros) as compared to a gain of $337.49M (€259M Euros) a year earlier. FactSet had forecast a Q1 loss of $345.31M (€265M Euros) on sales of $4.17B (€3.2B Euros).
As the company continues to be on a $1.63B (€1.25B Euros) restructuring program, cutting 5,000 jobs, new CEO Michel Combes still has a tough road ahead for his plan of "one month of listening, two months of defining a project, and three years of transformation." Combes just became CEO earlier this month.
Geographic and Segment Breakdowns
Geographically, North America was up 15.1% while Asia Pacific region had a low single-digit decline (5.8%) year-over year. Europe continued to suffer with a decline of 10.1% in revenue. Lastly, revenue from the Rest of World decreased 13.3% due to poor performance in Central and Latin America, the Middle East and Africa.
IP and Fixed Networks segments had strong growth (9% and 10% year-over-year, respectively), while Wireless segment generated the largest quarterly revenue ever in LTE. ALU is also in preparation for TD-LTE launch in China, led by China Mobile (NYSE:CHL)'s aggressive $7B CapEx in TD-LTE. On the Managed Services end, ALU had won 5 contracts during Q1 and had significantly improved the profitability as compared to the last year. Below is the summary provided in the Q1 presentation from Alcatel-Lucent.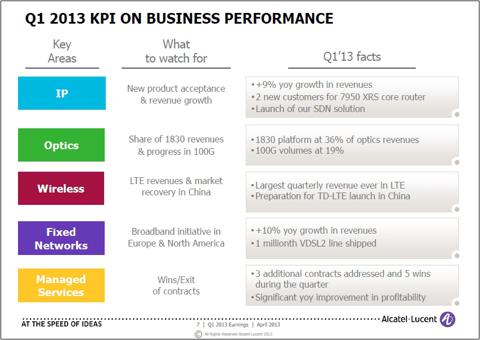 Source: Alcatel-Lucent Website
Performance Program
The management continues to work on 3 pillars for the performance program, including 1) drive revenue mix; 2) drive expense reduction to achieve $1.63B USD target over 2012-2013; 3) stabilize the balance sheet. The performance program is progressing on track, where $130.30M USD of cost and expenses were reduced as compared to the previous period in 2012. ALU is ahead of its performance plan, and the management is attempting to drive even further expense reduction ahead of the plan. However, cash flow remains a major problem for ALU.
Cash Flow Concerns
For Q1, negative cash flow of $690.62M (€530M Euros) remains a significant concern while ALU tries to stabilize its balance sheet. Cash Flow was negatively impacted by an increase of cost for payment and restructuring, as well as some deferrals working capital. Part of that is the adjusted operating loss of minus $233.25M (€179M Euros). Operating working capital also contributed minus $93.82M (€72M Euros), primarily driven by the reduction in payables, which consumed cash of $532.95M (€409M Euros) offset by receivables growth.
Margins
For Q1, the gross margin is at 29.4%, 80 basis points lower than a year before period and a full 100 basis points lower than Q4, 2012. The reduction is due to product mix, whereas a very large amount of shipments of legacy 2G and 3G were shipped in Q1, 2012. The impact was offset slightly by better volume as well as the cost and expense reduction.
Fundamentally, despite cash flow concerns, ALU remains on track for its performance program to reduce cost and restructure. With strong growth in IP and Fixed Networks segments, along with strong demand from China's TD-LTE expansion, both ALU's bottom line and top line should improve in coming years. From the valuation perspective, ALU's P/B of 1.3 is below the industry average of 2.1 and its P/S of 0.2 is also lower than the average of 1.6.
Technically, the MACD (12, 26, 9) indicator is near neutral to slightly bullish. The momentum indicator, RSI (14), is showing a slightly bearish lean at 48.69. ALU had been trading between its 50-ay MA of $1.41 and 200-day MA of $1.29 since late February, 2013, as seen from the chart below.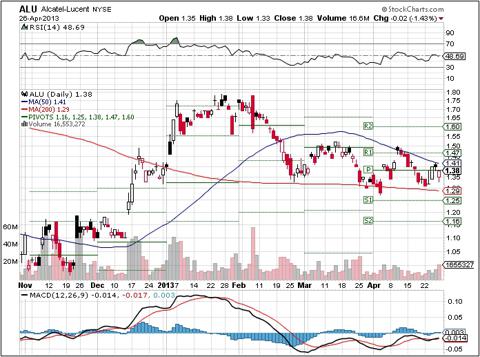 Source: StockCharts.com
Bottom Line
With disappointing Q1 report and cash flow concerns, ALU lacks positive catalysts in the short-term. It is important to watch key technical support level at 200-day MA of $1.29. However, in the long-term, ALU should continue to improve its bottom line and benefit from growing IP and Fixed Networks segment while riding LTE trend.
Note: Investors and traders are recommended to do their own due diligence and research before making any trading/investing decisions. ALU, with a high beta of 2.34, is not suitable for conservative investors seeking stability and cash flow.
Disclosure: I have no positions in any stocks mentioned, but may initiate a long position in ALU, CHL over the next 72 hours. I wrote this article myself, and it expresses my own opinions. I am not receiving compensation for it (other than from Seeking Alpha). I have no business relationship with any company whose stock is mentioned in this article.