In this article, I'm going to analyze the gross margin profit as well as the expenses of Apple (NASDAQ:AAPL) and BlackBerry (NASDAQ:BBRY). I computed data available from last annual report of both companies, and I made graphics to illustrate my point of view about where both companies will go in the future, based on these current observations.
Gross Margin Profit
First of all, let's start with the gross margin profit, which is an important point of the income statement. Gross margin profit indicates some information about the current competitive situation of the company in the market. The higher the gross margin profit, the better the competitive advantage. As you can see in the graph below, Apple's gross margin profit decreased in the last two quarters (37.5% in 2Q 2013). According to the company estimation (last press release), the gross margin profit will be between 36% and 37% for 3Q 2013. On the contrary, BlackBerry's gross margin profit decreased a lot until 3Q 2013, then increased to 40.14% in last 4Q 2013. The improvement is due to the Z10 launch during the last quarter.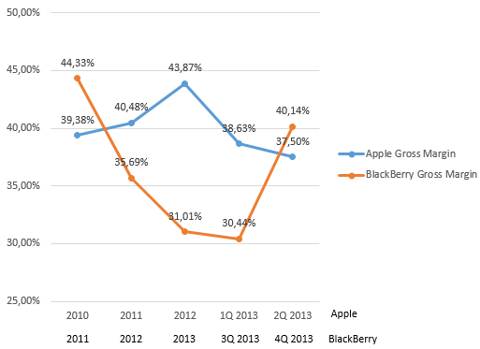 When BlackBerry is currently entering a new market area with its BlackBerry 10 Operating System, Apple will have to wait for new versions of the iPhone in the following months. Therefore, Apple's gross margin profit won't be positively impacted in the coming months because the iPhone has the highest gross margin profit of Apple's products. Moreover, as the company said in its last press release, the gross margin profit will decrease by 1% for the next quarter.
What about BlackBerry? The company will launch the Q10 (smartphone with a physical keyboard) on May 1st in Canada and, in the coming weeks in the U.S. In my opinion, BlackBerry's gross margin profit will stay at a rate between 40% and 45% taking into account the Q10 launch, which will impact it positively thanks to its relatively unique position (it is the only premium smartphone with a physical keyboard) and BlackBerry diehards are waiting to buy it.
Expenses
Secondly, let's talk about the expenses of both companies, which are Research & Development and Selling, General & Administrative. As you can see, Apple's expenses are less important than BlackBerry's expenses. Note that the expenses are computed as percentage of total revenues for both companies in order to compare them efficiently.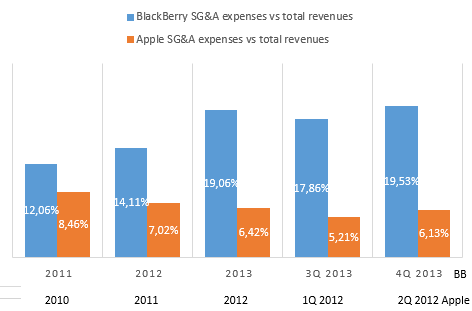 Regarding the SG&A, Apple is really better than BlackBerry. SG&A expenses represent only 6.13% in last quarter in comparison with 19.53% for BlackBerry. It is an important difference, which has to be addressed in the following quarters. Nevertheless, BlackBerry has already started to cut expenses. Moreover, total revenues will increase in the following quarters thanks to BB10 devices, which will decrease the percentage expenses of total revenues.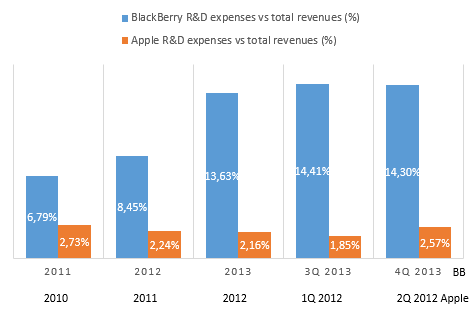 Regarding the R&D, there is a big difference between Apple and BlackBerry. When BlackBerry spends almost 15% of total revenues on R&D, Apple spends a little 2.5% of total revenues. This gap between Apple and BlackBerry will be filled because BlackBerry's revenues will increase in the coming quarters, which will lead to a relative decrease in R&D percentage of total revenues or, because Apple doesn't need to spend a ton of money on R&D to create new innovative products, such as iPhone6 or iWatch. In absolute terms, Apple has spent $ 1.119 billion in last quarter in comparison with $ 0.383 billion for BlackBerry. Moreover, Apple said during the conference call that consumers would have to wait till the fall and 2014 for any new products.
Conclusion
As a value investor, I strongly believe in BlackBerry's future because the company has several advantages, such as the security, the Q10 and the corporate world. In my previous article entitled Some Thoughts about BlackBerry, I explained why I think the Q10 will be successful. Moreover, Prem Watsa who currently owns 10% of BlackBerry, said that the company's stock is worth $ 40 per share. The company still has a treasury of $2.654 billion (composed by cash and equivalents of $1.549 billion, and short term investments of $1.105 billion), which represents a Price-to-cash ratio of 2.9.
On the contrary, Apple's potential increase appears very limited in the short run because the company won't release new products, which can increase the interest of the company. Nevertheless, the goal of this article is not to try to value Apple. Even if I believe Apple will go down in the coming months because of the increasing competition in smartphones, I wouldn't initiate a short position on Apple.
Disclosure: I am long BBRY. I wrote this article myself, and it expresses my own opinions. I am not receiving compensation for it (other than from Seeking Alpha). I have no business relationship with any company whose stock is mentioned in this article.