It is understood by every investor that the stock market doesn't act rationally in the short run, but some inefficiencies can be truly baffling. A comparison of two relatively-similar companies reveals just how silly the market can seem.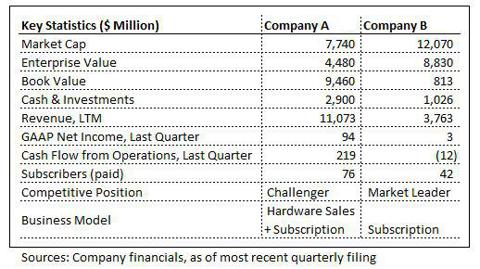 Company A is admittedly a bit down on its luck. It pioneered one of the most common elements of modern civilization, but competitors leapfrogged it, and Company A fell from a market leader position to relative obscurity. Now, it's a re-emerging challenger, battling back to regain mind and market share. Its competitors include the (formerly) most valuable company in the world, as well as other deep-pocketed an innovative rivals.
Company B is similarly a phoenix, albeit one that has already risen from its ashes. It too pioneered a paradigm-shifting service, and remains at the top of its market - though every day, competition becomes tougher. These competitors are fierce as well; among them may be the same former most-valuable company, plus one of the most highly-regarded consumer-facing companies on earth, more traditional rivals, and other emerging companies and devices.
While Company B has a bit more momentum, Company A is clearly a more attractive value. While neither generated much GAAP net income in their most recent quarters, Company A trades below book value, while Company B trades at 15x book value (which doesn't even fully capture all future liabilities). Company A trades at less than 1x revenue, while Company B fetches a 4x premium. Company A has a cash hoard that is over one-third of its market cap, and increased that cash by about 10% during the most recent quarter, while Company B's cash is less than 10% of its market cap, and operational cash flow was negative in its most recent quarter.
Future performance is obviously important as well. Company B, while leading its industry, faces increasing competition from one of the most widely-used and respected consumer-touching companies, plus more traditional rivals. Even more worrisome is the potential for additional competitors to enter this low-barrier industry. Company A is in the midst of a revitalization; beginning a few months ago, it introduced new products that attempt to please its existing customer base and reclaim former users and attract new users. The verdict is still out on whether it can accomplish this, but initial results have met or exceeded expectations.
If you haven't figured it out yet - Company A is BlackBerry (NASDAQ:BBRY) and Company B is Netflix (NASDAQ:NFLX). Their industries are a bit different (mobile phones/mobile computing versus content delivery), but enough parallels exist that I believe the comparison is fair. When comparing the companies, I think it's obvious which company offers a more attractive opportunity for investors today.
Netflix at $55 just six months ago clearly offered a more compelling value than it does today; metrics in the top table would have been much less inflated than they are today. After quadrupling in such a short period of time, I don't think that any investor (beyond one that expects a bigger fool to step in after him) can rationalize buying shares of a company that operates at basically break-even, has negative true book value (when considering off-balance sheet content liabilities) and faces increasing competition from competitors like Amazon (NASDAQ:AMZN), Redbox (NASDAQ:CSTR), Hulu, HBO, traditional media companies, and potential additional competitors that have yet to emerge (like Apple (NASDAQ:AAPL)). Unless you're simply playing momentum, I can't rationalize buying Netflix at $215.
BlackBerry certainly isn't a sure bet. It's in the middle of launching its BB10 devices; the Z10 debuted earlier this year (BlackBerry's Q4) to a moderately-warm reception, but the current Q10 rollout (in the UK and Canada very shortly, and the US and other markets during May) will be the driver of results in BlackBerry's Q1 and beyond. However, initial results are promising. BlackBerry's Q4 profit and positive cash flow were not expected by the street, as sales of the Z10 were better than expected (and expenses were kept under control). Expectations for the Q10 seem to be relatively modest as most of the street is still taking a bearish view, but early indications of Q10 sales (such as SA Contributor Michael Collins' eyewitness account of day-1 UK sales) seem very promising. The vast majority of BlackBerry owners (or former owners) will tell you that this is the phone that they have been waiting for, and it will soon be known whether they back up that sentiment with purchases.
Beyond company performance, BlackBerry longs may benefit from something that coincidentally drove Netflix's share price through the roof - massive short interest. Netflix shares jumped over 60% within three sessions after beating Q42012 expectations, due largely to short covering.
(click to enlarge) Chart via Google Finance

There were 164 million BlackBerry shares shorted as of April 15th, which represents about 1/3 of all outstanding shares and 5-10 days of volume. BlackBerry is definitely spring-loaded; a Q1 beat (results will be announced in late June) seems to have the potential to result in similar price action.
I believe that BlackBerry is a very attractive investment from a fundamental and situational perspective. Its new devices appear to be doing well, expectations are as low as possible (as many pundits are still forecasting bankruptcy), and market dynamics increase the possibility of a massive movement if BlackBerry can shock the street. Its robust cash balance and lack of premium to book value provide an additional margin of safety.
As for Netflix, I didn't want to throw it under the bus, but it looks overly rich at its current valuation. Congratulations to Netflix longs that bought in at $60 and have quadrupled their money in six months. Potentially, BlackBerry investors who are in at $15 might realize a similar return over the rest of 2013.
Disclosure: I am long BBRY. I wrote this article myself, and it expresses my own opinions. I am not receiving compensation for it (other than from Seeking Alpha). I have no business relationship with any company whose stock is mentioned in this article.