By Serkan Unal
Insider purchases can represent good starting points in the search for stocks with upside potential. Empirical research suggests that copycat strategies based on insider stock purchases can generate excess returns over time relative to benchmarks. However, investors should be selective with insider picks, evaluating fundamentals and prospects of each individual stock.
The following represents a selection of five dividend-paying stocks with yields above 2.0% that have had meaningful insider buying recently. Some of these stocks, such as Walgreen Co. (WAG), the largest U.S. drugstore chain, boast strong growth potential, while others, including JPMorgan Chase & Co. (NYSE:JPM), are value plays paying respectable dividend yields. Insider purchases of these dividend-paying stocks are insiders' votes of confidence in these stocks' future prospects. In some cases, such as that of Calamos Asset Management Inc. (NASDAQ:CLMS), this insider support comes in spite of the company's weak fundamentals and high valuations.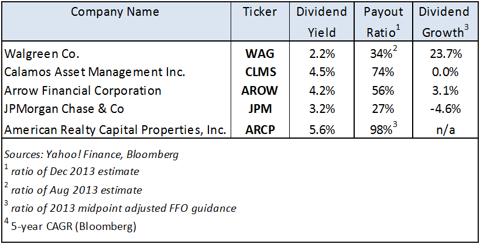 Walgreen Co. is an S&P Dividend Aristocrat with 37 consecutive years of annual dividend increases. Last year, the company's performance was adversely affected by its standoff with Express Scripts (NASDAQ:ESRX). Following the weak first quarter, last month, the company reported a surge in adjusted earnings in its fiscal second quarter, despite flat revenues. The resumption of business relations with Express Scripts lead to a 4.3% increase in second-quarter prescriptions filled at comparable stores, after a 4.8% decline in the quarter before. With an expected increase in penetration of higher-margin generic drugs (by year end 2015, 90% of all scripts filled are expected to be for generics) and a higher demand from the aging Baby Boomers, the company expects to realize more than $130 billion in revenues and between $9 billion and $9.5 billion in adjusted operating income through fiscal 2016. Synergies from its Alliance Boot investment will also be accretive to Walgreen Co.'s future profitability. The stock is currently trading at 18.4x trailing and 14.1x forward earnings.
On April 19, one of the company's directors, Stefano Pessina, purchased 83,299 shares of WAG at an average price of $48.62 per share. The stock is currently trading at $49.75 per share. Among hedge funds, Arrowstreet Capital was really bullish on WAG last quarter (check out the fund's top holdings).
Calamos Asset Management Inc., an investment manager, has been struggling with weak fundamentals. The company has underperformed its industry, reporting sizable asset outflows over the past several years. This asset manager reported net asset outflows of some $4.6 billion last year, out of which $3.1 billion took place in the fourth quarter of 2012. The trend has continued into 2013, albeit at a more moderate pace of outflows. Additionally, Calamos' funds have lagged the performance of their peers. This weak performance has prompted the management to initiate a capital deployment strategy that would buttress EPS growth and increase shareholder value through a higher dividend (14% increase) and a share repurchase program (repurchase of up to 3 million shares or more than 13% of the current shares outstanding over the next two years). Still, at best, analysts forecast flat EPS for the next year and a 10% EPS CAGR for the next five years. The stock is trading at 11.4x trailing and 16.2x forward earnings, which is a lofty forward valuation given the industry's 14.9x forward multiple.
On several occasions since April 3, John P. Calamos, the company's Chairman, CEO, and CIO, purchased a total of 87,662 shares of CLMS at an average price of $10.95 a share. The stock is currently trading at $11.53 a share. Last quarter, fund manager Joseph A. Jolson held nearly 280,000 shares, which he reduced by 44% in the quarter.
Arrow Financial Corporation (NASDAQ:AROW) operates as a multi-bank holding company. It has a strong record of dividend growth, boasting 19 years of consecutive annual dividend increases. Testifying to its sound corporate governance and management record, this multi-bank corporation has been recognized by Forbes as one of "America's 100 Most Trustworthy Companies" for its accounting, corporate governance and management practices. While the low-interest rate environment has been squeezing its net interest margins, hurting profitability, Arrow Financial has been able to maintain competitive return on assets and average equity. Its Return on Average Equity at the end of 2012, was 12.88% compared to 7.76% for its peers in the group of banks with total assets between $1 billion and $3 billion. Moreover, Arrow Financial's capitalization ratios are above the "well-capitalized" requirements and its asset quality is strong. This small-cap bank also trades at a price-to-book of 1.7, 70% above its industry's valuation, but still below its five-year average price-to-book ratio of 1.9. The stock has a beta of 0.68.
On April 22, Thomas Murphy (President and CEO) acquired 2,500 shares at an average price of $23.62 per share, while on April 23, Thomas Hoy (Director), purchased 1,000 shares at $23.95 per share. AROW shares are currently trading at $23.89 per share. Last quarter, only RenTech's Jim Simons held a stake in AROW.
JPMorgan Chase & Co., the largest U.S. financial institution by assets, recently hiked its second-quarter dividend by 26.7% and authorized a $6 billion share buyback plan valid through March 31, 2014. The company also posted record and estimates-beating first-quarter EPS, despite revenues below analysts' expectations. The first-quarter profit jump of 33% was a result of lower expenses and reduced loan-loss reserves due to better consumer credit loan quality. Investment banking operations were strong last quarter, driven by the underwriting of corporate bonds and a robust growth in trading revenues. The bank currently boasts a ROE of 13% and it trades at book value. The bank is committed to improving its capitalization in line with Basel III requirements and is eliminating some 19,000 jobs through 2014, to improve long-term profitability. JPM is currently under pressure from a group of activist shareholders, the CTW Investment Group that is calling for a vote against the re-election of four directors (James Crown, Laban Jackson, Ellen Futter, and David Cote) and a public employee union and pension funds in Connecticut and New York which are promoting the idea to split JPM's Chairman and CEO roles.
On April 19 and 22, James S. Crown, one of the company's directors, purchased a total of 436,859 shares of JPM at an average price of $46.98 per share. In the month of April, there were also three insider sales of JPM's stock, involving 70,000 shares. (Check out these insider sales here.)The stock is currently trading at $49 a share. Last quarter, Lansdowne Partners held nearly 20 million JPM shares.
American Realty Capital Properties (ARCP) owns and operates single-tenant, freestanding commercial properties and pays a monthly dividend. The REIT's portfolio has full occupancy, with the weighted average remaining lease duration of 11.5 years. The REIT's acquisition of American Realty Capital Trust III, which closed a few months back, has increased the number of properties from 146 at the end of 2012, to 692 at the end of February, and is expected to provide the REIT's shareholders with "durable dividend income augmented by extraordinary earnings growth potential," according to ARCP's management. This REIT realized adjusted FFO of $1.08 per diluted share last year. It is forecasting adjusted FFO in the range of $0.91-$0.95 per diluted share in fiscal 2013 and $1.06-$1.10 per diluted share in fiscal 2014. However, the company does have an excessively high payout ratio, which requires fast adjusted FFO growth to make the dividend sustainable. ARCP recently made a bid to acquire Cole Credit Property Trust III, a privately-held REIT- which would have made ARCP the largest U.S.-based triple-net REIT- but ARCP withdrew its offer. ARCP is priced at 15.2x 2012 adjusted FFO.
On April 11, five ARCP insiders purchased a total of 110,001 shares at an average price of $15.69 per share. Another insider purchased 3,000 shares at an average price of $15.57 per share. The company's shares are currently trading at $16.37 a share. Last quarter, Jim Simons held a small position in this stock, which he reduced by 20% in the quarter.
Disclosure: I have no positions in any stocks mentioned, and no plans to initiate any positions within the next 72 hours.
Business relationship disclosure: Dividendinvestr is a team of analysts. This article was written by Serkan Unal, one of our writers. We did not receive compensation for this article (other than from Seeking Alpha), and we have no business relationship with any company whose stock is mentioned in this article.