Carrizo Oil (NASDAQ:CRZO) and Gas is a small-cap Exploration and Production (E&P) company in premier oil locations in the lower 48 United States. You
might remember them as natural gas producers, but they began making a major shift to oil in 2010. The company's remaining natural gas operations are in some of the best areas: the Marcellus and some of the better Barnett acreage in North Texas. Their oil properties are in the Niobrara of Wyoming and Eagle Ford of southern Texas, which is the company's main driver of growth right now. And perhaps most exciting, Carrizo has been an early mover in the nascent Utica Shale of eastern Ohio, acquiring mineral rights on over 14,000 acres.
This article is about why I believe Carrizo's assets could be overlooked by the market, particularly when we consider the most recent drop in oil prices. I believe Carrizo could yield huge gains from either being acquired or from oil production growth that is both sustainable and profitable.
Growth By Drill Bit
Those interested in domestic oil producers and growing long-term production should think about Carrizo. Last year Carrizo increased Barrels of Oil Equivalent Production per Day (BOEPD) by 26% and are expected to have long-term compound production growth of 28%. This growth rate is comparable to other domestic players such as Continental (NYSE:CLR), EOG, Whiting (NYSE:WLL) and Noble (NYSE:NE) (although the latter does have some other assets).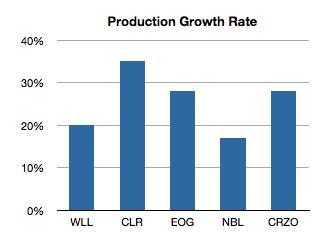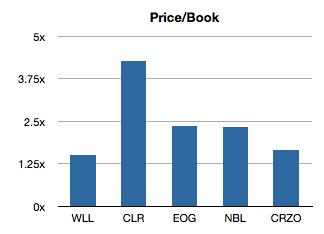 Sources for EOG, Whiting, Continental, Noble and Carrizo can be found in the preceding links.
Carrizo is attractively valued compared to these others. Only Whiting has a lower Price to Book value. At the same time, production growth is bested only by Continental and their Bakken acreage. Much of Carrizo's production growth is coming from the Eagle Ford shale in South Texas, which has become the second most prolific unconventional oil play in the United States.
Good Eagle Ford Economics
South Texas is not only Carrizo's driver of growth but also their most profitable play. In an interview with CNBC's Jim Cramer, CEO Chip Johnson cited a $75 margin when considering Finding and Development (F&D) costs.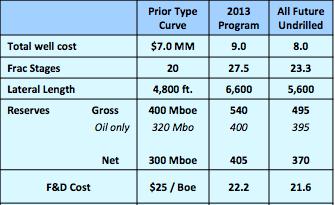 When we look at Carrizo's well type curve for Eagle Ford, we can see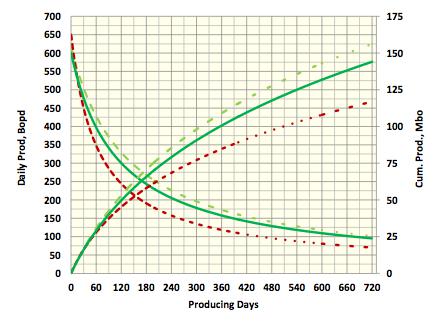 more detail. Look first at the total well cost, which encompasses all costs including F&D. Future wells will cost $8 million and can be expected to produce about 140,000 barrels over a two-year life (the solid green line). At a conservative $85 realized price per barrel, each well should gross $11.9 million in undiscounted revenue, or $3.9 million in undiscounted profit.
Looking at it another way, the $8 million cost divided by 140,000 barrels gives us a breakeven oil price of only $57 per barrel. Again, these numbers all undiscounted for Net Present Value, so the estimates are rough, but you get the idea. Carrizo's Eagle Ford asset base offers good margins and a deep safety net onto which oil prices can fall without affecting operations.
Growth Is Sustainable...

The above graphic shows just how much potential for sustainable growth Carrizo has. Only 56 wells have been drilled out of a likely potential of 417. So, more than 86% of all possible wells remain to be exploited, and that's if Carrizo does not acquire any more Eagle Ford acreage.
... But The Most Exciting Part Is Asset Values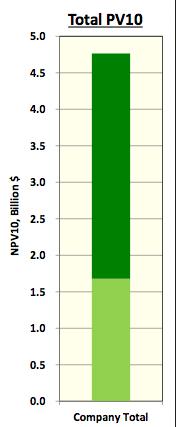 The proven value of Carrizo's assets, discounted at a rate of ten percent (PV10) is already $1.6 billion. Contrast that with the current market cap of $950 million. Consider then the value when "probable" assets are added: the total PV10 would be over $4.5 billion. In this we can see the extent of Carrizo's upside potential.
Utica "Could Rival Eagle Ford"
Finally, the still new Utica Shale in eastern Ohio gives us one last thing to be excited about. Having accumulated mineral rights on over 14,000 acres in Guernsey County, the southern and perhaps most oily part of this shale formation, management believes that the Utica "could rival Eagle Ford" in well economics.
Although estimates are preliminary, infrastructure costs should be higher in the Utica, but royalties lower. Reserves could be 50-70% oil. The first well, an exploratory one, will be drilled this summer.
Major Concern Is The Funding Gap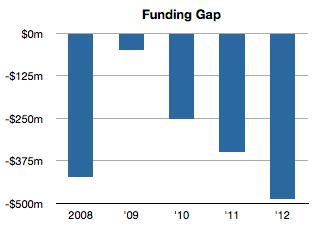 Source: Data by Morningstar.
The funding gap, which for energy companies is when Capital Expenditure (CapEx) exceeds Operating Cash Flow, is probably the reason behind the company's depressed valuation. While 2012's funding gap of $488 million is eye-opening, their current financial situation is stable due to the company's sale of non-core North Sea assets and a completely untapped revolving credit line of $365 million. Following the North Sea sale, Carrizo now has $110 million in cash.
In listening to conference calls and road shows, one gets the idea that Chip Johnson and company have gotten serious about this funding gap.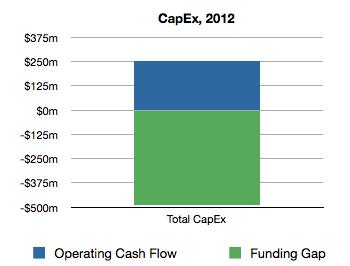 For example, in response to investors' concerns, Carrizo will cut its CapEx back from $700 million to $624 in 2013, which will shave off 15% of that funding gap. At the same time, Operating Cash Flow has gone from $154 million in 2011 to $252 in 2012. We can only expect Operating Cash Flow to continue increasing at this pace due to Eagle Ford's economics and the sustainability of production growth. It's only a matter of time before finances are manageable.
Conclusion

Chart by YCharts
An investment in Carrizo means being in a domestic oil production growth story. It means buying into a fairly long-term asset base on a premier oil play in the lower 48 states. Finally, there is the possibility of tremendous upside in the event of successful Utica drilling, or if the company ever realizes its "probable" asset value. Those who believe in the U.S. energy revolution and don't mind taking some risk might want to consider Carrizo.
Stay Tuned
Carrizo is a company I both own stock in and follow regularly, and I plan on writing update articles when both material and relevant. In addition, I am a believer in the U.S. oil production "renaissance" and this is a topic I have written about and will frequently cover in the future.

Disclosure: I am long CRZO. I wrote this article myself, and it expresses my own opinions. I am not receiving compensation for it (other than from Seeking Alpha). I have no business relationship with any company whose stock is mentioned in this article.