The healthcare sector is leading the way in 2013, up almost 19%, and 8% ahead of the S&P 500's 10.94% price return. The third largest sector of the S&P 500 (after Technology and Financials) has 53 members, but the performance has been quite varied. Several biotechs are soaring, and almost all of the stocks are up. The rising tide, though, is failing to bring along these five:

I have sorted the list on the basis of YTD return and included a few more attributes, including a look at the balance sheet performance over the past year, the PE ratio and how it compares to the median of the past 10 years, earnings growth, earnings revisions and the dividend yield. What ails these laggards? Let's look at each of them to evaluate the prospects for a speedy recovery.
Edwards Lifesciences (NYSE:EW)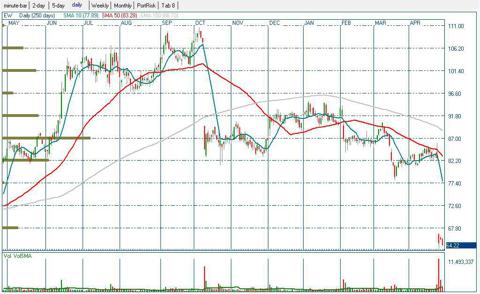 EW was hammered following an earnings miss for the second time in three quarters. On 4/23, it reported sales of $497mm (8%) and EPS of .72 (+36%, excluding a one-time patent litigation settlement from Medtronic), but these were well below the consensus forecasts of $519mm and .76. The company reduced its outlook and guided well below the consensus for Q2 while projecting sales of $2-2.1 billion ($100mm less than previously) and cutting its EPS forecast to $3.00-3.10 from $3.21-3.31. That 6% reduction chopped the price by 22.5% in the three days following the report.
EW is a pure-play on structural heart disease. Investors have been quite excited about its new technology, the SAPIEN transcatheter heart valve, which is less invasive than traditional heart valves. While other competitors are following EW's recent introduction, it seems likely that their heart valve business will benefit greatly from a broader patient population. The company reported 8% overall sales growth, with THV sales growing 40%, but, on the call, CEO Mike Mussallem cited a slower-than expected ramp following the recent U.S. launch:
In the U.S., THV sales were $83 million for the quarter, which included clinical sales of $7 million and net stocking sales of $6 million. Stocking orders were less than expected as we trained fewer TA sites than anticipated. While we estimated procedures nearly tripled from a year ago and were 20% high year than the fourth quarter, they were below our expectations.
He cited weakness across its portfolio and the weak yen as the drivers of the reduced outlook. It probably didn't help perceptions that he sold 35K shares at $83.37 on 4/10 (certainly while he was aware of the shortfall), but, as one can see here, he sells 35K every month as part of a selling plan. The options he exercised (with a $21.955 exercise price) were due to expire in May, and the sale was pretty tiny relative to the 2mm-share beneficial ownership he held prior to the transaction.
After the big drop, the stock trades now at about 20X reduced forward EPS projections (not taking into account about $3 per share in cash net of debt). For a company with strong growth prospects (20% is the current 2014 EPS consensus growth rate) and a potential M&A beneficiary, this seems like a reasonable valuation.
Varian Medical Systems (NYSE:VAR)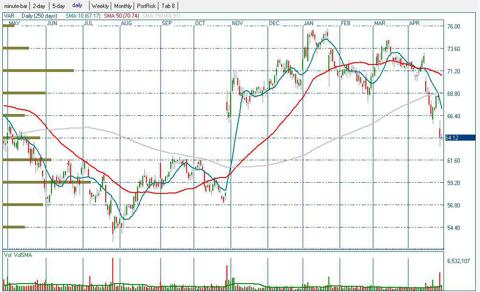 I have followed VAR for many years and think it's an exceptional company. I did some research on the company for a client when it promoted Dow Wilson, a 20-year GE veteran who has been with the company since 2005, to CEO late last year. The company is the leading provider of radiation equipment to treat cancer.
The company reported fiscal Q2 on 4/24, and they grew sales ahead of the consensus but only matched the EPS consensus and then provided below-consensus sales guidance for the rest of the fiscal year by maintaining its outlook after the beat on the top-line. The forecast is for 7% growth in sales in Q3 and 8% for the year. The company expects EPS of $4.09-4.14 (previously $4.08-4.16). The weakness was likely related to the disclosure that orders for oncology systems fell 2% during the quarter. CEO Wilson said on the call:
A 9% decline in North American Oncology Systems net orders offset the 4% increase across markets outside North America leading to an overall 2% decline in net orders, which totaled $555 million for the quarter. The North American oncology market is experiencing slower capital spending related to ongoing uncertainty regarding health care reform and potential reimbursement changes. For example, many of our customers appear to be focused on developing new partnerships across clinical specialties to prepare for operating in an Accountable Care Organization, or ACO, environment, and the possibility of bundled payments for cancer therapy services as well. We're also seeing some continuing consolidation activity among hospitals and clinics, which may be contributing to purchasing delays.

The U.S. market uncertainty will likely extend in the next fiscal year. However for the long-term, we believe a transition to our ACO environment could lead to renewed investments in more advanced and cost-efficient clinical capability to support outcome-driven standards of care and pay-per-performance. Radiotherapy and radiosurgery are among the least invasive and most cost-effective ways of treating cancer, and Varian's technology and product portfolio fits this scenario to a T.

During the period of uncertainty and transition in the U.S., we expect bigger variations in net orders from quarter-to-quarter. A host of factors including deal size, timing and changing purchasing processes will contribute to this increased variability.
I like VAR here and just added it to my watchlist with the intention to study it more closely now. I do wonder why the company doesn't pay a dividend, instead aggressively repurchasing stock (in excess of free cash flow). VAR has a lot of cash, but it is mainly offshore. Additionally, if one excludes debt, customer deposits and deferred revenue, the cash becomes insignificant. Still, at about 15X forward earnings, the stock seems very reasonable in light of its strong market share and history of growth.
PerkinElmer (NYSE:PKI)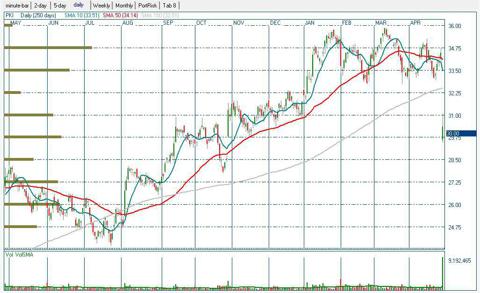 PKI dropped a bomb on Thursday after the close:
EPS of $0.36 (consensus was $0.48)
Sales of $505mm (consensus was $532mm)
2013 guidance cut to $2.00-2.10 (consensus was $2.29)
This is a stock that was lagging the market but still up until the large drop on Friday, when it plunged almost 12%. I don't know this company, which provides diagnostics for human health (prenatal testing, genetics, oncology) and environmental health (food, consumer products, oil and industrial). They are also a competitor to VAR for digital x-ray flat panel detectors.
CEO Rob Friehl described the shortfall on the conference call, suggesting that it was concentrated in 15% of the business as he lamented a 1% decline in sales following twelve quarters of organic growth in excess of 3%: Environmental instruments in Western Europe due to weak industrial demand, Japan (a common theme this earnings season), and in vivo imaging (a victim apparently of sequestration).
With a below-market valuation, seemingly discrete events or perhaps one-time adjustments in end markets leading to the shortfall and a nice chart even after the drop, this one might be worth investigating further.
Quest Diagnostics (NYSE:DGX)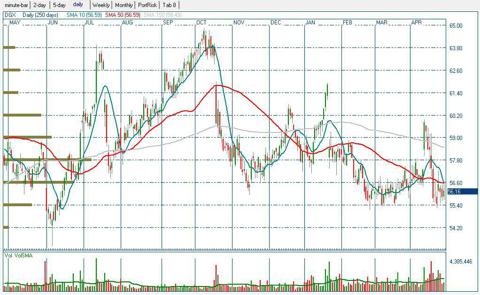 DGX reported earnings on 4/17. Its new CEO, Stephen Rusckowski, who joined last May from outside of the diagnostics industry (Philips Healthcare), has a five-point plan that has been slow to produce results. The company reported adjusted EPS of $0.89 compared to a $1.03 consensus and missed on sales. It reduced its outlook for sales growth to flat from flat to up 1%, but maintained EPS guidance of $4.35-4.55, with the company expected to use share repurchases to offset the sales weakness in order to maintain its previous earnings forecast.
I used to follow DGX more closely. At 8X EV/EBITDA, it's at the low-end of its 8-10X range over the past decade, but the growth has been uninspiring, something that could be said for its large rival LabCorp (NYSE:LH) as well. This seems like a very mature business.
Intuitive Surgical (NASDAQ:ISRG)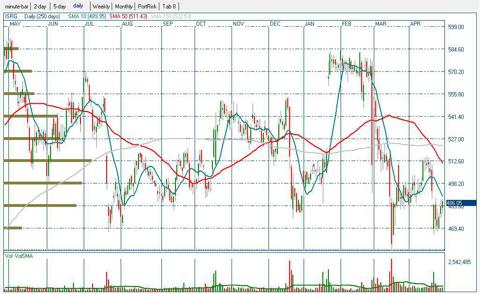 I have followed ISRG for almost a decade, and it has turned into a real battleground stock. Citron Research, which is known for typically pointing out accounting frauds, went on the attack last year and following up most recently here, focused on safety and legal issues as well as sales practices. CNBC's Herb Greenberg jumped on the bandwagon too. His documentary special aired, not coincidentally, on April 18th, when ISRG reported earnings. I think that the main issue is that problems can arise primarily when doctors aren't trained properly, but the bad publicity could lead to slowed demand and management distraction.
The stock moved back towards its 52-week low last week despite reporting a strong quarter. While Japan, a relatively new market, helped boost results, with new system sales jumping from 7 in last year's Q1 and 10 the prior quarter to 25 in Q1, as conveyed during the conference call, procedure growth slowed to 18%, which, as explained, was actually 20% when adjusting for the leap-year in 2012. The prostate market is already slowing a lot, and gynecological procedures seem to be at risk in the near term given some of the publicity. While 18% procedure growth is still quite impressive, the company did reduce its outlook slightly. Overall, though, the analysts didn't materially change its sales outlook and raised earnings forecasts slightly.
I think that ISRG is likely range-bound while investors wait to see how this negative publicity plays out. While valuation has come down from historical levels, so has growth. ISRG grew sales by 23% in each of the past two years and was even able to grow 20% in 2009, but it is expected to boost revenues by 19% this year and 15% in 2014. The company has about $78 per cash, and my one-year target is about $500 based on 20 PE a year out plus cash. Thus the stock seems a little expensive now. I expect that it could trade towards $400 as investors become more concerned about potentially weaker procedure growth.
Disclosure: I have no positions in any stocks mentioned, and no plans to initiate any positions within the next 72 hours. I wrote this article myself, and it expresses my own opinions. I am not receiving compensation for it (other than from Seeking Alpha). I have no business relationship with any company whose stock is mentioned in this article.