While the U.S. economy has vacillated between mediocre and subpar growth in the last year, MLPs have had an unprecedented move up to new record levels because of the energy boom in the U.S. 3 major MLPS with high and tax advantaged yields are presented below:
(1) Kinder Morgan is the largest midstream and the third largest energy company in North America with a combined market value of almost $100 billion (for its 4 companies) with 73,000 miles of pipelines and 180 terminals. The pipelines transport natural gas, gasoline, crude oil and CO2 from coast to coast. Kinder Morgan, Inc. (NYSE:KMI) owns the general partner interest of Kinder Morgan Energy Partners (NYSE:KMP) and El Paso Pipeline Partners (NYSE:EPB), along with limited partner interests in KMP, Kinder Morgan Management (NYSE:KMR) and EPB.
Last year the $38 billion acquisition of El Paso Corp was completed and Copano Energy (NASDAQ:CPNO), a midstream natural gas company, is scheduled to be acquired for $5 billion by Q3. Presently Kinder Morgan has identified $11 billion in new investments for future investment.
Growth has been extraordinary. The annual distribution for KMP was 94¢ in 1997 (its first complete year) and raised to an annual rate of $5.20 last week. Management expects distributions of $5.28 in 2013, a 6% increase over $4.98 in 2012.
(2) Enbridge Energy Partners (NYSE:EEP) has 2 major divisions: Liquids and Natural Gas. The Liquids segment ($706 million operating income) owns the U.S. portion of the world's longest liquid petroleum pipeline that transports crude oil and natural gas from western Canada to refining centers in the Midwest and Ontario, Canada. That pipeline brings in 13% of U.S. daily imports. Enbridge Inc. (NYSE:ENB), the general partner, and EEP recently completed the largest liquids pipeline expansion in the upper Midwest. The Natural Gas business ($200 million operating income) operates in the Mid-Continent and Gulf Coast regions. About 15% of Texas natural gas production is transported through 3 major natural gas systems with 11,000 miles of gathering and transmission pipelines, 26 processing plants and 10 treating plants.
Enbridge Energy Partners is planning pipeline expansion in North Dakota to add transport capacity for increased crude oil production from the Bakken and Three Forks formations. Additionally EEP is one of 3 partners constructing a natural gas liquids 580 mile pipeline, the Texas Express Pipeline (NYSE:TEP), and shippers have executed long-term contracts.
The EEP distribution of $1.18 in 1993 has been raised to $2.17 presently with no reductions. Management is guiding for 2-5% annual increases (generally declared in Q3).
(3) LINN Energy is an upstream MLP with properties principally in areas in the Mid-Continent, Granite Wash, Permian Basin, Hugoton Basin, Rockies, Michigan, California and East Texas. The company has over 15,000 gross productive oil and natural gas wells which achieved record annual organic production growth of 15% in 2012. Proved reserves are 4.8 Tcfe (trillion cubic feet equivalent) and Linn has roughly 11,000 identified potential drilling locations.
LINE acquired over $9 billion in properties in 2007-2012. In February it announced a merger with Berry Petroleum (BRY) for $4.3 billion (including $1.7 billion of debt). This will add 1.6 Tcfe to proved reserves and is expected to be immediately accretive, adding 40¢ per unit in the first 12 months. Also, LINE is an industry leader in hedging that is used to provide long-term cash-flow predictability by reducing exposure to oil and natural gas price fluctuations.
The annual distribution was raised (with no decreases) from $2.18 in 2007 to $2.90 presently and will be increased to $3.08 to be paid in Q4.
| | | | | |
| --- | --- | --- | --- | --- |
| | Price | Current Dividend | Yield | Ownership |
| Kinder Morgan Partners | $89.65 | $5.20 | 5.8% | units |
| Kinder Morgan Mgmt | $87.37 | $5.20 | 6.0% | shares |
| Kinder Morgan Inc | $38.78 | $1.52 | 3.9% | shares |
| El Paso Pipeline Partners | $42.53 | $2.48 | 5.8% | units |
| Enbridge Energy Partners | $29.52 | $2.17 | 7.4% | units |
| Enbridge Energy Mgmt (NYSE:EEQ) | $29.48 | $2.17 | 7.4% | shares |
| Linn Energy (LINE) | $38.33 | $2.90 | 7.6% | units |
| LinnCo (LNCO) | $42.49 | $2.90 | 6.8% | shares |
| Berry Petroleum | $47.69 | $0.32 | 0.7% | shares |
These MLPs have rewarded investors over the years with capital appreciation and attractive yields. But there is tax hassle and additional record keeping with MLP units so these MLPs created companion stock alternatives. EEP and KMP each have a comparable corporation (EEQ and KMR respectively) which pays stock dividends based on distributions and tracks price movements of the units. LINE had an IPO for a companion corporation, Linn Co , in October 2012 that pays dividends with money. Linn just announced that distributions and dividends will be paid monthly around the 14th of each month starting in July.
In the last decade MLPs became popular with investors. The Alerian MLP Index rose 160% to 454 while annual income from the index doubled to 26.
Alerian MLP Index --- 10 years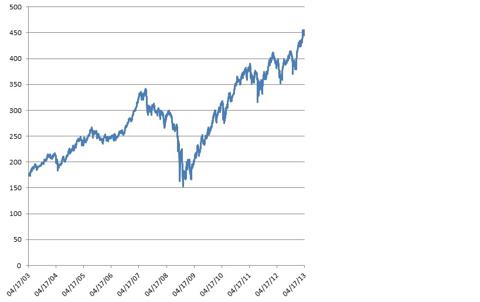 MLPs have soared in the last 12 months with the index surging more than 100 from its June low, comparable to the phenomenal gain in 2009 when it was coming off its recession lows. The index yield has been reduced to 5.7%, slightly above the record low yield of 5.37% in July 2007 (which was followed by a 3 week plunge of 60 from a record 342). In the last 2 days, the index has dropped from its record high of 461. Overbought MLPs are subject to a decline.
However, the longer term outlook remains excellent with virtually unlimited demand to build energy infrastructure in the U.S. All 3 companies are investing billions of dollars to meet that demand. Growth will bring a continuation of distribution/dividend increases and rising security prices will follow, a recipe for successful investing. MLPs are especially attractive for investors seeking current income with 6-8% yields and tax advantages. Special mention is made for LINE and LNCO which will start paying monthly income in July.
Disclosure: I am long EEQ, LNCO. I wrote this article myself, and it expresses my own opinions. I am not receiving compensation for it (other than from Seeking Alpha). I have no business relationship with any company whose stock is mentioned in this article.