Pingdom reports that Google (NASDAQ:GOOG) made a stunning $209,624 profit per employee in 2008 (click on chart to enlarge).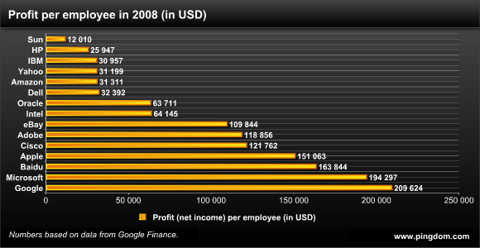 Click to enlarge
Perhaps just as impressive is Microsoft's (NASDAQ:MSFT) $194,297 per person. When you consider MSFT has 4x the employees as Google–which typically means a lot more "non revenue generating" jobs–that's quite an achievement.
Any surprises on that list? Yahoo (NASDAQ:YHOO), anyone?