By Prince Jain
Harley-Davidson (NYSE:HOG) is a company with 55.7% market share in new heavyweight motorcycles in the US. This is a company that has defined the motorcycle industry. It has one of the world's most loyal customer bases. It was impacted hard in the 2008 financial crisis. Though the company hasn't been able to sell as many motorcycles as it did in 2008, the sales are improving. This is driven by a number of factors, as we will see below. But before that, meet the beast right below.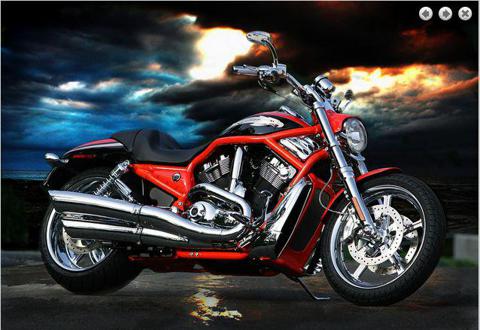 The stock has been achieving higher highs and higher lows since January 2009, indicating an upward trend. During this period, it has given its investors a return of more than 540%. The stock is trading at almost the same price as last year, but has given a return of around 30% in the last six months. This is due to its recent quarterly earnings and an optimistic outlook for 2013.
Quarterly earnings
The company just released its Q1 2013 results. It reported an increase of around 33% in its EPS from $0.74 to $0.99. The revenue increased around 10% from $1.43 billion to $1.57 billion. The company also saw rise in its gross margin and operating margin as compared to the same quarter last year. The shipment of its motorcycles saw a big jump ahead of its traditional spring selling season. Operating income from financial services saw a rise of 6.1% as well. The company expects to increase its sales volume by 10-18% in the first half of 2013. It expects to ship 259000-264000 motorcycle worldwide this year. This indicates an optimistic outlook for the company.
Restructuring advantages
The company has been restructuring its US manufacturing plants since 2009. This is being done to increase flexibility, become more efficient, reduce product development time and become more cost-competitive. The restructuring process included the consolidation of motorcycle production on a single production line in its York manufacturing facility. The company has been able to increase its manufacturing capacity in the facility, helping it match retail demand. This is expected to reduce inefficiency-related costs for the company in the future. The whole restructuring process is expected to result in a cumulative savings of around $315 million to $335 million till 2014.
Market Leader
Harley-Davidson has a market share of more than 50% in the US market. It has a huge network of dealers around the world that drives the company's sales. Most of these dealers sell Harley-Davidson bikes exclusively. The US accounts for about two-thirds of the company's total sales. With improving market sentiments in the US, the company is expected to sell more motorcycles in the next few years. This suggests an upside potential for the stock.
Emerging market expansion
Due to the sluggishness in the European economy, the share of Europe in the company's total revenue has been declining for a while. Therefore, the company is expecting to expand in emerging markets like Brazil and India on a huge scale. It has targeted to increase its international sales share to 40% by 2014. In the recently released quarterly earnings, the company reported an increase in retail sales by 11.5% in the Asia Pacific region.
It has been doing really well in Latin America as well. This is evident from the increase in the share of these regions in total revenue. The company is planning to launch a new motorcycle exclusively for the Indian market, targeting the entry level premium buyers. The company has opened its first dealership in Philippines as well. Because of rising income levels of the people in emerging markets and with the company's efforts to improve its distribution network, these countries will represent a larger share of the revenue in future.
Changing customer demographics
The company has been trying to implement multi-generational and multi-cultural marketing strategy. It closely monitors the demographics of all its customers. It is considered a brand hugely followed by middle aged men. It is a market leader among men above the age of 35. But it is trying to attract young and non-traditional customers as well in order to boost its demand. The average age of the Harley's owner is still above 50, but efforts to woo another segments of customers is expected to drive future demand.
Conclusion
The trailing P/E ratio of Harley-Davidson is 19.97, which is currently higher than the industry average. But its forward P/E ratio is lower. The growth forecast of the company for the next few years is optimistic. This growth would be driven by its expanding customer segments, international expansion and expected increase in US sales. The increased capacity and cost competitiveness due to restructuring might also help. The company's gross profit margin has been increasing from 32.3% in 2009 to 34.8% in 2012 and is expected to increase further. All these factors indicate upside potential for the stock in future.
The company has recently increased its quarterly dividend by more than 34% from $0.155 to $21. It repurchased 2 million out of the total of 15.5 million shares outstanding during the first quarter of 2013. It expects to return more value to the shareholders by increasing dividends and repurchasing shares in the future as well. This would further increase total returns, which tells me that investors can look at this within a mid to long term window.
Disclosure: I have no positions in any stocks mentioned, and no plans to initiate any positions within the next 72 hours.
Business relationship disclosure: StockRiters is a team of analysts. This article was written by Prince Jain - B.Tech, CompSci, MBA in Finance, IIFT, one of our analysts, and edited by Shas, StockRiters' Editor-in-Chief. We did not receive compensation for this article (other than from Seeking Alpha), and we have no business relationship with any company whose stock is mentioned in this article.