While performing research for an article on Netflix (NASDAQ:NFLX), the constant discussion on original content made me wonder about other content generators. Especially when considering the massive valuations of entertainment content companies. As an example, nonfiction content creator Discovery Communications (NASDAQ:DISCA) has a market value of $28B and The Walt Disney Corporation (NYSE:DIS) is worth $111B. Is it possible for user generated content to ever create companies of that size?
All of those firms are vastly different from a focus of distributing content in the case of Netflix to the creating content for a vast network of cable channels at Discovery to creating films and TV shows at Disney. In general, all of the companies are involved in the creation and distribution of entertainment content that has historically had significant value creation.
All of this discussion about the value of content and push to more original content by Netflix generated a thought that the creation of user generated reviews might eventually be considered as more valuable content. The value could be immense to advertisers such as major brands and local companies looking to attract new customers.
The question is whether Yelp (NYSE:YELP) can eventually provide the review content that is generally considered more valuable than entertainment content of a Disney film or the House of Cards series from Netflix. At the end of 2012, Yelp had collected 36M user submitted reviews. This data can be used to find the best local restaurant or even a good plumber in the metro area. Will that data only be used to supplant the Yellow Pages for generic company information, or will the content eventually be seen as more valuable than all other content? After all, the experts always claim that content is king and Yelp is quickly moving to having a substantial amount of content.
General Details On User Generated Reviews
The Yellow Pages were always seen as a valuable list of businesses. For the uninitiated under 30 crowd, it only provided a basic list of corporations in general categories with ads sold to firms placed on the sides of the pages. This information was great for providing a general list of companies in a sector, but it did nothing to highlight or list the best company. Heck, the concept even spawned the naming of a business with the "AAA" in order to show up first in that particular sector under the theory that consumers would call the first name in the list.
Than came along websites that started collecting user reviews with TripAdvisor (NASDAQ:TRIP), Angie's List (NASDAQ:ANGI), and Yelp leading the way. TripAdvisor has become a huge success, as the online travel industry was quick to adopt advertising for online travel. The Internet quickly replaced paying fees for travel agencies as researching a hotel online in a far flung destination quickly became more intriguing with websites that compared prices and highlighted hotel features and showcased pictures. More localized services such as contractors via Angie's List and restaurants via Yelp have been slower to advertise. Partially because users still utilized the Yellow Pages for local search or a friend in the case of contractors. Also, the nature of the business has vastly changed to where advertising systems can now target a user based on mobile location and general search criteria.
Yelp Details
As mentioned, Yelp focuses on the collection of user generated reviews that have accumulated to 36M by the end of 2012 or a 45% increase over the end of 2011. Unique visitors jumped 31% to 86.3M in Q4 2012 and topped 100M users during January. Maybe most importantly, the amount of paying local business accounts jumped 68% year over year to nearly 40K during Q4.
Currently, the company sees the target audience as the 667M US, Western Europe, and Canada Internet users, with that target eventually expanding to the whole world of 2.3B internet users. The target advertisers are over 73M worldwide with 53M in the Western world, while Yelp only has roughly 1M that actively claim the business in the service and just 40K of those actually pay to advertise.
Revenue grew 65% last year to $138M with a target to expand another 53% to $210M in 2013 and approaching $300M next year. The company just turned EBITDA positive and expects to hit over $20M in EBITDA this year.
At a valuation of $1.6B, Yelp only trades at about 8x this year's revenue and a more reasonable 5x next year's numbers. The stock trades at a similar valuation to Angie's List and significantly below the $7.5B market cap of TripAdvisor.
Cohort Analysis
While all of the data about creating content has been generally positive and can be spun into unlimited potential, the biggest issue remains turning those reviews into revenue. Unfortunately, businesses don't just automatically seek out Yelp for advertising. Generally, the service can even push away local firms if the reviews are negative. Hence, the company has developed cohorts (markets) where a Community Manager is hired and sales reps seek out local businesses to claim their business on Yelp and eventually advertise. Once the Community Manger is hired at a cost of generally below $100,000, the amount of reviews accelerates in the cohort. Over the next few years, the reviews explode and local advertisers come rolling in. The below slide from the February investor presentation highlights the progress in the cohorts that have existed for at least 2 years.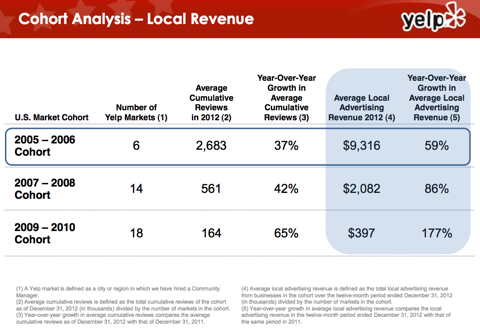 The business has exploded in the markets that have been open for over six years. One needs to consider that these are generally the largest markets such as San Francisco, New York, and Boston, so the total reviews and local ad revenue can't be generalized and extrapolated to all markets. Some recent markets include large international locations such as Paris that only started in 2011. In total, the company has launched in 20 international countries, including recently in Poland and Turkey.
Comparative Valuations
An example of the value potential for Yelp is that the forward revenue multiple for TripAdvisor that has a $1B+ run rate actually exceeds that of the faster growing Yelp. In addition, the huge Discovery Communications has a multiple of 5.6x the revenue expectations. Of course, the multiple for Disney is much smaller and Netflix is considerably lower as the company focuses more on low-cost distribution. As the chart shows, the business model could support huge multiples in the future if Yelp can truly become a valued content provider and eventually lower marketing and sales expenses.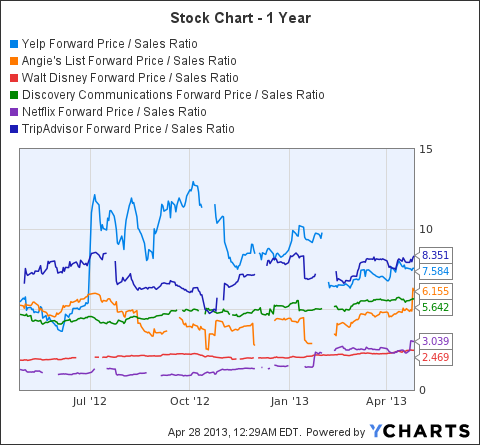 YELP Forward Price / Sales Ratio data by YCharts
Conclusion
Before Yelp can become a huge success, it will need to prove that the company can be profitable with the concept. Ultimately though, the user generated content could become immensely more valuable to advertisers. Whether it ever reaches the levels of a Discovery Communications or Netflix is questionable, but only matching the existing value of fellow user generated reviews site TripAdvisor would provide a 400% gain.
Investors will be keen to watch the sales and marketing expenses to see whether the company is scaling towards profits that could be massive in the future as local advertisers flock to the service evident by the 87% growth rate in Q412. Assuming Yelp doesn't fall victim to some of the main complaints of faulty and adverse reviews impacting advertisers, the business could boom for years and investors should load up for huge gains.
Disclosure: I have no positions in any stocks mentioned, and no plans to initiate any positions within the next 72 hours. I wrote this article myself, and it expresses my own opinions. I am not receiving compensation for it (other than from Seeking Alpha). I have no business relationship with any company whose stock is mentioned in this article.
Additional disclosure: The information contained herein is for informational purposes only. Nothing in this article should be taken as a solicitation to purchase or sell securities. Before buying or selling any stock you should do your own research and reach your own conclusion or consult a financial advisor. Investing includes risks, including loss of principal.