In our latest article on Zynga (NASDAQ:ZNGA), we identified four signals that made us believe the company could perform well in the next month, regardless of the earnings call or the release date of the gambling sites' Facebook (NASDAQ:FB) version. The latter is a positive catalyst we expect to occur in mid-May.
By the time we wrote the above-mentioned article, Zynga was trading at $3.27 per share. The earnings call caused a sudden decrease in stock price. However, as those who follow Zynga's movement closely know well, these short-lived overreactions are abundant in the history of the firm. What we observed last Friday, April 26 -- two days after the earnings call -- was a completely different picture. The bulls are back, as shares were trading at $3.35.
We do not believe the bears have retreated forever, but we do believe that they overreacted in the first place. The earnings call did not really offer new information to those who follow the stock carefully. What the earnings call did was to confirm that Zynga is currently undergoing a painful transition, that the last hopes for it could be found in social gambling or an unpredicted successful hit game. And in the meantime it is trying to stay alive. Many of the bears who came out right after the earnings call could have been previous bulls who had unrealistic expectations on the firm.
In this article, we analyze the earnings call in detail to update our view on Zynga. As a conclusion, we are not changing our thesis. From a fundamentals and valuation perspective, Zynga is a bad deal. However, if you know how to play it, you could benefit enormously from certain catalysts that are set tto take place in the following months by keeping a carefully hedged bullish position. After all, Zynga is up 32.6% since the start of the year.
Click to enlarge images.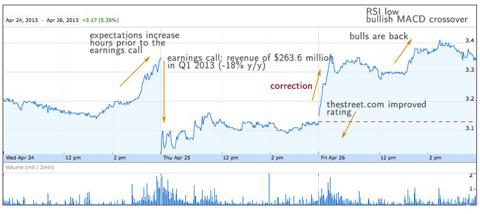 The Good
The Street had very low expectations for Zynga, which helped it beat the consensus.
The EBITA for the last quarter is actually positive: $28.7 million. It represents a 66% increase from the same quarter in 2012.
It has $23 million in free cash flow, which will help to add strength to the balance sheet. Zynga now has about $1.7 billion in marketable securities.
Zynga saw positive earnings per share for this quarter: $0.01 (one cent).
Sometimes Zynga shows an amazing ability to consistently engage its players. "FarmVille 2" continues being the biggest driver of Zynga's bookings. In the words of CEO Mark Pincus, the continuous success of this game "increases our conviction in our own franchise strategy."
As we mentioned in our latest article, the new titles "War of Fallen" and "Draw Something 2" could bring in some revenue:
We're proud that 'War of the Fallen,' a new mid-core title has already been played by Kotaku, we said it was a revolutionary way to make a card battle. Even more importantly we're seeing great player feedback with average ratings of 4.5 stars and monetization that's running at roughly 15 times what we've seen across the 'With Friends' title on a per-player basis. Another key mobile franchise opportunity is 'Draw Something 2,' which we are excited to announce is launching later today. This game, which already received 4.5 stars from our players in Canada, is the first game to incorporate social media features like feeds and followers and it represents a terrific opportunity to re-engage to more than 100 million players who downloaded and enjoyed the original game.
No awful surprises. Results were bad, but the Street was expecting something worse.
Zynga.com registered 3.5 million MAUs in the first weeks after launching. This adds independence from Facebook and liquidity to the game company.
The Bad
Zynga's revenue fell 18% to $263.6 million, while bookings fell 30% year over year to $230 million. This is due to the fact that the company is shutting down many games in order to reallocate resources to new hits and, possibly, an aggressive marketing campaign for the Facebook version of the poker sites launched in the U.K. earlier this month.
Zynga Poker (not to be confused with Zynga Plus Poker, the new U.K. real money site) on the web experienced a sequential decline in bookings in Q1.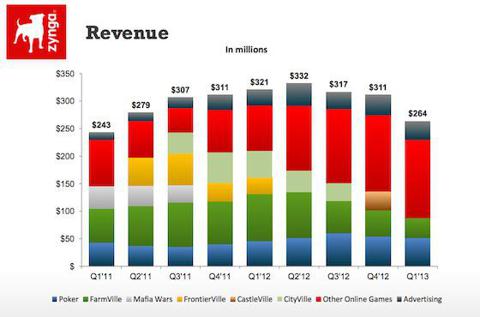 The Ugly
Metrics aren't good for the web. On a year-over-year and quarter-over-quarter basis key audience metrics were down. MUUs were 150 million, MAUs were 253 million, and DAUs were 52 million.
Mobile audience is flat in DAU (20 million). MAU declined from 72 million to 65 million. Notice, however, that only one mobile game was launched during the period.
Less monetization: Average bookings per DAU or ABPDAU were $4.09 in Q1, down 11% year over year due to a mix shift from older, higher monetizing games to the newer, lower monetizing games, and down 2% quarter over quarter due to continued bookings decline on existing games and seasonality in advertising.
Monthly unique payers, or MUPs, were $2.5 million, down 30% year over year and 14% quarter over quarter.
Negative outlook for the next quarter: "On a GAAP basis, we expect revenue between $225 million and $235 million, net loss between $36.5 million and $26.5 million, and GAAP loss per share between $0.05 and $0.03 based on the same share count of 785 million to 795 million shares."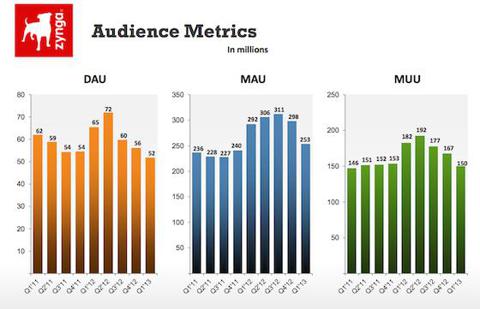 The Bottom Line
Because there were no nasty surprises, we found the immediate decline in the stock price unjustified. The earnings call confirms that Zynga is struggling to survive until it makes the next hit. This could be the social, real money gambling sites in the U.K., but only time will tell. Zynga is well aware of the difficult transition period it is facing, and management is making sacrifices that should exchange pain today for value tomorrow. This is a good signal for those who have a long-term investment horizon in the firm.
2013 will be very painful for Zynga, but the firm is honest in its intentions to reallocate resources to mobile and real money gambling. Last, but not least, the stock performance is highly and irrationally sensitive to events. This makes Zynga a very interesting short-term investment opportunity. In this sense, we believe the next events could have a positive effect on the stock performance:
The launch of the Facebook version of the real money games in the U.K: "And we look forward to launching real-money games in the UK on Facebook and mobile later this year." This is the main catalyst. We estimate that it can be strong enough to take price of shares above $4.
The mobilization trend in Zynga.
The launch of "Battlezone" in the next three weeks, an action RPG game.
A possible success with "Draw Something 2."
A Note on Valuation
From a fundamentals and valuation perspective, Zynga should be avoided. We use Oldschoolvalue software to perform a valuation on Zynga, assuming a 9% discount rate (highly unlikely), a 7% average growth rate for the next 10 years, a 3% terminal growth rate, and a discounted cash flow model. We obtain a negative fair value per share (-$0.97), which is not surprising considering that Zynga has negative cash flows.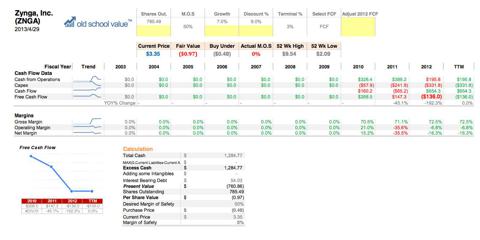 Final Remarks
Rate: Buy
Investment Horizon: one to three months
Strategy: Event-driven
Uncertainty: High
Disclosure: I am long QCOM. I wrote this article myself, and it expresses my own opinions. I am not receiving compensation for it (other than from Seeking Alpha). I have no business relationship with any company whose stock is mentioned in this article.