Over the past several days I have seen many articles in which a comparison is made between Microsoft (NASDAQ:MSFT) and Apple (NASDAQ:AAPL). The question raised is if Apple will follow Microsoft's fate. For those who have not noticed, Microsoft's fate has been that it has done nothing for investors for over a decade. In fact, assuming you bought Microsoft stock in late 1999, you are still losing a lot of money.
Sorry to disappoint everyone, but Apple has nothing to do with the Microsoft of a decade ago. The simple fact that Apple has corrected from the $700 mark to where it is today is totally by chance. Microsoft's correction, however, was a sure thing. You see, over a decade ago Microsoft was a bubble of mythical proportions. It was only natural that it would correct and, frankly, Microsoft shareholders are very lucky that the stock did not correct by more than 90% back then. The only reason it didn't was that tech stocks were trading at stratospheric multiples.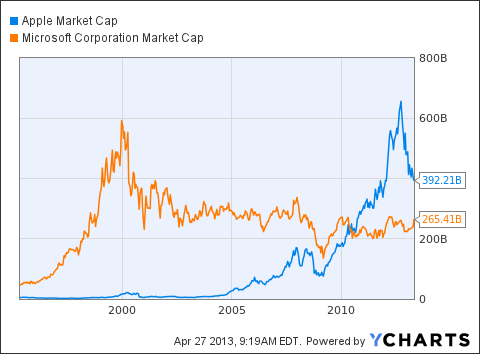 The above chart shows the market cap of both stocks. Looking at this chart, one might think the argument that Apple will follow in Microsoft's footsteps is valid -- that is, until we look a little deeper.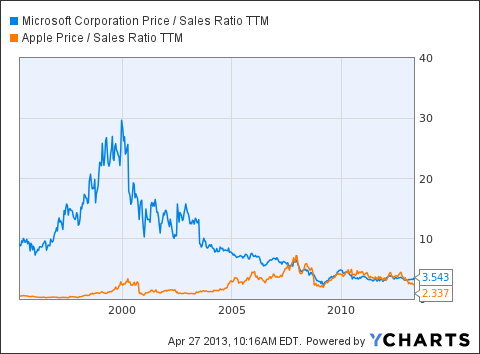 The above chart shows the price/sales ratio of both stocks. This metric is one that many people feel has no meaning. As you can see, Microsoft had a price/sales ratio of up to 30 at one point. Apple, on the other hand, was never a bubble in terms of this metric in its history.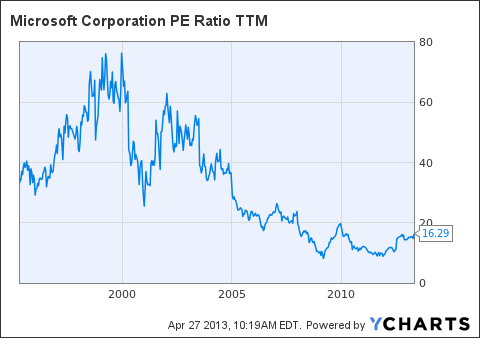 If you want to see what Microsoft's P/E looked like, the above chart is very revealing. Would you buy a company today with a P/E of 80, knowing what you know about Microsoft today back then? (More on that subject later.)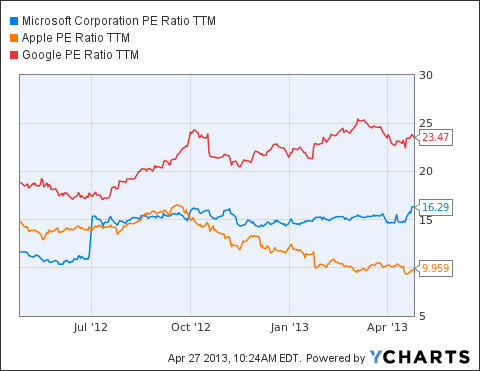 In fact, if we look at the above chart -- which compares Microsoft, Apple, and Google (NASDAQ:GOOG) -- you will see that Apple is a relatively cheap stock. Also note that even at $700, Apple had the same P/E Microsoft has today, and a much lower P/E than Google has today.
Microsoft shareholders are very lucky in that they invested in a world-class company that has done a very good job over the years. It has also drastically reduced the float, and shareholders have a chance to get their money back at some point. That is not the case with most stocks that had a similar run-up.
In Apple's case, it's not very hard for the stock to see the $700 mark again. That's because the stock is cheap and was never really expensive to begin with. The fact that Apple's stock has corrected so much is simply because:
It had a great run for many years and people wanted to cash in those profits
It was the most overbought stock in the world
It was the most speculated stock in the world
Competition in the space is making the market think twice about its future prospects
However, Apple's correction has nothing to do with Microsoft's underperformance of the past decade. Many stocks correct and go back up again for no reason. While I have written many articles on why Apple would correct, being a bubble or an expensive stock was not one of them.
If you want to compare Microsoft to something, I think the stock of comparison should be Workday (NYSE:WDAY). Workday is the only stock I know that also has a price/sales ratio of over 30, has zero profits, and refuses to correct like Microsoft did back then. And, like Microsoft of the late 1990s, Workday is a growth story and growth stocks have high multiples. And if I may make a prediction, in about 10 years from today Workday shareholders will be looking back -- like old-time Microsoft shareholders are doing today -- asking themselves what they were thinking when they were buying Workday back then.
Bottom Line
The argument that compares Microsoft to Apple is not valid. One cannot make a comparison unless he or she analyzes the valuation of both stocks at their peaks. Such a comparison has not been made.
The fact that Microsoft has underperformed all these years has to do with the fact that the fundamentals had to catch up to the stock price. Back then, Microsoft was a bubble of mythical proportions. In Apple's case, the stock's price today is at a deep discount to the fundamentals. Apple's corrections have nothing to do with the reason why Microsoft corrected years ago, and as such, Apple can very easily (provided there's a catalyst) see the $700 mark again soon.
If you want to compare "apples to apples," the stock to compare Microsoft to is Workday.
Disclosure: I have no positions in any stocks mentioned, and no plans to initiate any positions within the next 72 hours. I wrote this article myself, and it expresses my own opinions. I am not receiving compensation for it (other than from Seeking Alpha). I have no business relationship with any company whose stock is mentioned in this article.