Venaxis (APPY) is a diagnostic company focused on the development (U.S.) and commercialization (Europe) of a blood-based appendicitis test (APPY1) designed for use in children and young adults to identify patients presenting to an emergency room at low risk for acute appendicitis to avoid more extensive testing (i.e., the expense and radiation exposure associated with CT scans).
From the company's April presentation, the estimated market for APPY1 includes: 10.4 million (U.S.) and 11.8M (EU) emergency room visits each year for abdominal pain, resulting in 1M (U.S.) and 2M (EU) blood tests performed in patients age 2-20, which represents the initial target market.
The company has modeled for potential revenue of $2.7-$4.2M in 2014, $10.6-$17M in 2015 and $37.6-$59.6M in 2016 based on an estimated average sales price of $50-75/test in the U.S. and $30-50/test in Europe (the lower price in Europe represents sales of the test at a lower amount to distributors, which act as a middle-man between the company and end users) and market penetration rates of 2%, 8% and 15%.
These revenue estimates seem conservative and easily obtainable if the test is successful in the pivotal clinical trial outlined below given the test fits nicely into the existing triage process for patients presenting to the emergency room with abdominal pain suggestive of appendicitis (i.e., blood tests/counts are routinely done in these patients already so APPY1 does not require any changes to this process and the results are available in a timely manner).
While clearly not blockbuster numbers, the revenue estimates would be highly accretive to the company's bottom line in 2015-2016 given a very low share count -- i.e., even if the number of shares doubled to 20M by that time as the company raises additional capital through the sale of common stock to support marketing and commercialization activities, APPY has potential earnings power (earnings per share or EPS) of about $0.50/share in 2016 that would result in a significant share price increase if shares trade around a standard multiple of 20X EPS or $10/share (although there is the potential for APPY to trade at a much higher multiple if the company becomes a profitable small-cap growth stock in the diagnostic industry).
If a 30% annual discount rate is applied to a $10/share price target in 2016 to account for the risk of the pivotal study and obtaining FDA marketing clearance; the present value for APPY in 2013 is $3.43/share (i.e., $10 X 0.7 X 0.7 X 0.7), which is in-line with my target range if the pivotal study is successful.
Obviously, these revenue projections are ultimately dependent on success in the pivotal study outlined below, which will support the FDA approval process and widespread use of the test in Europe, but it is worth noting that relatively conservative and small revenue numbers will have a significant impact on the company's earning power and share price in the coming years assuming APPY has even a small amount of success in marketing the test.
Pivotal Study Catalyst:
APPY1 is a blood-based appendicitis screening test that is currently being evaluated in a pivotal (U.S. FDA) clinical trial (ClinicalTrials.gov ID NCT01652170) that began enrolling patients early this year in January with results and a planned FDA de-novo 510(k) filing expected to occur during Q4 2013, with a more specific timeline for results anticipated as enrollment of subjects in the study progresses.
Also in January, APPY received the CE Mark (Europe) designation as a blood-based diagnostic test focused on children and adolescents suspected of having appendicitis to help identify low-risk subjects and avoid unnecessary testing. Initial product shipments and hospital market development studies are expected to occur this quarter.
APPY1 is a 20-minute test that is based on three parameters, including two measures of inflammation (MRP-8/14 and C-reactive protein) and the white blood cell count. The individual parameters are entered into an algorithm, which calculates the AppyScore that is displayed on the reader display unit with the goal of identifying patients at low risk of appendicitis to avoid the unnecessary costs and radiation exposure that is associated with CT scans.
In March 2012, APPY reported the results of a 500-patient pilot study which indicated a high sensitivity of 96% and negative predictive value of 97% in subjects age 2-20 with symptoms suggestive of acute appendicitis presenting to the emergency department.
While the specificity of 43% is low; in this case a false positive result would lead to more extensive testing via CT scan or ultrasound to diagnose appendicitis, whereas the high negative predictive value of the test is more important, since these patients would not receive more extensive follow-up testing and therefore, undergo more conservative management for what could be a serious, life-threatening condition if the appendix bursts to cause massive internal bleeding.
Financial Stats:
As of year-end 2012, APPY reported $12.1M in cash and 10M shares of common stock outstanding (=$1.21/share in cash) with $3M in total debt. The existing cash balance is sufficient to fund completion of the ongoing pivotal study and EU market development activities as outlined in the most recent quarterly conference call, with projected quarterly cash burn rates of about $3M per quarter during the pivotal study compared to $2M prior to start of the pivotal study.
The most recent stock offerings for APPY include: December 2012 (2.2M shares @$2.10) and June 2012 (6.1M shares @$2 in conjunction with a one-for-six reverse stock split to regain NASDAQ listing compliance).
Trade Summary:
APPY is poised for a short-term oversold bounce back toward the 50 and 200 day moving average stock price in the low $2s given the recent plunge in shares from the low-mid $2s as illustrated on the six-month chart below. With no news to account for the decline, there is no urgent need to raise capital at the currently depressed share price and the upcoming pivotal study results due in about six months represents a major catalyst for the stock.
While additional dilution is likely to occur later this year; APPY just completed a public offering in late 2012 and has sufficient cash to fund the pivotal study; so I would anticipate a potential stock offering to occur at a higher price than the previous two stock offerings or even after the pivotal study results. I estimate a high probability of success (80%) in the pivotal study given the pilot study results and similar design of the pivotal study that is being conducted on a larger scale with more patients.
My targets include a mid-upper $2 run-up target going into pivotal study results and mid-$3 to low-$4 on positive pivotal study results vs. sub-$0.50 if the trial fails since the company has nothing else in development, so the pivotal study results will be key. Although the CE Mark allows for marketing in Europe, the test is unlikely to gain widespread use if the U.S. pivotal study fails to meet its endpoints.
Given a low share count/float and low share price, shares of APPY are highly volatile so limit orders should always be used to trade the stock in addition to the risk of being a one product company as outlined above.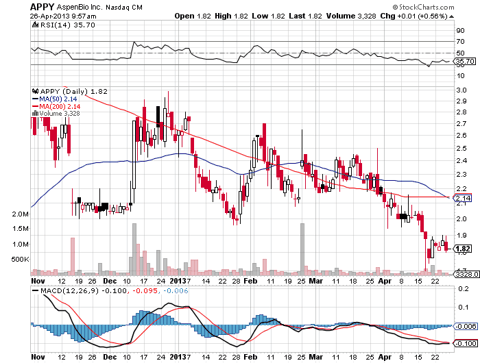 Disclosure: I am long APPY. I wrote this article myself, and it expresses my own opinions. I am not receiving compensation for it (other than from Seeking Alpha). I have no business relationship with any company whose stock is mentioned in this article.