The share price of Baidu (NASDAQ:BIDU) plunged by 8% following the company's lackluster earnings release on Friday last week. Year to date, the stock price has declined by 32% and is currently trading near its 52-week low. Should investors buy on weakness? In this article, I will elaborate on my valuation analysis, which may assist you in formulating an appropriate investment decision.
Current valuation is reasonable from a historical standpoint
Over the past 3 years, Baidu's trailing P/E multiple has compressed by 82% from 99.2x to 17.4x (see chart below).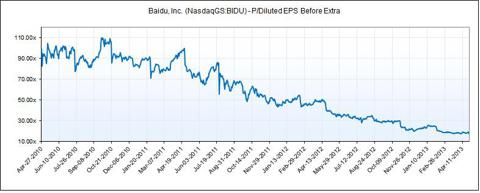 The significant decrease in valuation appears to be reasonable as the company's financials have been deteriorating over the 3-year period. Over the period, Baidu's capital return performance as measured by ROA, ROIC, and ROE has declined steadily. The company was able to maintain its margin performance during 2011 and 2012, but the profitability has worsened notably since the end of 2012. In addition, Baidu's revenue, EBITDA, and EPS growth rates have all slowed down substantially over the period, and market's consensus growth estimates for those metrics are pointing to a weak trend (see charts below).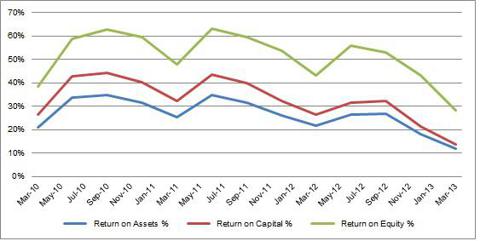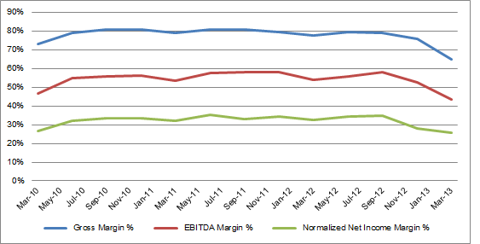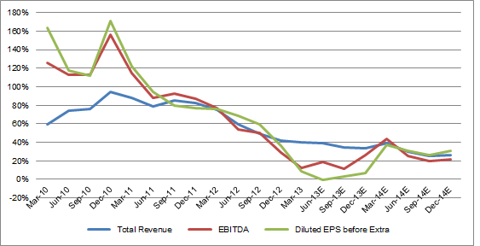 Further, the market's consensus revenue, EBITDA, and EPS estimates for 2013 and 2014 have experienced multiple downward revisions over the past 12 months, and their current levels are all considerably below their historical figures in a year ago. Analysts' estimated 5-year EPS growth estimate has also been lowered from 42.6% to 27.3% since 12 months ago (see charts below).




Insufficient visibility on growth prospects
The recent price weakness is directly related to the increasing competition in the Chinese online research market as well as the market's concern about Baidu's ability to capitalize on the growing mobile user base in China. In a Deutsche Bank research note dated April 17, Alan Hellawell commented on his concern on Baidu's growth prospects, which I tend to agree with (sourced from Thomson One, Equity Research):
"We view Baidu's fundamental challenge (e.g. paid click growth slowdown) as a core concern: PC traffic is declining in absolute terms on traffic shift to mobile and competition from Qihoo. Lower conversion mobile traffic continues to grow. Paid click growth decreased sharply to 27% in '12 from 64% in '11 and 56% in '10. Google's paid clicks increased 34% in '12 from 25% in '11. We believe a recovery of paid click growth hinges on 1) traffic growth in mobile search queries 2) an improvement of mobile search traffic monetization and 3) a stabilization or increase in PC search traffic share. We expect mobile traffic to increase rapidly on fast-growing smartphone adoption in China and Baidu's aggressive spend to acquire users. However, how well Baidu monetizes mobile traffic remains unproven."
Relative valuation suggests an attractive price level
On the relative valuation side, however, Baidu's share price looks quite attractive (see chart below). Compared with its two other online research peers listed in the U.S., Google (NASDAQ:GOOG) and Yandex (NASDAQ:YNDX), Baidu's consensus 2-year EBITDA and EPS growth estimates are below par. But the firm's 2-year revenue growth estimate and its 5-year EPS growth forecast are notably above the peer benchmarks. On the profit side, Baidu has the best profitability as its various margin and capital return metrics markedly outperform those of its peers. In terms of leverage and liquidity, the company carries a higher debt load, but its free cash flow margin is above the peer average. Its current and quick ratios are also above par, reflecting a healthy balance sheet condition.

Despite Baidu's financial strengths, especially in profitability and liquidity, the stock's current multiples at 10.2x forward EBITDA and 15.4x forward EPS are on average trading at a 16% discount to the average comps multiples. After accounting for the 5-year EPS growth estimate, Baidu's PEG ratio of 0.6x is even 34% below the peer average, suggesting the stock price is likely overly discounted by the market's growth concern (see chart above).
Moreover, Baidu's forward P/E multiple is trading at only a 14% premium over the same multiple of S&P 500 Index, which is at 14.5x now (see chart below).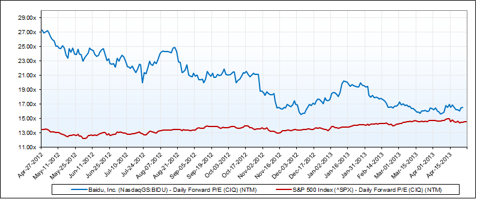 This relative valuation level seems to be somewhat compelling provided that 1) Baidu's market premium averaged at 48% in the past 12 months; 2) the company's 5-year EPS growth estimate at 27.3% remains overwhelmingly above the average estimate of 8.2% for the S&P 500 companies; and 3) the company's profitability and free cash flow margins are still superior to the market averages, despite riding the downtrend.
Bottom line, I would not recommend a long-term buy at this level given that I believe the invisibility to Baidu's growth prospects will likely continue weighing on the stock valuation until the company is able to prove its abilities in competing with Qihoo (NYSE:QIHU) and monetizing the mobile segment. For speculative purpose, however, investors may consider taking a small position over the short term as the market has likely overreacted in Friday's sell-off.
All charts are created by the author except for the consensus estimate tables, which are sourced from S&P Capital IQ, and all financial data used in the charts and the article is sourced from S&P Capital IQ unless otherwise specified.
Disclosure: I have no positions in any stocks mentioned, but may initiate a long position in BIDU over the next 72 hours. I wrote this article myself, and it expresses my own opinions. I am not receiving compensation for it (other than from Seeking Alpha). I have no business relationship with any company whose stock is mentioned in this article.