TEVA Pharmaceutical Industries (NYSE:TEVA) is a Petah Tikva, Israel-based global manufacturer of generic and branded drugs. Its principal branded drugs are Copaxone and Provigil.
The company seems well regarded by investors, though it faces a number of challenges. One example is a recent article by Steffen Jorgenson that appears here on Seeking Alpha. Jorgenson makes a persuasive argument in support of TEVA as a long-term investment overcoming short-term challenges.
Copaxone, which accounts for 20% of the company's sales and is used primarily to treat multiple sclerosis, goes off patent in 2015. Jeremy Levin, CEO, who came on board last year, has set out an ambitious plan to turn TEVA around. For the time being, he has suspended acquisitions and he has set on a course to streamline operations and reduce costs. The company has a large pipeline, including a number of drugs in Phase III trials.
With a recent share price of $38.55, some investors think the stock is cheap. Jorgenson states: "It came as a surprise that Teva grows at such a consistent rate and continues to have a low valuation, even with an average annual EPS growth of approximately 40%." The 52 week high is just $46.38, and the share price peaked at $64.95 in 2010. A low share price is not an indication of value.
I do not share the market's enthusiasm for TEVA. Levin has his work cut out for him in terms of reorganizing a global company with operations in some 60 countries. Whatever changes he makes will take time to work out. In the past, much of TEVA's growth came from acquisitions. In an April 11, 2013 Bloomberg article, the author, David Wainer, wrote:
"Levin outlined the cost-saving plans in a briefing for investors Dec. 11 without identifying locations where plants or jobs may be at risk. The company said most of the savings would come from streamlining operations after a string of multibillion-dollar deals, including the 2010 $4.9 billion acquisition of Ratiopharm GmbH, based in Ulm, Germany, led to inefficiencies...

"...Teva said in February it would sell a plant in Irvine, California, that makes injectable drugs. "
With the suspension of new purchases, those hoping for growth will be disappointed. When Levin resumes making acquisitions, the acquired companies will be much smaller than those acquired in the recent past. It will take time for synergies to be identified and even longer until the benefits reach the bottom line.
TEVA has a strong pipeline of new drugs. However, the very nature of this industry assures us that many of these drugs will fall by the wayside and never reach the market. The impact of any drug that does reach market remains speculative, at best. For example, Teva's emergency contraceptive, Plan B, has been held up by the FDA for 12 years.
What do we know about TEVA now? Results for the first quarter of 2013 will be released in several weeks. The following analysis is based on what we know for the year ended December 2012.
The statement of income shows results for the December 2012 quarter versus the December 2011 quarter and also for the preceding two full years (2012 and 2011). The first factor we can assess from the income statement is growth. Net sales declined 7.5% in the December quarter and grew 10.9% in all of 2012. More importantly, operating profit declined 45.9% in December (29.1% in 2012), net income declined 38.2% (28.9%), and earnings per share declined 36.9% 27.2%). The EPS decline was slower than net income due to share count reduction. The share count declined 2.0% in 2012 versus 2011.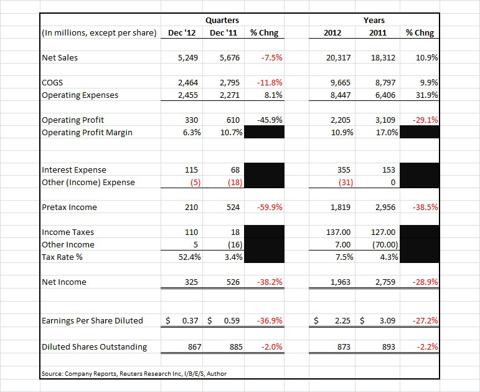 TEVA has invested capital of $34,579. ROE for the most current periods (the quarter ended December 2012 and the year ended December 2012 is 1.4% and 8.6%, respectively. EBIT to invested capital is 1.6% for the quarter ended December 2012 and 7.1% for the year ended December 2012.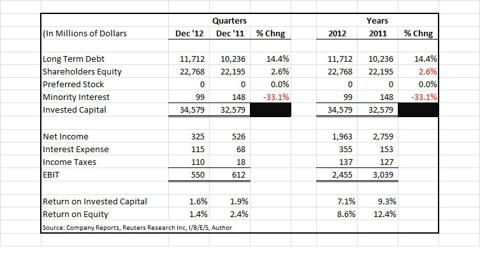 TEVA grew free cash flow (FCF) by 12.5% for the fourth quarter of 2012 and 12.6% in all of 2012. Cash ROIC for 2012 was 10.0%, up from 9.5% in 2011.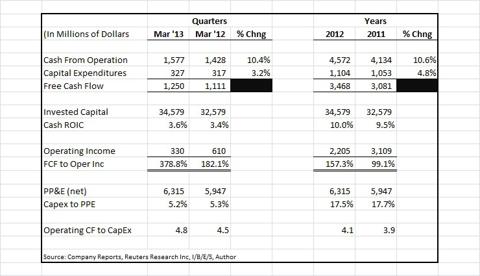 Capex to PP&E -- our barometer of changes in capital intensity -- was 17.5% in 2012 and 17.7% in 2011. Operating cash flow to capex was 4.1x in 2012 and 3.9x in 2011.
Enterprise Value to EBITDA is 12.8x and EBITDA less capex to invested capital is about 7.0x. The EV/EBITDA ratio tells me that TEVA is not undervalued today, and the EBITDA less capex to invested capital ratio tells me the company is not very profitable. The Cash ROIC ratio of 10% confirms that the company is not very profitable on a cash basis, either.
TEVA pays a dividend of $1.07, producing a current yield of 2.8%. The earnings payout ratio is about 48%, and the dividend accounts for about 26% of free cash. The dividend appears to be well covered for now.
On the whole, TEVA has failed our fundamental analysis test, and from a fundamental viewpoint alone, would likely make a bad investment. For those investors interested in a drug company, there are other candidates that offer better prospects with less risk.
Disclosure: I have no positions in any stocks mentioned, and no plans to initiate any positions within the next 72 hours. I wrote this article myself, and it expresses my own opinions. I am not receiving compensation for it (other than from Seeking Alpha). I have no business relationship with any company whose stock is mentioned in this article.