As the debate rages as to whether the recession is coming to an end or gathering strength, I started thinking about General Electric (NYSE: GE). Anyone who was astute enough to buy in when the stock briefly plummeted to below $6 in early March has more than doubled their money already (the shares closed on Thursday at $13.04, figures in U.S. currency).
Regular readers of my newsletter will remember that contributing editor Tom Slee advised selling General Electric back in March 2008 when it was trading at $36.31.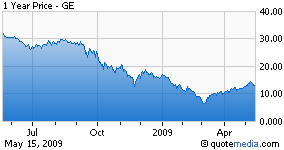 We received some criticism for that call, with one irate member saying we were dead wrong and he was going to hold on to his shares because "GE is a proxy for the American economy". Well, we all know what happened to the American economy! In fact, GE shares traded slightly higher than $36.31 for a few days after Tom made his call and then began a long, steady slide that didn't end until March 4. In terms of timing, Tom got us out almost at the exact top of the cycle, a rare feat indeed.
Now that more than a year has passed and GE has taken its lumps, I suggest it may be opportune to reconsider one of America's great industrial companies once more. Just because we've sold a company once doesn't mean we won't buy it back again if the situation changes. I think we're at that point with GE.
Certainly in the years since Jack Welch, GE's former longtime CEO, left the business in the hands of Jeffrey Immelt things have not gone well for the company. This may be bad luck or bad management but GE shareholders have had little to cheer about in recent years and even less in the last six months. But when the stock fell to a 13-year low of $5.73 it was, in retrospect, a screaming buy.
The stock has since recovered along with the general market and closed on May 8 at $14.53 before pulling back. At the current price, the stock is still less than half the year-ago level of $32.52, reached on May 14, 2008. Lately the stock has been meandering in a narrow range, looking for a reason to move higher. The question is what will make the stock move - which is essentially the same question that we are grappling with in the broad market.
Our disgruntled reader got one thing right, even if he rode the stock all the way down: General Electric is indeed a proxy for the U.S. economy. So if you believe the worst is behind us that should also be true of General Electric.
General Electric is, to my mind, a great Obama infrastructures play given that it has extensive businesses in energy infrastructure and technology infrastructure. The company is also active in nuclear energy, wind and solar energy, water treatment, smart grid technology, etc. Another pet Obama initiative is the modernization of the American health care system. GE has extensive assets in the health care industry and will certainly benefit from this initiative. The company has also applied for TARP funds to help finance a major initiative in battery technology so they will be at the forefront of the electric transportation movement.
Unfortunately, the company also has exposure to the weak consumer spending market through their consumer electronics business, appliance business, and consumer finance business. It is exposed to the advertising business through their media and entertainment division that includes NBC Universal, CNBC, and numerous other television and cable assets. Normally, these have been a good part of the corporate asset mix but this division has been negatively impacted by the downturn in advertising dollars and will likely be soft for the rest of this year.
But it's been GE's financial business that has caused them most of the problems these past few months. For several years, a significant amount of GE's profits were derived from the financial activities but that has not been a great place to be since a credit meltdown began in mid-2008. Through that same division they had significant exposure to the commercial real estate market that has been hit extremely hard in recent months. The best that can be said is that the company is working its way through these issues and, given the current price of the stock, it is likely that most of these problems are already priced in.
The other issue with the company is its sheer size and complexity. Some analysts have recommended that the company be broken up or significant assets sold but so far there's been no indication that major pieces of the business will be split off. There's been a lot of talk of selling the appliance division and this might happen once the overall economic environment improves.
But despite the negatives, the fact remains that this company has leading-edge industries in most of the important areas that are likely to help pull us out of this recession.
I haven't even mentioned the aviation and rail divisions. These will be under some pressure in the mid-term since the airlines and rail companies are struggling. However, they were the world's largest manufacturers of jet engines and locomotive engines and as the airline and rail fleets begin to age GE will benefit. The company is developing hybrid locomotives and fuel-efficient jet engines which will be in high demand once oil prices rebound, as they are certain to do over the next couple of years.
Financially, the company is a behemoth with $182 billion in sales and over 300,000 employees worldwide. Last year's sales increased by just under 6% which given the environment is pretty good. The price/earnings ratio is less than 10 and even with the last dividend cut the stock yields over 9%. It is very likely that GE will raise the dividend next year, assuming the economy begins to pick up.
So what will be the catalyst that gets GE stock moving again? I believe it will be earnings, which should show improvement in the fourth quarter of this year and begin to accelerate in 2010. I think it's likely that the stock will return to a $30 price level within a year and a half. Investors who buy now should not experience a lot of trauma since I think that the massive sell-off in March marked a bottom that we are not likely to see again in the stock. I wish I could say that I had jumped into GE at those levels. I didn't, but I own it now and will likely buy more.
Action now: Buy with a price target of $30.
Disclosure: Long GE