On Friday, April 26th, National Health Investors, Inc. (NYSE:NHI) announced a quarterly dividend increase of $0.04/share to bring its upcoming dividend payout to $0.735/share. It should be noted that this increase represents a 5.75% rise from its prior dividend of $0.695/share, which was paid on March 26th. In the wake of National Health Investors' dividend increase, I wanted to examine several of the catalysts behind my decision to consider a long-term position in this particular stock.
Overview: Based in Murfreesboro, Tennessee, National Health Investors, Inc. is a healthcare real estate investment trust specializing in financing healthcare real estate by purchase and leaseback transactions, RIDEA transactions and by mortgage loans. NHI's investments include assisted living, senior living campuses, independent living, skilled nursing facilities, medical office buildings, and hospitals (Source: Company website). Shares of NHI, which currently possess a market cap of $1.82 billion, a P/E ratio of 24.42, a forward P/E ratio of 18.27, and a PEG ratio of 2.44, settled at $65.21/share at the end of Friday's session.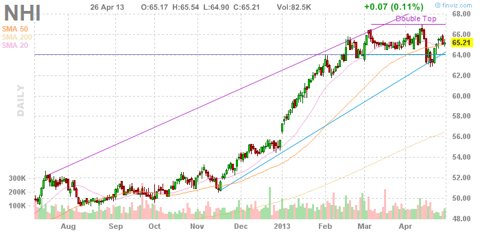 Trend Status: Based on Friday's closing price, shares of NHI are trading 0.02% above its 20-day simple moving average, 0.26% above its 50-day simple moving average, and 15.55% above its 200-day simple moving average. These numbers indicate a short-term, mid-term and long-term uptrend for the stock, which generally translates into a buying mode for traders.
Recent Acquisition: On April 18th, the company announced the $26.3 million dollar acquisition of two skilled nursing facilities totaling 254 beds located in both Canton and Corinth, Texas. National Health Investors funded the acquisitions through borrowed funds from its revolving credit facility. Not only are the facilities just over two years old, but they fit quite nicely in terms of NHI's investment strategy. According to the company's CEO and President, Justin Hutchens, "These two newly-constructed, strong-performing assets are a great fit for NHI's diversified portfolio."
2013 Outlook: On Friday, April 26th, NHI, coupled with its increased dividend announcement, also announced its 2013 full year performance outlook, which I happen to think is quite positive given certain economic factors. According to recent article by Eric Volkman, "NHI also released its revised guidance for full-year 2013 funds from operations, a key metric for REITs. The company projects FFO of $3.42-$3.50 per diluted share on a normalized basis for the year." One of the best things about the company's latest guidance not only demonstrates a $0.12/share increase versus its previous outlook, which called for ($3.30 - $3.38 per share), but also hints at the fact the company's acquisitions over the last few years have been paying off quite significantly.
Conclusion: There are two primary strategies to consider when it comes to National Health Investors, and they are an income-driven strategy given its forward yield of 4.51%, and a growth-driven strategy given the company's current acquisition-based strategy related to healthcare facilities. If NHI can continue to acquire fairly new and well established care-based facilities that have the potential to enhance the company's FFO and couple that strategy with its recent dividend behavior, I see no reason why National Health Investors should not be considered a viable investment over the next 12-24 months.
Disclosure: I have no positions in any stocks mentioned, but may initiate a long position in NHI over the next 72 hours. I wrote this article myself, and it expresses my own opinions. I am not receiving compensation for it (other than from Seeking Alpha). I have no business relationship with any company whose stock is mentioned in this article.