Executive Summary
LeapFrog Enterprises Inc. (NYSE:LF) is a technology-based educational entertainment company that designs and develops products for children between the ages of 2 and 10. Based in Emeryville, California, the company primarily sells a number of learning platforms including the LeapPad family of learning tablets, Leapster family of handheld learning game systems, and the Tag and Tag Junior reading systems. It also sells interactive content and educational apps via its proprietary online LeapFrog Learning Path interface. The company's products are available in four languages and are sold globally through retailers, distributors, and directly to consumers. There were 552 full-time workers employed as of the most recent filing.
Company

Current Share Price (4/26/2013)

Target Share Price

Key (+)'s

Key (-)'s

LeapFrog

$8.77

$12.27

-Superior products

-Strong perceived product differentiation

-Experienced management team

-Healthy balance sheet with potential room for leverage

-Compelling acquisition target

-Increased competition by large players

-Highly cyclical business

-Mediocre history of performance

-Rising costs of continual innovation
Industry Analysis
Structure and Key Players
LeapFrog operates in the highly competitive $84 billion dollar toy and games industry, which has experienced slow to moderate growth (~2%) over the past several years. Approximately $20 billion dollars is attributable to the U.S. market where LeapFrog made 73% of its $581,288,000 in sales in 2012, giving the company slightly greater than 2% domestic market share. Major competitors in the industry include Hasbro (NASDAQ:HAS), Mattel (NASDAQ:MAT), Toys "R" Us (TOYS), JAKKS Pacific, and V-Tech Holdings. Other key players include major distributors / retailers such as Walmart, Toys "R" Us, and Target, which in the aggregate accounted for 66% of LeapFrog's sales in 2012.
Market Trends
Fundamental strategic shift: According to Global Toys and Games analysts, the industry is expected to grow at a more robust ~6% CAGR over the next 2-3 years, reaching $100 billion in sales by 2015. One of the main reasons is the fundamental shift in the market from simpler, non-electronic, basic interface toys to more sophisticated tablets, digital game players, and electronic gadgets. In recent years, the explosive popularity of digital products combined with post-recessionary stagnation reduced total industry market share. Players have since made strategic moves to focus heavily on digital-related products. A consequence of this shift is that customer "turnover" of products has increased dramatically, as rapid technological innovation has relegated older products into obsolescence. As a result, major toy companies have refocused many of their efforts onto innovation and technology-based products. Most of this change has been directed toward the teen or pre-teen demographic rather than the younger children demographic where LeapFrog operates. The change has also created new cyclical risks inherent in more expensive technology-based products.
Intense competition from diverse sources: The shift in focus by the global toy and games industry has brought it head to head with unlikely competitors. Children's handheld gaming devices, for example, have long been a domain where dominant video game developers like Sony and Nintendo have profited. Moreover, new tablet-based products face severe competition from Apple's I-Phone, I-Pad, and other myriad adult-targeted products in the growing and increasingly crowded multimedia space. This is especially important given the relatively high price points of sophisticated digital products, which likely will force a certain percentage of consumers to make mutually exclusive choices. As such, focused targeting, unique brand and product differentiation, as well as relative value perception will all become significant areas for the industry.
Long development times and volatile customer preferences: Increasingly, the industry operates in an environment where customer tastes change rapidly. For example, sales of the classic Leapster product crested in 2006 but did not contribute meaningfully to overall sales in 2012. Given that the complete development time for technology-based products can last up to and beyond one year, the risks for unprofitable ventures are amplified further.
Growing importance of interactive online presence: The industry is moving towards incorporating online content more dramatically into product functionality. Downloadable content such as games and apps, up-to-date progress tracking, as well as other multimedia connections continue to be highly important sources of revenue growth and brand consolidation.
Company Analysis
Recent History
LeapFrog went public in 2002 and experienced immediate revenue and stock appreciation growth. However, over the next several years, sales forecast misses, difficulties with distribution and logistics, and concerns about the company's high reliance on a few troubled retailers such as Toys "R" Us and Kmart led to sharp decreases in the stock price. Founder Michael Wood soon retired in 2004 and the company survived two CEOs within the next several years, with the stock price dropping below $2.
The company recovered over the course of 2011 and 2012 under the leadership of new CEO John Barbour, the former president of Toys "R" Us U.S. and Toys "R" Us International. Barbour also had previously served as a Managing Partner at Volta Capital, LLC, a strategy and investment consulting firm. With a strong industry reputation, years of experience, and a history of bringing about significant earnings growth, the new CEO readjusted the firm's focus from a toy company to an educational company. He also pushed the company back to its roots as a market leader and educational technology innovator.
Overall Strategy
LeapFrog's strategic core operating principle is to create products and associated content that maximize educational and entertainment value for children. The strategy stems from a long history rooted in the founder's philosophy that children's educational toys should be both instructive and fun. Michael Wood, a lawyer with client experience in the technology industry, wanted to integrate progressive education with technology to create products that would help young children read and learn in a fun way. He soon worked with the educational guru, Professor Robert Calfee of Stanford University, to create the company's first product, "Phonics Desk," aimed at pre-school children.
The company was later incorporated and a majority stake was soon bought by Knowledge Universe, a multinational educational and training conglomerate founded by Michael Milked and Larry Ellison.
Main Strategic Strengths
LeapFrog has long been recognized for building superior products in a focused space. Consequently, the brand has benefitted from strong perceptions of technological and educational quality. It sells personalized learning tablets for $99.99 under the LeapPad title, handheld gaming devices under the Leapster name, and Tag and Tag Junior reading systems. The products are supplemented by physical cartridges and other extensive library content including proprietary and third-party apps and games for reading, math, and phonics that can be purchased online. There is also a personalized "Learning Path" system that tracks a child's development. All of these online functions serve to amplify customer stickiness and lock-in. Moreover, I-Pads or similar tablet devices are not full substitutes for LeapFrog products, which are specialized for children's learning. And of those that are, most have not equaled LeapFrog's gains in customer mindshare:

The LeapPad children's learning tablet, the number 1 selling product in its category, competes directly with the Tabeo by Toys "R" Us, the InnoTab by V-Tech, the Nabi by Fuhu, and the Kurio by its eponymous manufacturer. A December ranking by PC Advisor of children's tablets placed the LeapPad first with a 4.5 star rating. Amazon reviews also strongly indicate the LeapPad's superiority. The product has over 600 reviews and a 4-star overall rating. Competitors have roughly half or fewer the number of reviews with lower ratings. Only the V-Tech InnoTab, with 337 reviews and a 3.5 star rating, comes close.

The company has a relatively new but experienced management team in place. CEO John Barbour, the former president of Toys "R" Us U.S. and Toys "R" Us International, joined in March 2011 and has over twenty-five years of experience in consumer retail and internet businesses. He is well-known in the industry for having revitalized Toys "R" Us, a major competitor and customer of Leapfrog. Barbour is joined by CFO Ray Arthur, who also served as CFO at Toys "R" Us during the same time period as Barbour, and by CMO Greg Ahearn, who joined LeapFrog in 2012 from his post as CMO of Toys "R" Us. The talent surge speaks well of LeapFrog's future potential, especially as Barbour's total compensation of $3.86 million, the vast majority of which was incentive-based, was only 2% of gross profits.
LeapFrog sports a very healthy balance sheet with strong seasonal cash flow generation. Following several tumultuous years, a global recession, and a tepid recovery, the company is strongly in the green and growing fast. It has no on-balance sheet debt and is building cash at an impressive rate. Given its checkered history, investors can expect the company to be conservative regarding leverage. As such, cash accumulation will serve handily in R&D investment, capitalized content development and website costs, and marketing through brand image consolidation. Given its focused strategic excellence, small market capitalization of $593 million, increasing cash hoard, non-existent on-balance sheet debt, stellar growth rate, and experienced management team, LeapFrog is a compelling acquisition target. This proposition is further bolstered by Hasbro and Mattel both breaking through 52-week highs in recent weeks, as well as early reports suggesting a very strong 2013 first quarter for the industry at large.
Main Strategic Risks
The same issues that make LeapFrog an attractive acquisition target make it vulnerable to heavy competition in a sea of well-capitalized, well-known companies. Mattel's $15.42 billion and Hasbro's $6.09 billion market capitalization are orders of magnitude larger. Needless to say, the companies have much stronger overall brand recognition compared to LeapFrog. In December of 2012, an analyst with Needham and Company maintained that long-time toy companies have become apprehensive given the rapid rise in use of tablets and other technology-based devices. If Mattel and Hasbro decide to use their $1.3 billion and $800 million respective cash reserves to get into the game on their own, the results could be grave for LeapFrog.
LeapFrog's focused excellence in the educational technology space gives it some breathing room relative to Apple, Microsoft, Samsung, and other tablet-based producing companies as well as Nintendo, Sony and other pure entertainment device makers. Nevertheless, with relatively high hardware costs, the necessity of having numerous software applications, and the choice of many diverse platforms and content, LeapFrog's customers may be willing to sacrifice some educational content for a broader platform device. What's more, LeapFrog will need to continually brand itself as a high-need children's product-a difficult task when many competitors sport global leader status.
Finally, there is always the risk of product failure inherent in any cutting-edge technology product. Such risk is amplified by long (~1 year) product development cycles.
Accounting Analysis
Operating Leases and Royalty Commitments
LeapFrog has operating lease and royalty commitments through 2017 that total $23,101,000 million, slightly less than 1:1 in proportion to the company's current PP&E when discounted to present value. With $120 million on the balance sheet as of the annual report filing and large projected increases in the near future, off-balance sheet commitments do not pose a major concern. Shareholder's Equity, in addition, is well over 12 times the total figure. As such, no major accounting adjustments need to be made.
Piotroski Analysis
Analyzing LeapFrog through the Piotroski's F-Score-based on University of Chicago Professor Joseph Piotroski's method outlined in his paper, Value Investing: The Use of Historical Financial Statement Information to Separate Winners from Losers-yields very positive results. The study showed that over the 20-year period from 1976 to 1996, a strategy of buying strong winners (scores of 8-9) and shorting losers would have resulted in a 23% annual return. The components of the score for LeapFrog are shown below: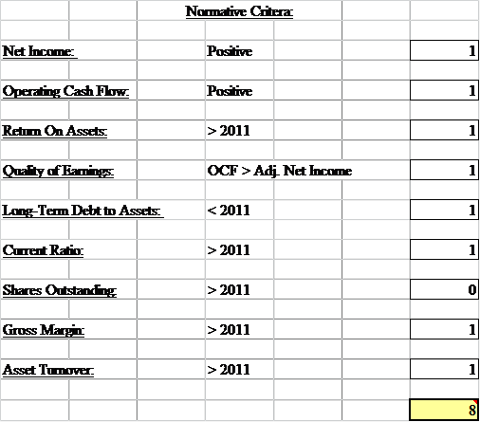 Financial Analysis
LeapFrog delivered a 28% growth in net sales in 2012, as sales increased from $455,140,000 to $581,288,000. The high growth rate, however, was masked by four previous years of stagnant growth and a logistical problem with meeting high demand in 2011. Nevertheless, the combination of a large-scale company turnaround, increasing demand for tablets and other digital devices, and astronomic increases in multimedia sales through downloadable content (60% year over year) likely will help boost the company's sales significantly.
A financial analysis of LeapFrog through the alternative DuPont formula (financing-operating sources of value breakdown) shows a strong trend in improving NOPAT margins, operating ROA, and increasing spread between operating returns and net financial leverage. The evidence from 2012 suggests the firm is significantly underleveraged; however, there are mitigating elements including several years of net losses and approximately $23 million in operating lease and royalty commitments through 2017. Moreover, in the event the firm is trying to make itself an attractive buyout options, taking on a new debt load or drawing from the credit line might reduce its appeal. Currently the company is creating significant value above and beyond its 7.04% cost of equity.

Forecasting
Sales Growth
Management set company guidance for sales growth in 2013 at "high single digits," which most analysts believe is on the conservative end of the spectrum. The company has exceeded guidance and analyst expectations, often by wide margins, a number of times over the last couple of years, suggesting that new management has moved away from the company's history of aggressive projections and toward more moderate figures. With the industry expected to grow at 6% over the next few years and with LeapFrog well-positioned in the digital space, the baseline figure of 9% is likely on the low side. A reasonable growth rate might be around 12% and even 15% for 2013. It would not be surprising to see the company hit 20% in another explosive year, thereby lending LeapFrog additional option-value.
Regrettably, the company is not very open about the unit economics of the business. Nevertheless, tablet sales and especially multimedia sales through LeapFrog's online portal should continue to grow, as the software "tie ratio," which measures the amount of software sold per hardware unit, continues to expand through multiplier and network effects.
NOPAT Margins
NOPAT margins should increase in the next few years as SG&A and other operating expenses continue to decline relative to sales. Surprisingly, R&D expenses have declined as a percentage of sales from 10.56% in 2008 to a lowly 6.30% in 2012. While impressive, the figures do hint that LeapFrog may need to increase investments as competition heats up.
Depreciation and the amortization of capitalized product costs have remained steady. COGS has seen a slight downward trend over recent years, and more favorable supplier terms as LeapFrog's products gain market share should help to lower this figure further. LeapFrog should also benefit from substantial operating leverage given high marginal profits from software sales.
Competition may eat away at margins, but there's little reason to believe that companies can catch up fully within one or two years given LeapFrog's deep head start in integrating targeted, pedagogically-researched educational technology with entertainment. Additionally, industry growth and consumer interest in tablet and digital-based products should buoy LeapFrog even further. As a base case, the company should be able to reach 9% NOPAT margins for 2013 through 2015.
Net Operating Working Capital / Sales
The ratio of net operating working capital to sales should be expected to stay around 20% as sales stabilize to normal levels. Better receivables collections and inventory management under experienced management may improve this figure, but might be moderated by worsening payable terms. LeapFrog also has $9,315,000 of deferred tax assets, which, if realized, would have very slight beneficial effects.
Net Long-Term Assets / Sales
The ratio of net long-term assets to sales is not expected to increase or reduce significantly relative to past operating results. However, LeapFrog had $13,260,000 of long-term deferred tax assets. If we assume a meaningful portion of that amount will be realized either through exercising tax benefits or releasing valuation allowances because of a high degree of substantial net future earnings, we can forecast that there will be a slight reduction in long-term assets over time. Deferred tax liabilities are very low and immaterial.
Cost of Equity Inputs
Yahoo's current value for LeapFrog's equity beta is 1.26. As for the equity risk premium, a value of 4% was chosen. The current yield of 1.75% on the ten-year bond was used as the risk-free rate. Cost of debt was not calculated given the negligible value of operating leases.
The data below shows relevant operating data, left to right from 2008 through 2012: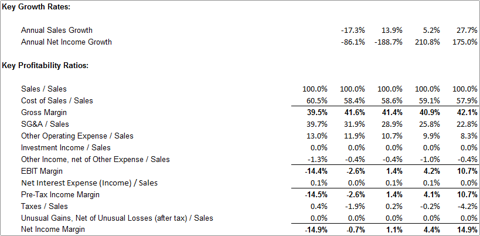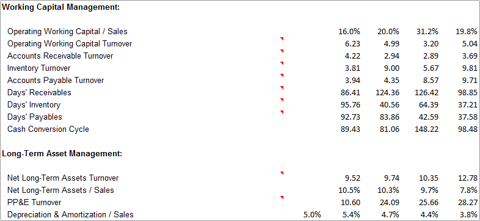 Valuation
Discounted-cash flow valuations are shown below (note that 2018 is a terminal year calculation):
Best Case: $13.48

Base Case: $11.06

Worst Case: $4.63

A multiples valuation with the following base case scenario yields the following price targets:
Summary and Recommendation
LeapFrog is an excellent company with solid management and very positive growth prospects. The first quarter earnings announcement this May 2nd should be strong, though the stock has had a recent history of moving downward severely after good news. Nevertheless, the long-term outlook is good and it would be reasonable for investors to expect fundamental convergence within a year to a year-and-a-half. Given my positive outlook for the company and management's recent history of conservative guidance, I averaged the base and best case scenarios from the discounted cash flow analysis to come to a price target of $12.27, and thus potential for 28% appreciation. As such, LeapFrog is a solid long-term "Buy."
Appendixed full pro forma valuation material below: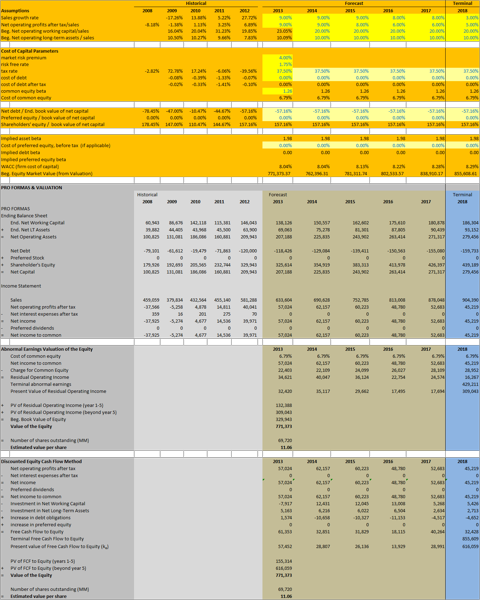 Disclosure: I am long LF. I wrote this article myself, and it expresses my own opinions. I am not receiving compensation for it. I have no business relationship with any company whose stock is mentioned in this article.