Despite mixed Q1 results, ConocoPhillips (NYSE:COP) could be approaching a very significant inflection point for its operation while it continues to improve its bottom line.
ConocoPhillips, with a market cap of $71.93B, is the largest independent U.S. oil and natural gas producer. COP explores for, produces, transports, and markets crude oil, natural gas, natural gas liquids and liquefied natural gas, globally.
Mixed Results
For Q1, 2012, COP's net income fell to $2.14B ($1.73 per share) from $2.94B ($2.27 per share). Excluding discontinued operations, COP earned $1.42 per share. After spinning off Phillips 66 (NYSE:PSX), COP's downstream business, in Q2, 2012, COP's income was negatively impacted by $700M. Excluding PSX's impact, the earnings were about the same a year ago. Total revenues fell 10% to $14.65B, from $16.08B the previous year. According to FactSet, analysts, on average, expected adjusted net income of $1.42 per share on revenue of $12.79B.
Falling Production
Earlier in January, the management indicated that oil and gas production may reach a low point this year as the company completes a multi-year restructuring and asset sale program. Oil and gas output from continuing operations declined to 1.56 million barrels oil equivalent ((boe)) per day from 1.58 million boe per day a year earlier.
Disposition
In Q1, the Cedar Creek Anticline transaction was closed, and some small assets were sold, which generated total proceeds of about $1.1 billion. COP plans to dispose its interest in business in Algeria and Nigerian businesses and the Kashagan oilfield in the Caspian sea, which were reported as discounted operations, reducing COP's adjusted earnings by 5 cents per share and bringing $8.5B in proceeds for COP later in 2013.
Guidance
COP narrowed its production guidance for 2013 and now expects 1.49 - 1.52 million of oil equivalent per day (vs. the previous guidance of 1.48 - 1.53 million). For Q2, 1.44 - 1.47 million barrels a day in expected.
Strong Cash Position
For Q1, COP generated $3.6B in cash from operations, excluding working capital, which was a source of $1B in cash. $1.1B was generated from the sale of the Cedar Creek Anticline asset and some other small assets. $800M was paid out for the recent quarterly dividend. At the end of quarter, COP had a strong cash position of around $5.4B.
Operation, Growth, Cash Margin Expansion
With continued asset divestitures in 2013, financial flexibility is improved to fund COP's growth program, where dividend remains a top priority. COP is approaching a very significant inflection point for its operation, where conventional and unconventional exploration programs will sustain growth into the future. The management is also seeing the early stages of cash margin expansion, which will improve as volumes grow. The management is committed to delivering 3-5% growth in production and margins as the bottom line, with a strong dividend.
Analysts' Calls and Estimates
On April 25, 2013 Wells Fargo maintained an outperform on COP with a price target of $66-$72. Analyst Roger D. Read said,
nice EPS beat on lower-costs while production was effectively as expected. Unfortunately, production guidance for the remainder of 2013 is slightly below our current estimate so we do not expect much follow-through unless we hear something more promising on the conference call.
On April 26, 2013, UBS reiterated its sell rating but increased its target price to $53 from 50. Barclays reiterated its equal weight rating and increased its target price from $62 to $67 for COP. Analysts currently have a mean target price of $63.29 for COP, suggesting 7.44% upside potential based on the closing price of $58.91 on April 26, 2013. Analysts, on average, are estimating an EPS of $5.43 with revenue of $54.32B for 2013, which is 12.50% lower than 2012. However, for 2014, analysts are projecting an EPS of $5.93 with revenue of $56.48B, which is 4.10% higher than 2013.
Fundamentally, COP's key stat will be compared to its major competitors in the oil & gas integrated industry, including Exxon Mobil Corporation (NYSE:XOM) and Chevron Corporation (NYSE:CVX), to see where it stands.
| | | | | |
| --- | --- | --- | --- | --- |
| | ConocoPhillips | Exxon Mobil | Chevron | Industry Average |
| Cap Size | $71.93B | $394.28B | $233.20B | N/A |
| Closing Price (April 26, 2013) | $58.91 | $88.00 | $120.04 | N/A |
| Beta | 1.21 | 0.50 | 0.78 | N/A |
| Revenue Growth (3 Year Average) | -25.9 | 15.8 | 12.1 | 1.6 |
| Operating Margin, %, ttm | 24.9% | 16.3% | 19.2% | 14.4% |
| Net Margin, %, ttm | 13.6% | 9.3% | 10.8% | 8.1% |
| ROE | 14.9 | 28.0 | 20.3 | 19.2 |
| ROA | 6.2 | 13.5 | 11.8 | 8.9 |
| P/E | 10.0 | 9.1 | 9.0 | 9.5 |
| Projected Dividend Yield | 4.48% | 2.86% | 3.33% | N/A |
Source: Morningstar and Google Finance
Despite negative revenue growth due to continuing restructuring and divestitures (negative revenue growth), COP has highest margins with a solid balance sheet while continuing to pay out the highest dividend yield among 3 companies. XOM, on the other hand, has the lowest volatility and generates highest ROE and ROA among 3 stocks.
Technically, the MACD (12, 26, 9) indicator is turning slightly bullish. The momentum indicator, RSI (14), is picking up and indicating a slightly bullish lean at 52.73. COP had broken through and closed above its 50-day MA of $58.71 in the last trading day. COP is also trading above its 200-day MA of $56.86, as seen from the chart below.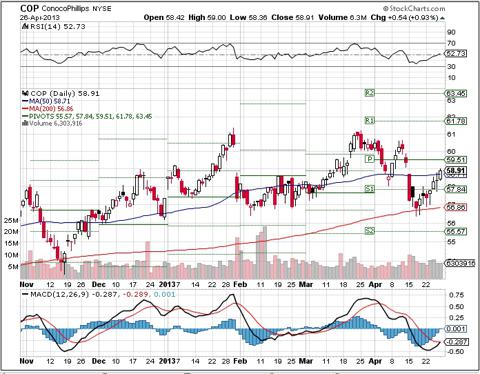 Source: StockCharts.com
Bottom Line
Although production continues to be the dragging factor, COP continues to improve its bottom line with continuous restructuring and divesting of non-core assets. With increased financial flexibility, future growth is also better funded. COP remains a solid investment target for investors seeking income/dividend as COP continues to commit its strong dividend payout. In the near-term, it is important to monitor if COP can hold above its 50-day MA to determine its short-term direction.
Note: Investors and traders are recommended to do their own due diligence and research before making any trading/investing decisions.
Disclosure: I have no positions in any stocks mentioned, but may initiate a long position in PSX over the next 72 hours. I wrote this article myself, and it expresses my own opinions. I am not receiving compensation for it (other than from Seeking Alpha). I have no business relationship with any company whose stock is mentioned in this article.